A lot of freeware applications are available to convert an IMG file to an ISO format. IMG to ISO is a freeware tool and comes with limited functions. As the name describes, it only allows you to convert an IMG to ISO: Unlike the other popular ISO tools, it allows only you to convert an IMG file into an ISO format. Limited in function, but an effective tool is named "IMG to ISO."
IMG to ISO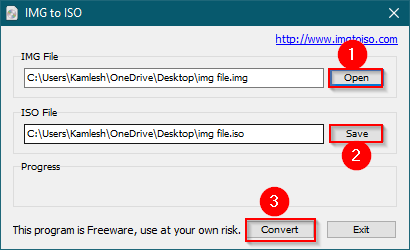 As said above, "ISO to ISO" is a freeware tool that allows you only to convert IMG to ISO with a single click. We have earlier seen a similar function in the Folder2iso application that also comes with a single function. Folder2ISO allows only you to create an ISO file from the folder. Sometimes software becomes very handy if it is not complicated. In other words, an app with limited is better than a famous tool that comes with several functions. If you only need a particular feature, why should you download software with so many features?
1 MB application is quite powerful, and if your purpose is only to convert an IMG file to an ISO format, it may be your best choice.
To convert an IMG to an ISO format, download, install, and open the "IMG to ISO" app. Click the "Open" button and select an IMG file from your PC. Clicking on the "Save" button, you can name the output file and select the destination of the file output file. Now, you are all set to transform your IMG file to an ISO format by clicking on the "Convert" button.
Download IMG to ISO
Once you use the "IMG to ISO" converter freeware tool, you will get addicted. There is no need to download and use a hi-fi tool and pay to convert an IMG file to ISO format. You can download the free IMG to ISO application from here.
Conclusion
In conclusion, while there are many options available to convert IMG files to ISO format, IMG to ISO stands out for its simplicity and efficiency. Despite its limited functionality, the app performs its intended task flawlessly and in a user-friendly manner. For those who only require this particular feature, IMG to ISO is an excellent choice, especially considering its small size of only 1 MB. It is a reliable tool that saves time and effort for users. If you need to convert an IMG file to an ISO format, IMG to ISO is a must-have tool that you can download for free.