If you want to run your PC with optimal speed, you should clean the Windows Registry and remove unwanted installed programs from your computer. Gearupwindows.com always comes with a free solution to gear up the performance of Windows notebook or computer. In this regard, you can find out the latest post about Wise Program Uninstaller, which lets you completely remove the installed apps along with residual files, folders, and leftover registry entries.
Advanced SystemCare Free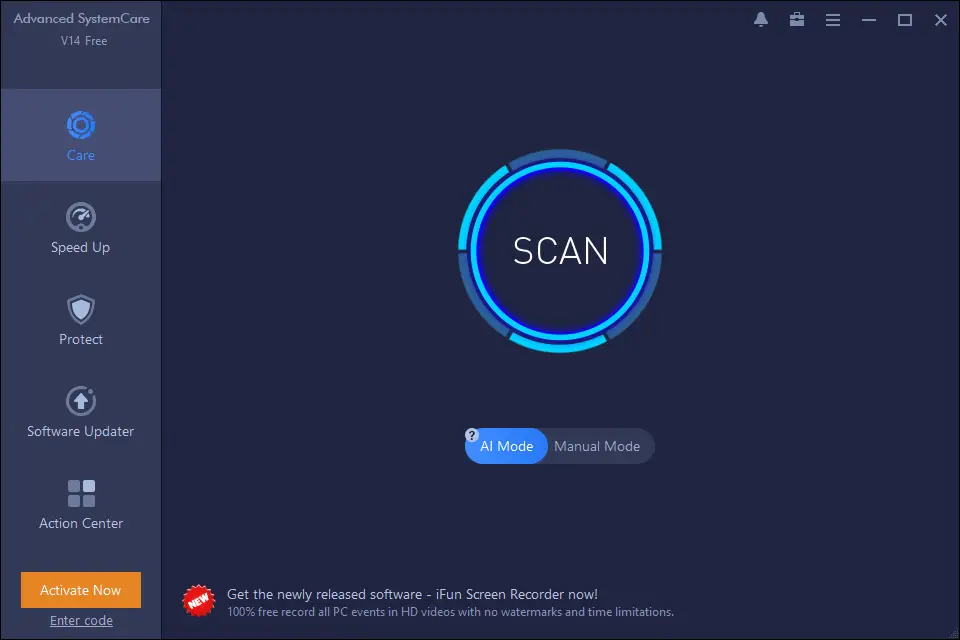 As the name suggests, Advanced SystemCare 14 Free is another available program for free to use and take care of your system. It is an all-in-one solution to speed up your computer, clean your PC, and protect your private data. Its built-in AI makes everything easier and extraordinary.
Iobit Advanced SystemCare Free: Care (AI Mode/Manual Mode)
Once you download, install, and run it on your computer, you will see the default mode's AI Mode. If you have a little time to optimize your PC, click on the big circle SCAN button to scan your PC, and you will see the percentage of the completion report. Once the scanning is completed of your PC, it will provide the list of privacy traces, junk files, invalid shortcuts, registry entries, system optimizations, internet improvements, registry fragments, disk optimization, antivirus protection, firewall, outdated drivers, outdated software, system threats, system weakness, security holes, disk errors. Clicking on the individual entry will show the detailed status of the error or optimization.
If you don't want to optimize or fix a particular error on your PC, you can uncheck the individual entry. Finally, click on the Fix button to repair the errors and optimize suggestions.
If you want to scan your PC manually using Iobit Advanced SystemCare Free, in the home page interface of SCAN, click the Manual Mode. By default, Registry Defrag, Disk Optimization, Hardware Health, Software Health, Security Reinforce, Vulnerability Fix, and Disk Check options remain unchecked in manual mode. You can check these options and start deep scanning your PC to fix errors and optimize your PC.
Note: This freeware application can't update the outdated drivers and software. It recommends downloading the IObit driver booster to keep the drivers updated. However, it provides a link to update the drivers with a single click. Clicking on the Update link will download the latest drivers from the official website, and then you can install them manually by running the setup file.
If you want to automate the driver's update process, we recommend DriverMax, Snappy Driver Installer, or Driver Easy to use. It is tested by our team and works well on Windows 11/10 PC.
Similarly, if you want to update the outdated software to the latest version, click the Update link next to the software entry. This selected software will be downloaded automatically on your PC; however, you to install it manually.
Iobit Advanced SystemCare Free: Auto fix
There is also an Auto fix option available for those you don't want to interface to scan results. Once you start scanning in Iobit Advanced SystemCare Free, it will automatically fix the issues without your intervention. By clicking on the drop-down next to the Auto fix checkbox, you can choose "Auto fix & shut down PC," "Auto fix & restart PC," "Auto fix & hibernate PC," "Auto fix & sleep PC." That means you can shut down, restart, hibernate, or sleep on your computer or laptop after fixing the issues.
iObit Advanced SystemCare Free: Speed Up
When you install IObit Advanced SystemCare Free on your PC, a gadget will appear on the desktop that shows the RAM and CPU usage percentage.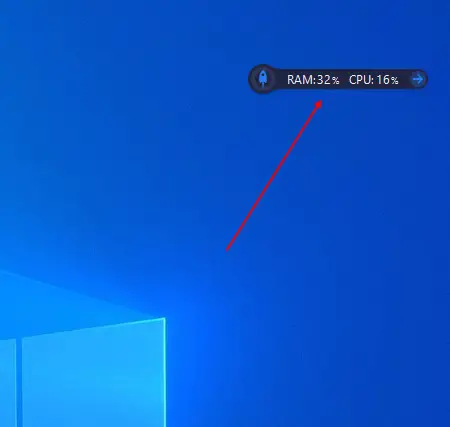 If you notice that RAM and CPU usage percentage is high and your PC performance is slow, you can turn on "Turbo Boost" by clicking on its icon on the right-side pane of the "Speed up" tab.
The next good option under the "Speed Up" tab is "Optimizer." By clicking on Optimizer, you can quickly optimize different programs, Startup items, services, scheduled tasks, and browser startups.
iObit Advanced SystemCare Free: Protect
Using this tab, you can use antivirus protection and firewall protection. You can also enable email protection, surfing protection, and homepage advisor.
iObit Advanced SystemCare Free: Software Updater
As said above, IObit Advanced SystemCare Free version does not update the software automatically, or there is no single button available to download all the outdated software at once. However, you can select the entry and update it without hassle.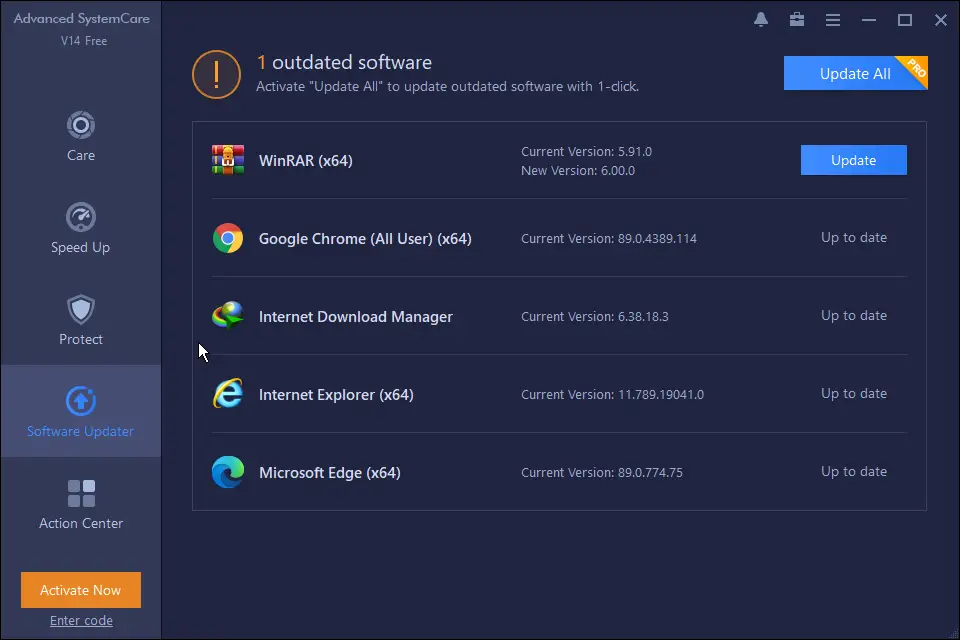 Final thoughts about IObit Advanced SystemCare
IObit Advanced SystemCare free edition comes with a lot of features that suites with most Windows users. By following the recommendations of this software, your PC performance will increase. It also lets you keep your PC updated and clean. It is compatible with Windows 10. Windows 8, Windows 7, Windows Vista, and Windows XP (32-bit and 64-bit editions).
Download iObit Advanced SystemCare Free
One can download and install the free version of IObit Advanced SystemCare from its official website.