The famous uninstaller software from IObit now officially supports Windows 11 operating system. IObit Uninstaller is a freeware tool that helps you completely erase or uninstall unwanted software from your PC.
When we say clean uninstall of an application, the Windows operating system does not offer much control. While we uninstall a desktop program from the traditional window uninstaller program, it leaves traces behind our computer in the form of registry leftovers, files, and folders. Windows do not delete these files automatically, that means we have to dirty our hand. Most windows users do not know how to clean the leftovers, and thus their computer goes slow over time.
Over time, you will get sluggish responses from your computer. It may happen for several reasons, e.g., Software installation/uninstallation, Corrupt Registry files, many programs running simultaneously, many startup programs, too many add-ons on the browser, Rogue programs installed, dirty hard disk, etc.
However, the major reason to slow down Windows PC is uninstalling software and not removing related registry entries. For instance, you downloaded a freeware or shareware program from the internet, and after using it for a few days, you don't like it and uninstall using Windows built-in uninstaller. Default Windows uninstaller is good to uninstall the app but not good enough for clean uninstall.
Thus, when we talk about clean uninstall, we need good third-party software. Moreover, when we talk about the freeware uninstaller app for Windows 11/10 PC, IObit Uninstaller's name comes first. It allows you to uninstall software or UWP apps in bulk from your computer. That means no need to wait to uninstall another app from your PC while another uninstallation is in progress.
IObit Uninstaller for Windows 11/10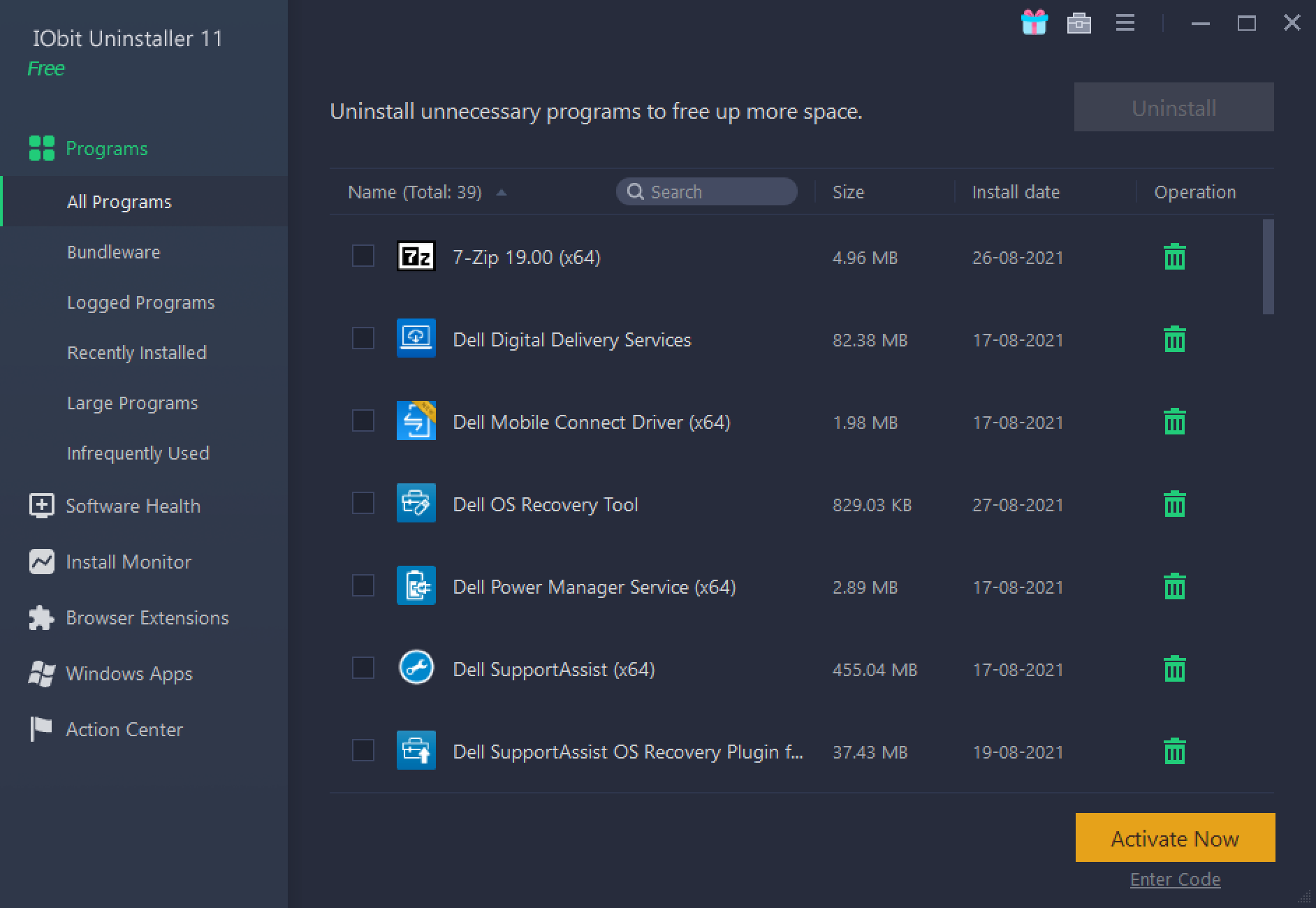 IObit Uninstaller is free for personal use and comes with adequate features to uninstall different types of programs. It is divided into several categories: programs, software health, install monitor, browser extensions, windows apps, and action center.
To use this, all you need to download it from its official website and install it as regular software. After installing, launch this tool by double-clicking on its shortcut icon on the desktop.
To uninstall a program from your computer, open this uninstaller application and select the application and under the Programs category, click on the delete icon.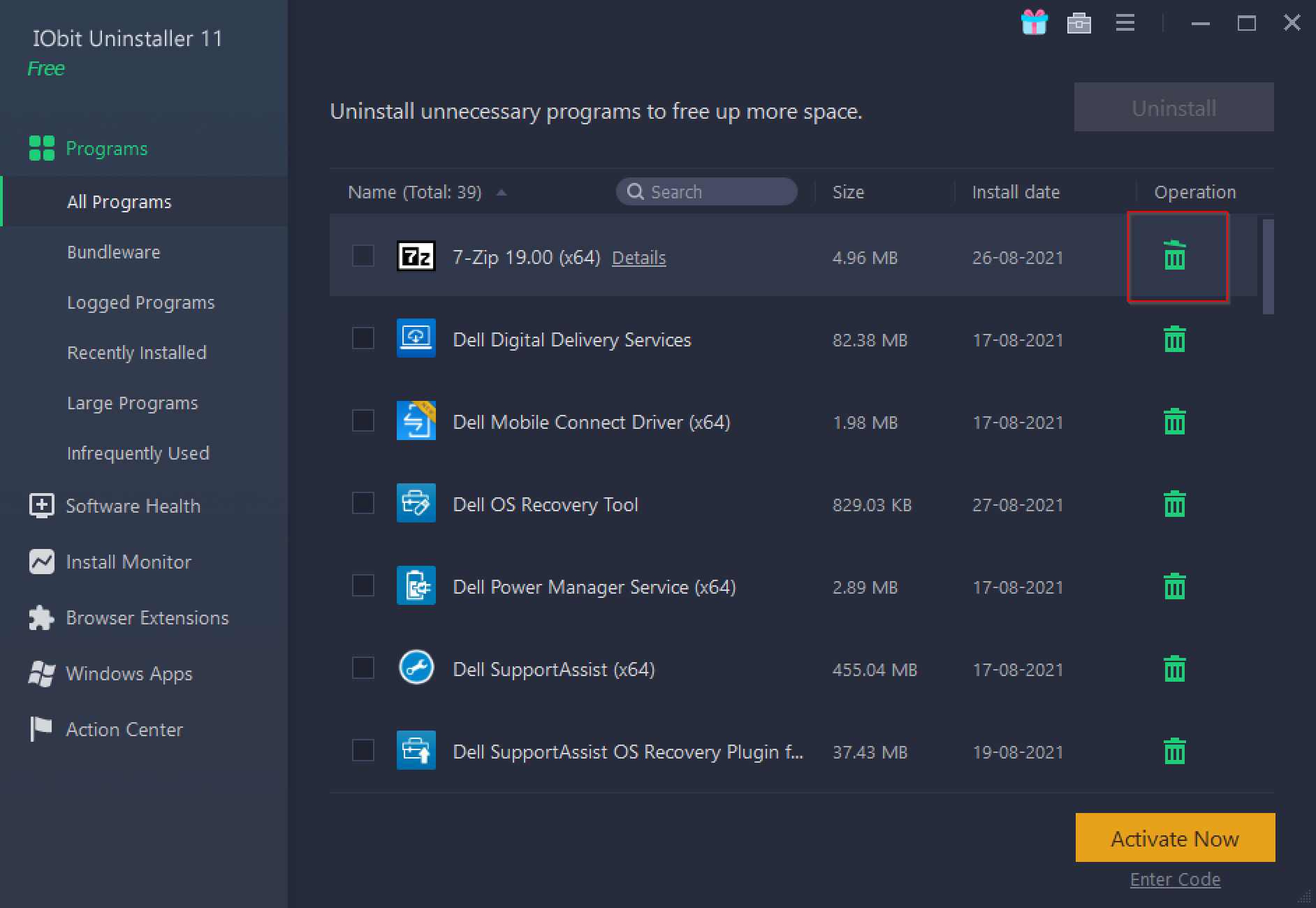 The unique feature of this uninstaller is its install monitor. The Install Monitor feature of IObit Uninstaller monitors the program when you install any on your PC. It stores the installation log of the program when you turn on this feature. While uninstalling that program in the future, this uninstaller app will destroy all the program's data.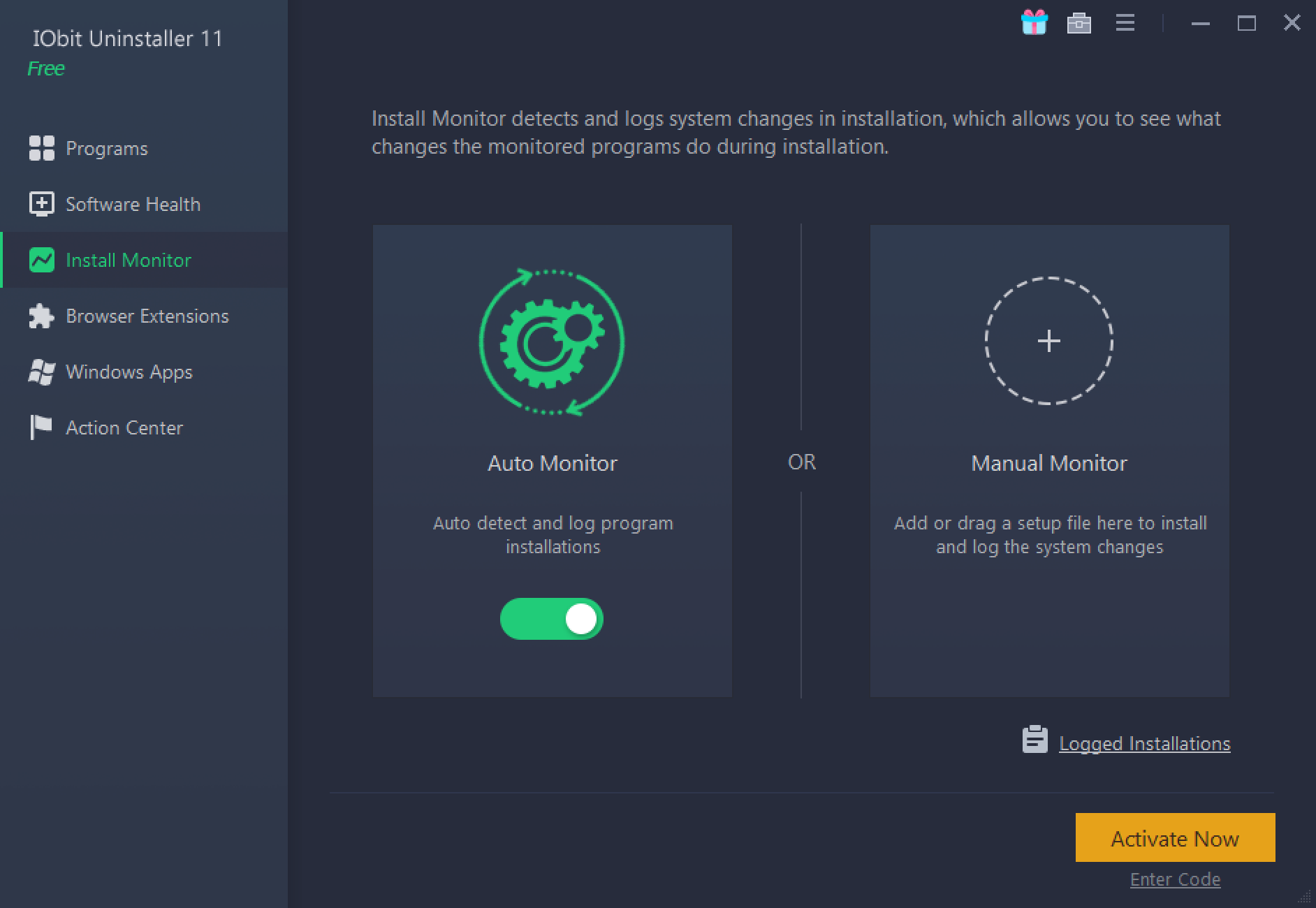 The Browser Extensions category of this app application lets you uninstall the extensions you install on a web browser. It is beneficial when a browser extension or add-ons refuse to leave your PC due to some reason.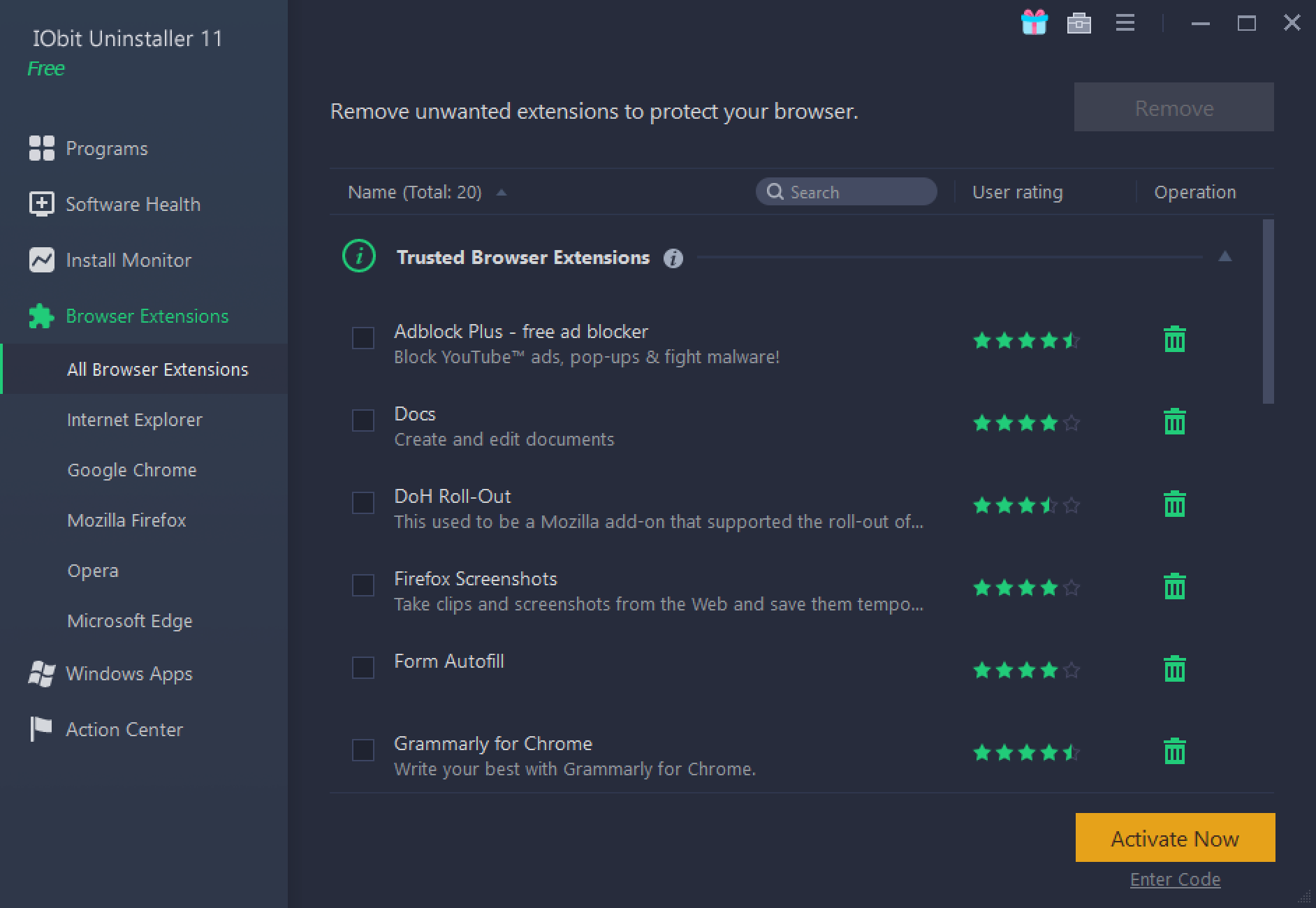 IObit Uninstaller also allows you to uninstall UWP (Windows built-in apps). To uninstall that, head over to the "Windows Apps" category. Here, you will see all the apps that are shipped with your Windows operating system.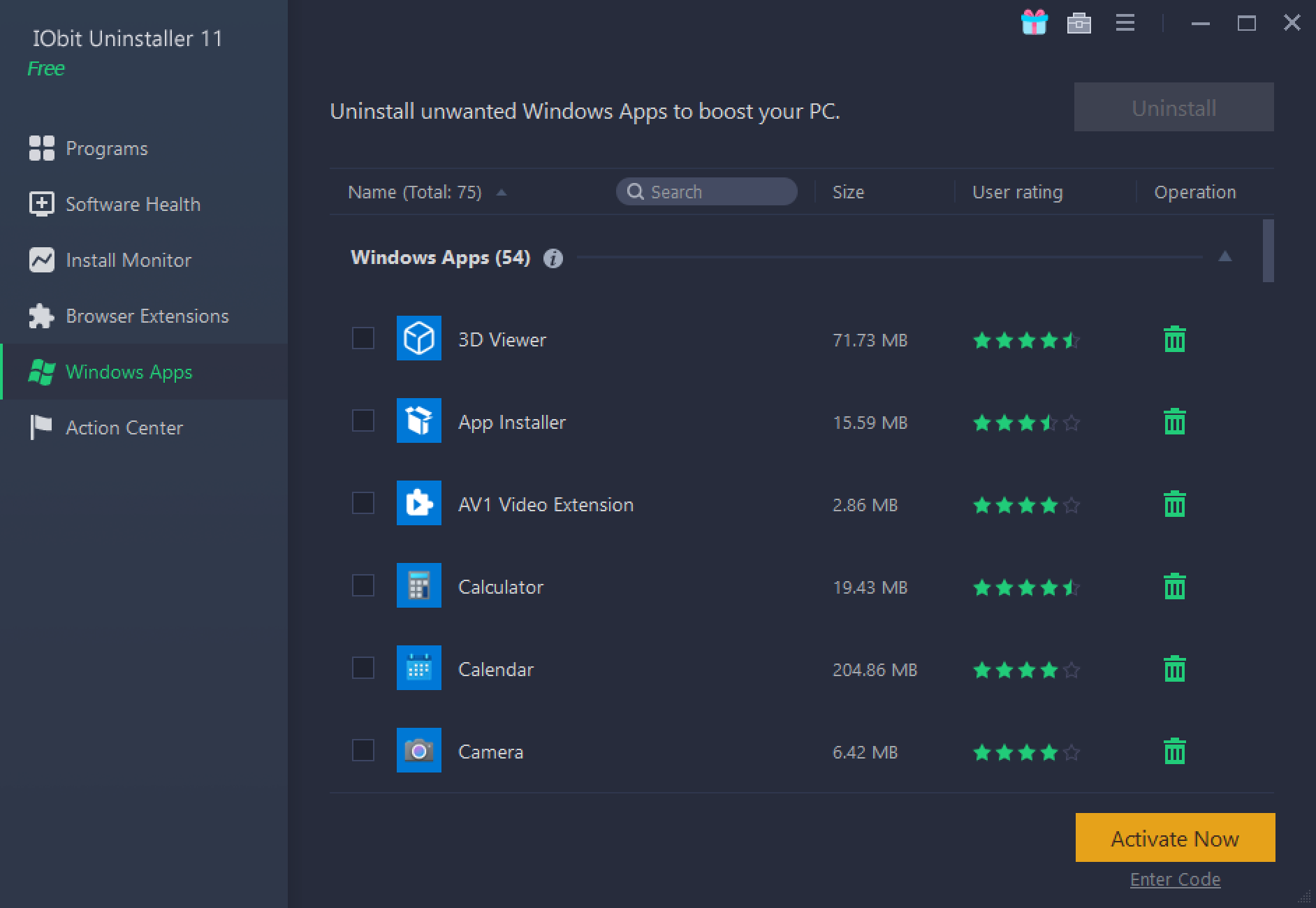 Overall, IObit Uninstaller is an incredible and good-looking application that fulfills your needs. With a few clicks of the mouse, you can uninstall a lot of software and clean your computer.
Download IObit Uninstaller
The IObit Uninstaller application is compatible with Windows 11, 10, 8.1, 8, 7, Vista, and XP, both 32-bit and 64-bit architecture. You can download this free tool from its official website.