Have you lost your product key and need to reinstall Windows or Microsoft Office? Do you want to retrieve the Windows 11/10 product key from BIOS/UEFI? Lazesoft Windows Key Finder is an all-in-one solution for both questions. It is an expert in retrieving the product key of any version of Windows and MS Office. This free software also allows you to save and print the retried key for future reference.
Lazesoft Windows Key Finder for Windows 11/10
If you have a computer or laptop preinstalled with Windows 11/10 and you have not taken the backup yet, it's high time to retrieve the key and save it in a safe place. Disaster can come at any time, and you may need to reinstall Windows operating system or MS Office. It does not only retrieve the product key of the Windows operating system from the registry; it will find out the key from the BIOS/UEFI also and represent them to you.
Windows Key Finder does not only finds the product key of Windows 11 or Windows 10; using this software, you can get the product key of Windows 2000, XP, 2003, Vista, 2008, 2012 or Windows 7, 8, 10, and Windows 11. Above all that, this freeware software can retrieve the Microsoft Office product keys from the registry. Once the product key is retrieved by this tool, you can take a printout or save it in a notepad file.
List of Supported Windows Versions to Retrieve Product Key:
Windows 2000 SP4
Windows XP
Windows Vista
Windows 7
Windows 8
Windows 8.1
Windows 10
Windows 11
Windows Server 2003
Windows Server 2008
Windows Server 2008 R2
Windows Server 2012
Windows Server 2012 R2
Windows Server 2016
List of Supported Microsoft Office Versions to Retrieve Product Key:
Microsoft Office 2000
Microsoft Office 2003
Microsoft Office 2007
Microsoft Office 2010
Microsoft Office 2013
Microsoft Office 2016
How to Retrieve Windows and Office Product Key using Windows Key Finder?
Windows Key Finder is a free and portable tool that means there is no need to install it on your PC. Just download and run the executable file to see the Windows 11/10 and MS Office product key.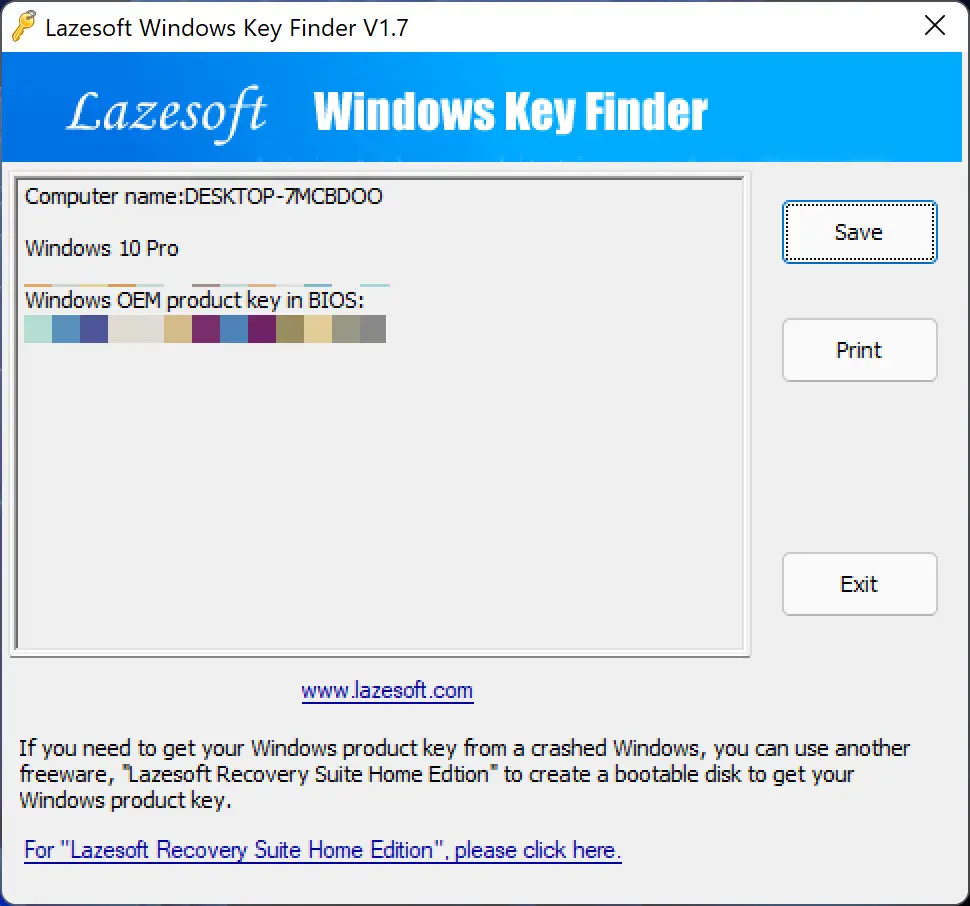 Clicking on the Save button, you can store the key in your computer in a notepad file, or if you wish to take a printout, then click on the Print button. That's it.
Download Lazesoft Windows Key Finder
You can download free and portable Lazesoft Windows Key Finder from its official website.