Windows 11/10 includes a built-in Disk Management Tool and Diskpart.exe that helps users and administrators with Disk management tasks. Although they are easy to use, many prefer more feature-rich disk & partition manager software for their computers. If you are searching for a good-looking ad feature-rich partition manager, you should try MiniTool Partition Wizard.
MiniTool Partition Wizard for Windows 11 and 10
MiniTool Partition Wizard is a free partition management application for Windows operating systems that can perform a lot of different tasks on hard drives and partitions. You can copy, format, delete, wipe, extend, and resize partitions using this software.
To use the free version of MiniTool Partition Wizard, ensure to select the "Continue installing free version" option while installing this tool.
Once you install and launch the MiniTool Partition Wizard, you will see several useful options, including "Migrate OS to SSD/HD Wizard," "Copy Partition Wizard," "Copy Disk Wizard," "Partition Recovery Wizard," "Convert GPT Disk to MBR Disk," etc. Select an appropriate option and do the desired tasks.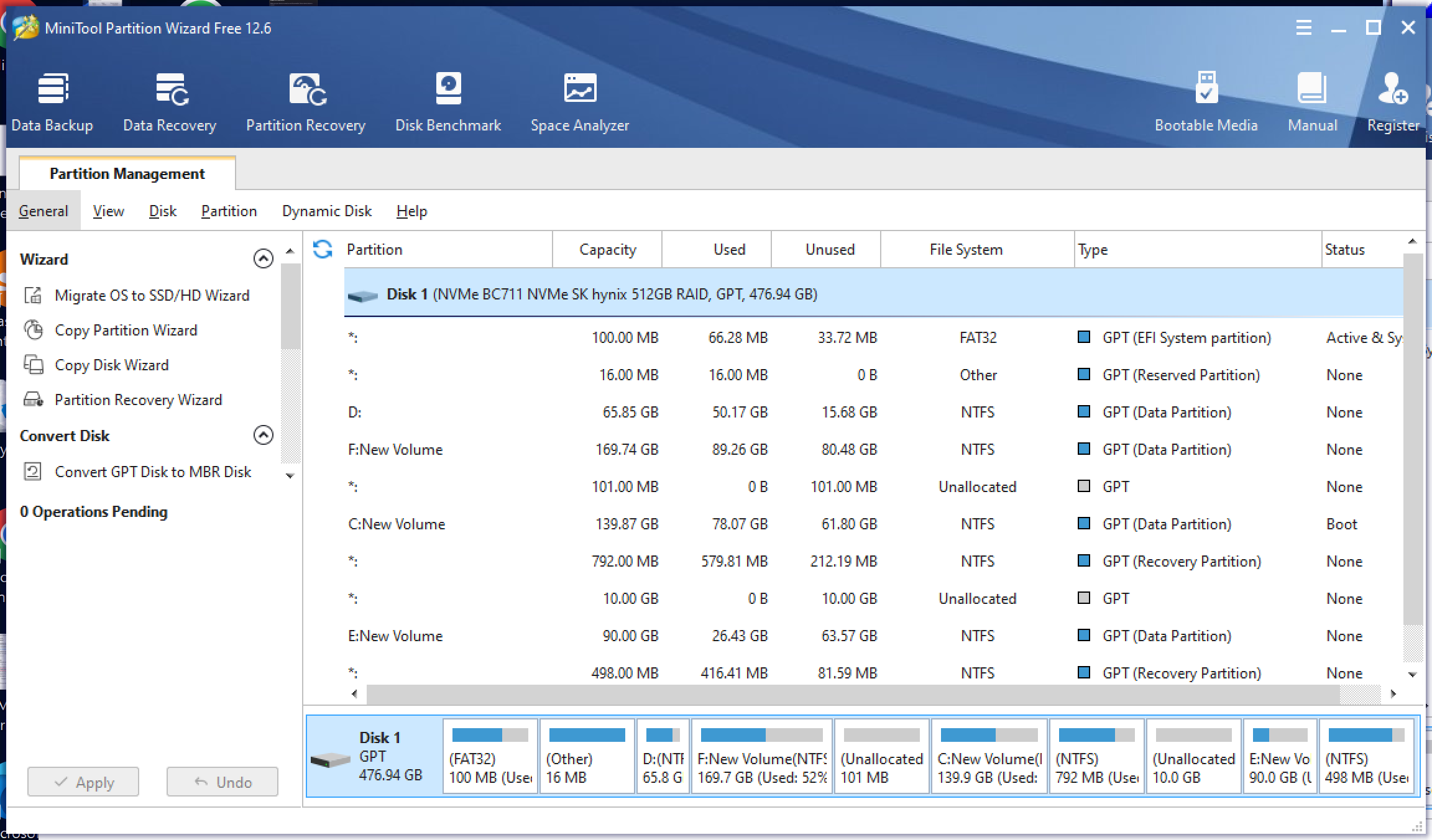 Features of MiniTool Partition Wizard Free
Supports all Windows operating systems, including Windows 11 and 10.
Allows you to copy Windows from its current drive to a different one using the Migrate OS to SSD/HD Wizard feature.
Can create primary and logical disks with any file systems: NTFS, Ext2/3/4, Linux Swap, FAT/FAT32, or left unformatted.
Can convert an NTFS formatted partition to the FAT file system.
The cluster size can be changed when formatting a partition.
Allows you to change the drive letter of any partition.
Allows you to resize a partition by dragging the size left or right to alter it, or you can enter the value manually to make it exactly the right size.
A surface test can be run to check for bad sectors.
Partitions and disks can be copied over to other partitions or disks.
The file system can be checked and/or repaired if it is damaged.
Can apply a custom volume label.
Supports rebuilding the MBR as well as copying the MBR to a GPT disk.
Can convert the system disk from MBR to GPT.
All partitions can be quickly selected to be removed at once.
Partitions can be made hidden to prevent them from displaying alongside the other drives and partitions in File Explorer.
Allows setting partitions as active or inactive.
It can easily split a partition into two parts (even if it has data on it) and then creates a new partition from the resulting free space.
Ony system partition or the entire disk can be copied.
Can convert between primary and logical partitions.
A partition's serial number and Type ID can be changed.
Lost partitions can be restored using Partition Recovery Wizard.
All the data on disks and partitions can be wiped with common data sanitization methods like Write Zero, Random Data, and DoD 5220.22-M.
The properties of a partition can be viewed, which include the Type ID, file system, serial number, first physical sector, and other details.
Data recovery tool included undeleting files.
Allows you to run a benchmark against any disk.
Built-in disk space analyzer.
Supports multiple languages, including English, Japanese, German, French, Korean, and Italian.
Conclusion
Every change you make to the partitions and disks using MiniTool Partition Wizard is reflected virtually and then sent to the "Operations Pending" section of the program. This is an excellent feature because you can see how the partition changes will take effect. Once you hit the Apply button, each pending job will be completed one by one.
It also allows you to make the system partition larger without rebooting the computer. This means if you have unallocated space, you can quickly merge it to the system partition to enlarge it in a few seconds.
Furthermore, it supports Windows XP to 11. That means if you are using different operating systems, a single executable file of MiniTool Partition Wizard is enough for you.
Download MiniTool Partition Wizard
You can download MiniTool Partition Wizard Free here.