Managing files and folders on your computer shouldn't be a hassle. That's where One Commander comes in. One Commander is a user-friendly file manager software that aims to streamline your file organization and manipulation tasks. With its intuitive interface and powerful features, it offers a convenient and efficient way to handle your files. Let's dive into the world of One Commander and discover how it can simplify your file management experience.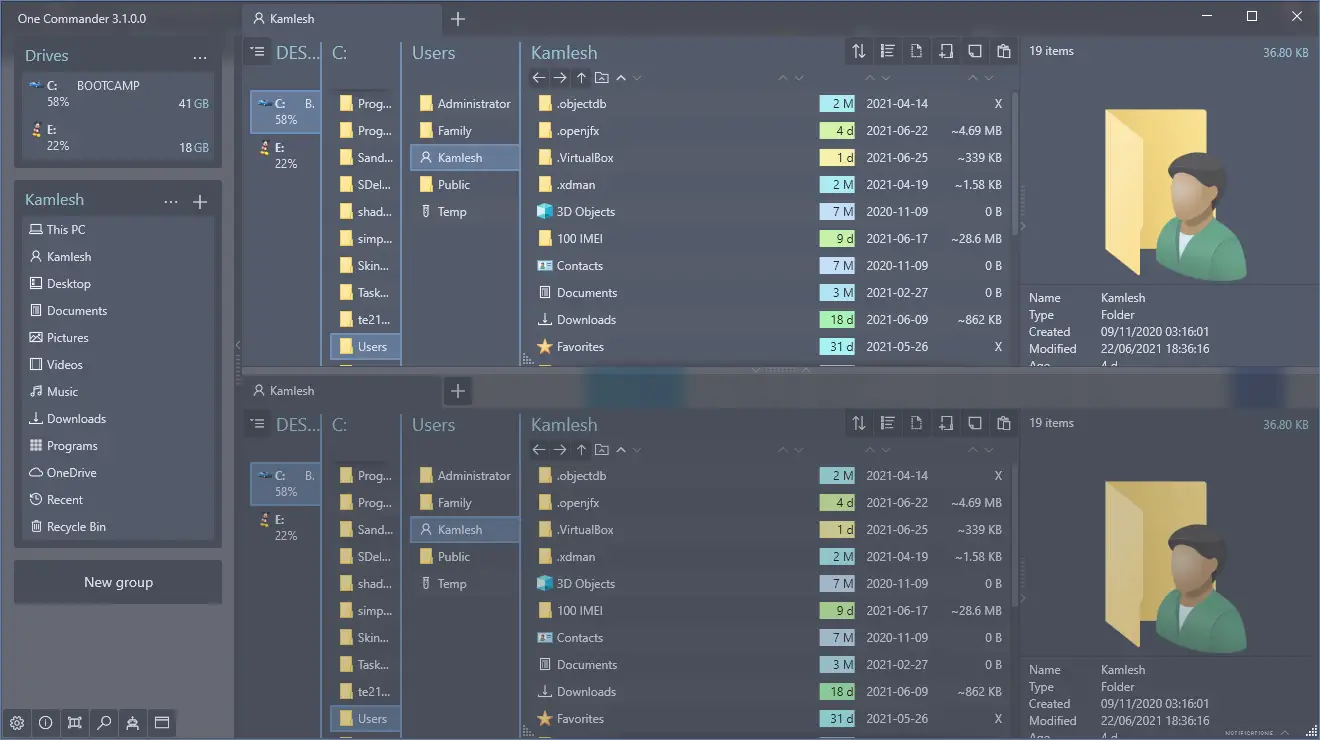 Dual-Pane Browsing
One Commander stands out with its dual-pane browsing capability. Unlike traditional file explorers, it provides two side-by-side panes, allowing you to navigate and manage two different folders simultaneously. This feature makes it a breeze to copy, move, and compare files, saving you valuable time and effort in your file operations.
Customizable Interface
One Commander understands that everyone has different preferences when it comes to software interfaces. That's why it offers a high level of customization options. You can personalize the toolbar, color schemes, font sizes, and more, to create an interface that suits your style and workflow. With the ability to tailor the appearance and layout, you can make One Commander truly yours.
Advanced File Operations
One Commander goes beyond basic file management with its array of advanced file operations. Whether you need to batch rename files, synchronize folders, split or merge files, or securely delete sensitive data, One Commander has you covered. These advanced features simplify complex tasks and provide a comprehensive set of tools to handle your files effectively.
File Preview and Quick Edit
Previewing and editing files is a breeze with One Commander. You can view file content directly within the software, eliminating the need to open multiple applications. One Commander supports various file formats, including images, documents, and multimedia files. With its quick edit feature, you can make simple changes to text files without the need for external editors.
Cloud Storage Integration
One Commander seamlessly integrates with popular cloud storage services such as Dropbox, Google Drive, and OneDrive. This allows you to access and manage your cloud files directly within the software. With One Commander, you can easily transfer files between your computer and cloud storage, making it convenient to work with files stored in the cloud.
Download One Commander
You can download One Commander from its official website.
Conclusion
One Commander is a user-friendly file manager software that simplifies your file management tasks. With its dual-pane browsing, customizable interface, advanced file operations, file preview and quick edit features, and cloud storage integration, One Commander provides a comprehensive solution for efficient file organization and manipulation. Whether you're a professional handling large amounts of data or an everyday user seeking a more intuitive file management experience, One Commander is a valuable tool that empowers you to take control of your files effortlessly. Experience the convenience and efficiency of One Commander and elevate your file management to the next level.