Radiograph is a Windows application that is hosted on Microsoft Store that enables you to monitor computer performance, including temperature and power consumption. The app lets you check the health status of hard drives and the performance of components such as processors or graphics cards.
The program is fully compatible with Windows 11 and 10. It comes with a modern UI and blends with Windows 11.
Using the Radiograph, you can keep track of your computer's temperature, detect any potential hardware failures, and more. By spotting and reporting any hardware errors before they become major problems, this system monitoring tool can help you keep your computer running smoothly.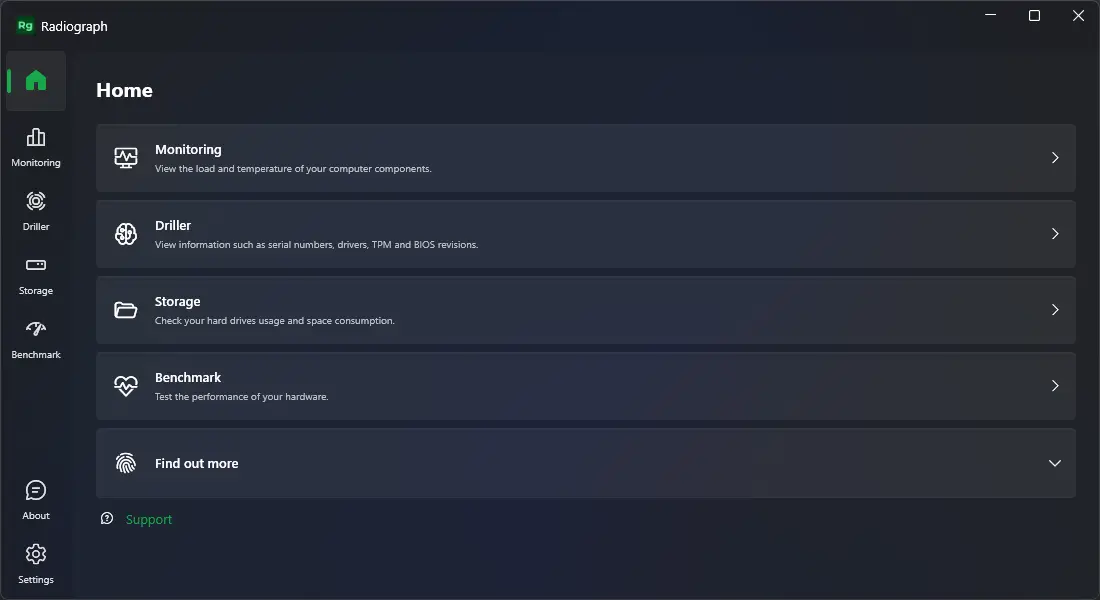 There are several tabs included in this application. When you open this tool, the Home tab automatically opens, and here you will find important shortcuts to the different tabs. Clicking on any tab, such as monitoring, driller, storage, or benchmark, will directly take up to that tab.
Monitoring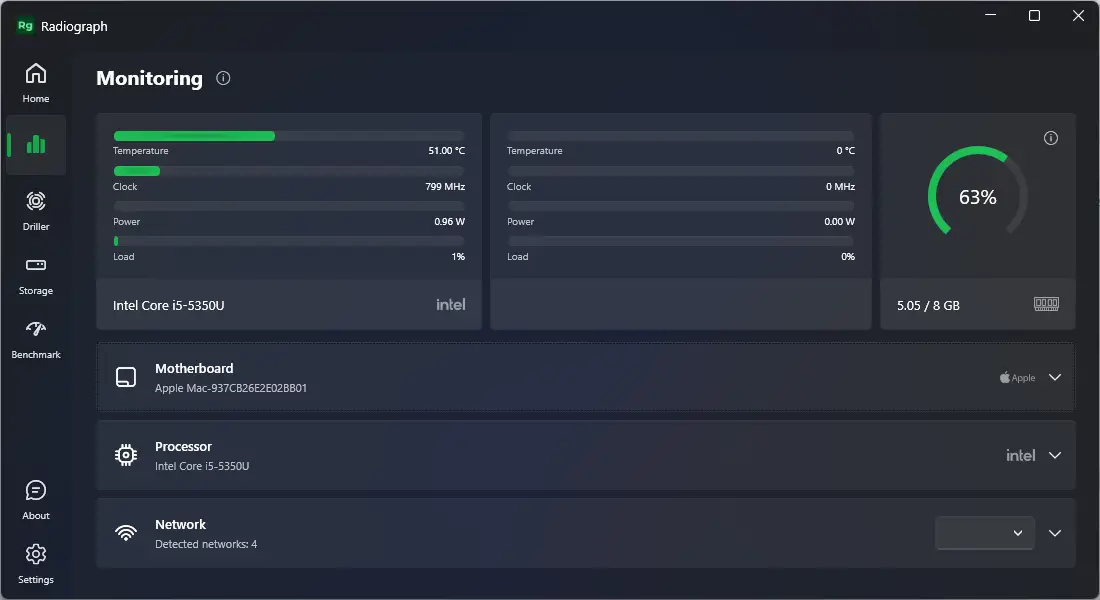 The Monitoring tab is the most important tab of the Radiograph app. As the name suggests, it allows you to monitor the performance of your PC. This includes temperature, clock, power, and CPU load. Here, you can also find the percentage usage of RAM.
This tab also displays the make and model of the processor, as well as the used/total installed RAM. Clicking the Motherboard down arrow carrot, you can learn about your motherboard model, etc. Expanding Processor option, you can view its temperature, power consumption, voltage, socket voltage, and clock rate.
The Network option displays information about download/upload speed, IP address, etc.
Driller
The Driller tab helps you learn about your PC in depth. Here, you see full details about the CPU, GPU, BIOS, Motherboard, Memory, OS, and TPM (Trusted Platform Module). The is also a dedicated button available to copy these details. It is helpful if you want to share it with someone else. This may also help you in troubleshooting your Windows.
Storage
This tab helps you understand your storage devices, such as HDD or SSD. It also displays the storage status, so you know when to replace the storage. Especially helpful if you are using an old PC. Other information includes the temperature of the disk, read/write speed, etc.
Benchmark
This is still in the beta stage, and information will be shown here once the testing is completed.
Settings
The Radiograph includes Settings that allow you to change a few settings such as Theme, Language, and more.
When you install the application, it automatically adapts your system theme, such as dark or light. However, if you need, you can change it from its settings.
Download Radiograph
If you find Radiograph useful, you can download and install it from the Microsoft Store.