Many free applications are available in the market to recover the product key license from a computer. A few are working well, while most of them are not working at all. Basically, all software scans the Windows registry and produces your license key. So, if you have forgotten to back up the license key of the Windows operating system or other paid app, it is high time to scan your Windows registry and recover all the product keys.
Most of us forget to backup the Windows product key or third-party software license installed on our computer. When the computer crashes, and we have to reinstall everything from scratch, we run through a lot of trouble. To activate the Windows or paid software, you need a valid key. You need to enter the product key either during installation or after installing the Windows/software. If the license key is misplaced, you must contact the software support team and provide proof of purchase to reissue the license.
The problem is that once you use the key to activate the license, it does remain visible. Fortunately, some freeware tools are available over the internet to scan your computer and recover the lost or forgotten product key licenses so you can back them up in case you need to reactivate them again. Computer technicians can also use these free tools to help customers recover their software license numbers from a non-bootable drive.
This gearupwindows article will only mention those free applications that recover Windows or software product keys from a computer. These are the following:-
MSKeyViewer Plus
Wise Windows Key Finder
Windows 10 Product Key Tool
MyKeyFinder
ShowKeyPlus
Belarc Advisor
ProduKey
Using Command Prompt
Free PC Audit
LicenseCrawler
VBS Script
Lazesoft Windows Key Finder
MSKeyViewer Plus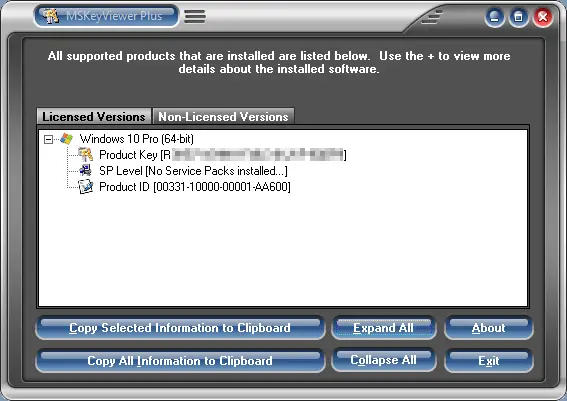 MSKeyViewer Plus is a free and portable tool to recover or reclaim your Windows product key from an already installed operating system. It is a straightforward and lightweight application created to view program installation keys, service pack levels, and product IDs. This program also detects many other non-licensed program versions, for instance, Adobe Reader. This free application allows you to retrieve the product license key of Windows XP, Vista, 7, 8, and Windows 10.
Apart from Microsoft Windows, you can also claim the key of installed Microsoft Office, Microsoft Exchange, Microsoft SQL Server, Norton AntiVirus 2004-2007, and more! A complete list of supported programs is covered in the About of this program.
Wise Windows Key Finder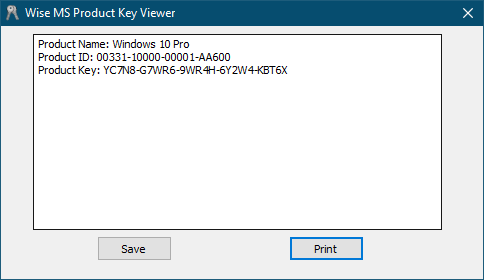 Wise Windows Key Finder is a free application to retrieve the Windows product key from all Windows versions, including the latest Windows 10, Windows 8.1, Windows 8, Windows 7, Windows Vista, and Windows XP. In addition, you can utilize this free app to obtain Windows Server keys, including Windows Server 2003, Windows Server 2008, Windows Server 2008 R2, Windows Server2012. It is compatible with both Windows 32-bit and 64-bit architecture.
Apart from the Windows operating systems license number, you can use this app to get the Microsoft Office 97, Office 2000, Office XP, Office 2003, Office 2007, Office 2010, and Office 2013 product keys.
Wise Windows Key Finder is also a portable utility that comes with an easy-to-use interface. Once you launch this software on your PC, it recovers and automatically displays Windows Product Key and Microsoft Office Key without clicking anywhere on the app. In addition, you can save license key information in a text file or take a printout.
Download Wise Windows Key Finder
Windows 10 Product Key Tool

Windows 10 Product Key Tool is a freeware app specially developed to retrieve the license key from Windows 10 PC. The software name is Windows 10 Product Key Tool, but it also recovers the license key of Windows 7, Windows 8, Windows 8.1, and Windows 10 from the BIOS or EFI. That means this product can only retrieve the key from BIOS/EFI and not from the Windows Registry. After retrieving the product key, you can plan to reformat your PC and activate them easily.
To retrieve the product key from the BIOS or UEFI using this tool, you must open the application. This software will automatically scan your BIOS or EFI and display your OEM Windows product key. Then, you can copy the retrieved key and can use it for the reinstallation of Windows. It is compatible with 32-bit and 64-bit versions of Windows 7, 8.1, and 10.
Download Windows 10 Product Key Tool
MyKeyFinder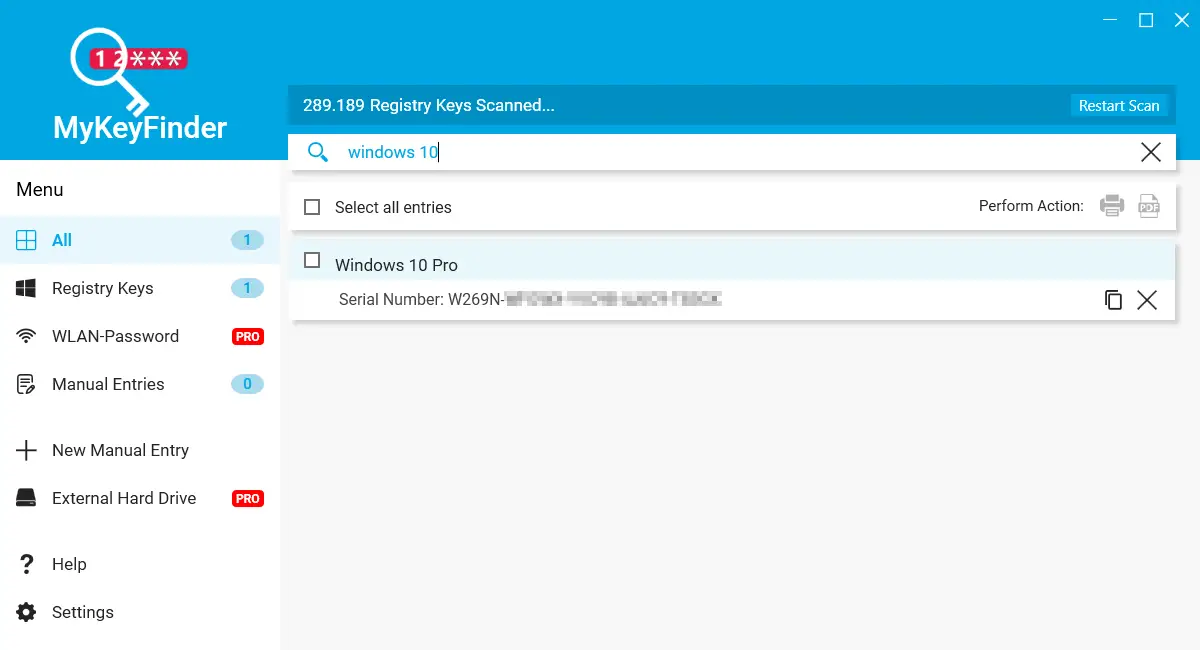 MyKeyFinder is another freeware utility that recovers the installed product key from a running Windows 10 PC using Windows Registry. It comes with a simple and modern design. Once you download, install and run this software, it will investigate Windows Registry for a product or license key. After 1-2 minutes of scanning, it will provide the output with the product key of Windows 10, 8, or 7. Apart from the Windows 10 product key, it will also list other license keys you have used to register any software on your PC. It also includes a search button to find out specific software product keys on your PC.
This app is good for those who have installed a lot of paid applications. A single software will retrieve all the license keys from your computer or laptop. Just note down all the keys and keep it a separate hard disk. Then, after installing a fresh Windows OS, you can use those keys to activate your Windows or software license.
ShowKeyPlus
ShowKeyPlus is another good-looking and freeware utility. It is hardly around 8MB in size. It is recommended to reclaim the product key from installed Windows 10 and Windows 8.1/8 computers or notebooks. After installing and opening the ShowKeyPlus, it will immediately reveal your product key and license information such as product name, product ID, installed key, and OEM Key.
OEM or Retail keys are those license keys that big PC manufacturer brands use to activate multiple machines at the factory running Windows. It remains embedded on BIOS or UEFI, and ShowKeyPlus can easily retrieve them. If you're encountering product activation issues, you can find your original product key using the ShowKeyPlus freeware tool. Once you find and copy the product key, you can activate your Windows 10 license.
Belarc Advisor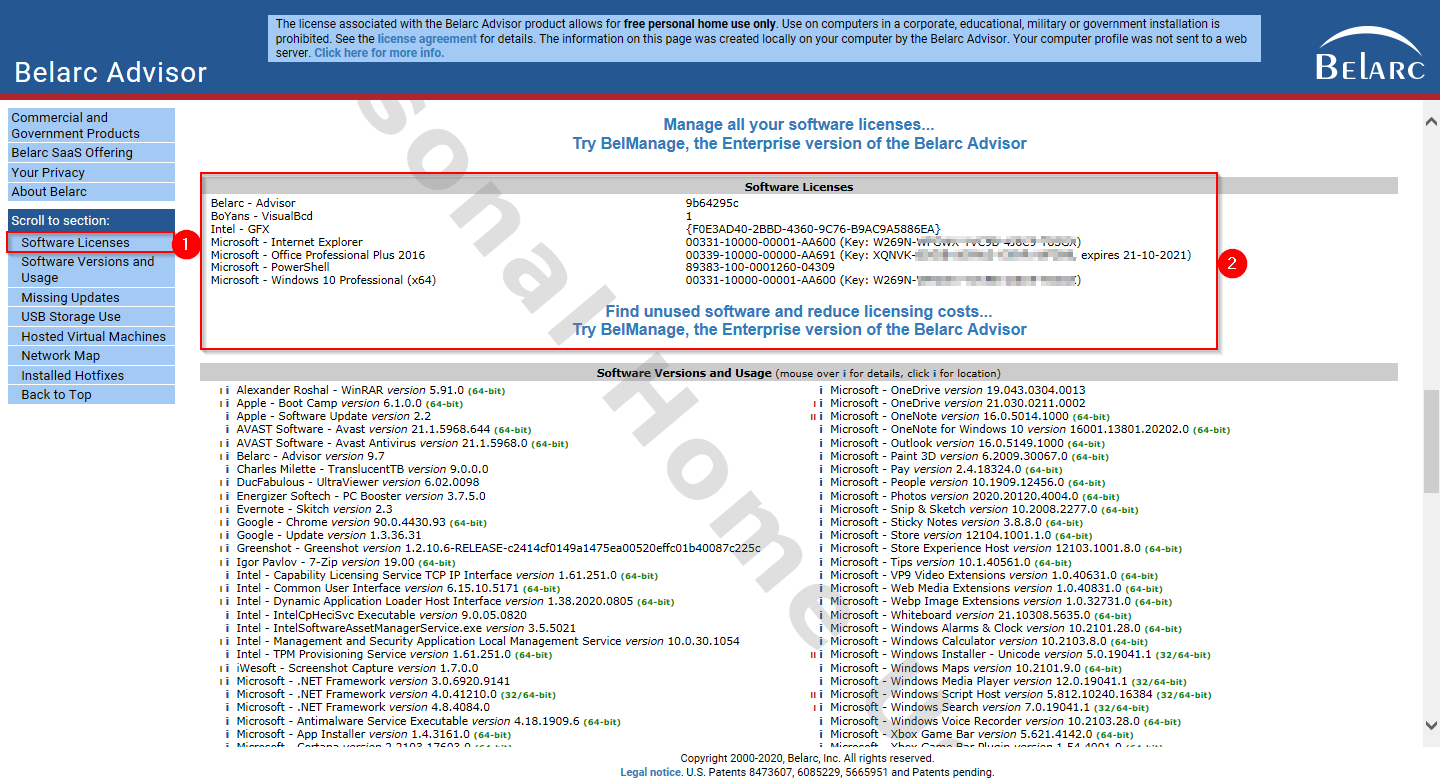 Belarc Advisor is a free tool but for personal use only. You can view the product key of the Windows 10 operating system using this freeware app. After running on your Windows PC, this application generates a comprehensive profile of your installed software, hardware, network inventory, missing security updates, anti-virus status, and security benchmarks. It then reveals the outcomes in your Web browser.
According to the developer, all the PC information generated by Belarc Advisor remains private and is not sent to any web server. You can run this utility on all versions of Windows, including Win 10, Windows 8.1, Win 8, Win 7, Win Vista, Win XP SP3, and MS Windows Server 2016/2012/2012/2008 R2/2008/2003 SP2 to find out the product license keys. It supports both 32-bit and 64-bit Windows architecture. Further, the developer adds that the paid version of this app also runs on all other Windows and Macintosh OS X, Linux, and Solaris operating systems.
Apart from that, the Belarc Advisor generates software reports on any browser, including Internet Explorer, Google Chrome, Microsoft Edge, Firefox, Safari, Opera, etc. It is approximately 4 MB in size and worked well in our test.
ProduKey
ProduKey is another application that is entirely free for personal as well as professional use. Once you open the application, it will produce the product key of MS Office and Windows 10 without any delay and any further mouse click. It comes from the famous Nirsoft website.
Using Command Prompt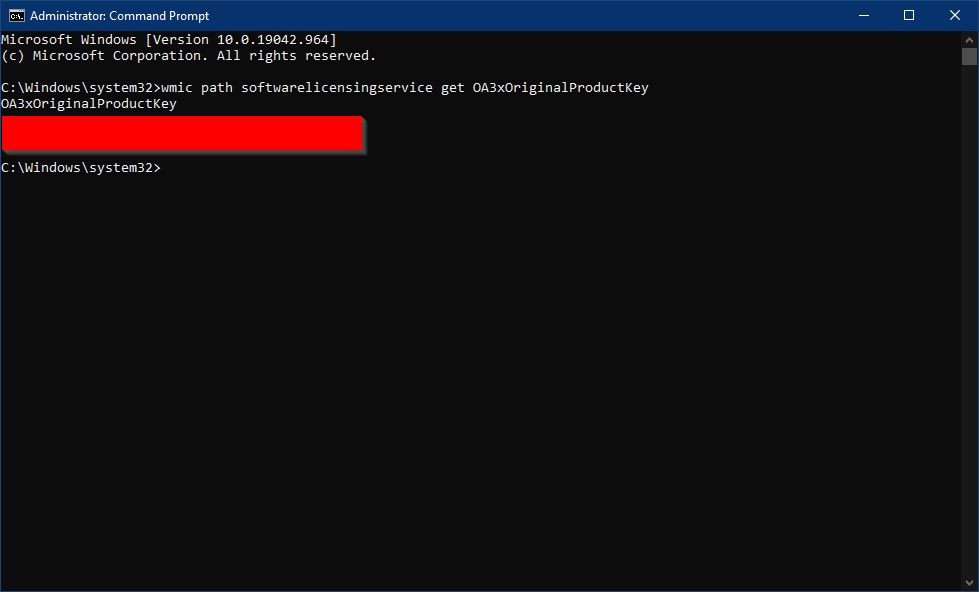 Those who don't prefer to use a third-party tool to find and save the product key for Windows 10 OS can use the built-in Command Prompt. Command prompt also displays the product key of Windows 10 from the BIOS. Therefore, it is easiest to find the product key or license through the Windows Command Prompt.
After running the Command prompt as administrator, you can execute any of the below commands:-
wmic path softwarelicensingservice get OA3xOriginalProductKey
or,
powershell "(Get-WmiObject -query 'select * from SoftwareLicensingService').OA3xOriginalProductKey"
Free PC Audit
Free PC Audit software is built to inspect the Windows computer and laptop. Apart from auditing, this tool also displays the installed operating system product key and ID. To get the product key of your installed operating system, launch the app and then click on the System tab. Here, you can view the Windows Product Key and Windows Product ID. Right-clicking on an entry will copy the details into a clipboard which can be paste and store in any notepad or Word document.
LicenseCrawler
LicenseCrawler is a portable and free product key recovery tool. It scans the registry area on local and remote computers located at the same network for available licenses for Windows, MS Office, and third-party applications. It works on all versions of Windows, including both 32-bit and 64-bit.
You can download the LicenseCrawler from its official website.
VBS Script
It is also possible to recover the Windows 10 product key from Windows Registry using the VBS script. Here is how you can get it:-
Step 1. Open a Notepad file.
To open the Notepad, press Windows logo + R keys simultaneously from the keyboard to access the Run dialog box. In the Run box, type notepad and hit Enter from the keyboard to launch the Notepad application.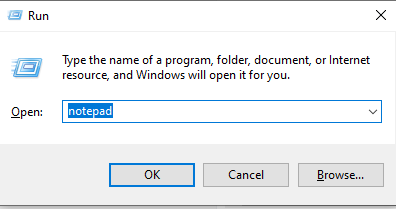 Step 2. In the Notepad window that opens, copy and paste the following script:-
Set WshShell = CreateObject("WScript.Shell")
MsgBox ConvertToKey(WshShell.RegRead("HKLM\SOFTWARE\Microsoft\Windows NT\CurrentVersion\DigitalProductId"))

Function ConvertToKey(Key)
Const KeyOffset = 52
i = 28
Chars = "BCDFGHJKMPQRTVWXY2346789"
Do
Cur = 0
x = 14
Do
Cur = Cur * 256
Cur = Key(x + KeyOffset) + Cur
Key(x + KeyOffset) = (Cur \ 24) And 255
Cur = Cur Mod 24
x = x -1
Loop While x >= 0
i = i -1
KeyOutput = Mid(Chars, Cur + 1, 1) & KeyOutput
If (((29 - i) Mod 6) = 0) And (i <> -1) Then
i = i -1
KeyOutput = "-" & KeyOutput
End If
Loop While i >= 0
ConvertToKey = KeyOutput
End Function
Step 3. In the Notepad, click the File menu and select the "Save As" option from the drop-down menu.
Step 4. In the Save As dialog box that appears, select the location where you want to save your Notepad file. In the "File Name" field, type productkey.vbs. Next, from the "Save as type" drop-down menu, select "All Files." Finally, click on the Save button.
Step 5. Now, you can close the Notepad app.
Step 6. Next, browse the location where you have saved the productkey.vbs file. Double-click on it to retrieve and view the installed Windows 10 product key from the registry.
A pop-up window appears where you will see the product key of your Windows 10 PC.
Lazesoft Windows Key Finder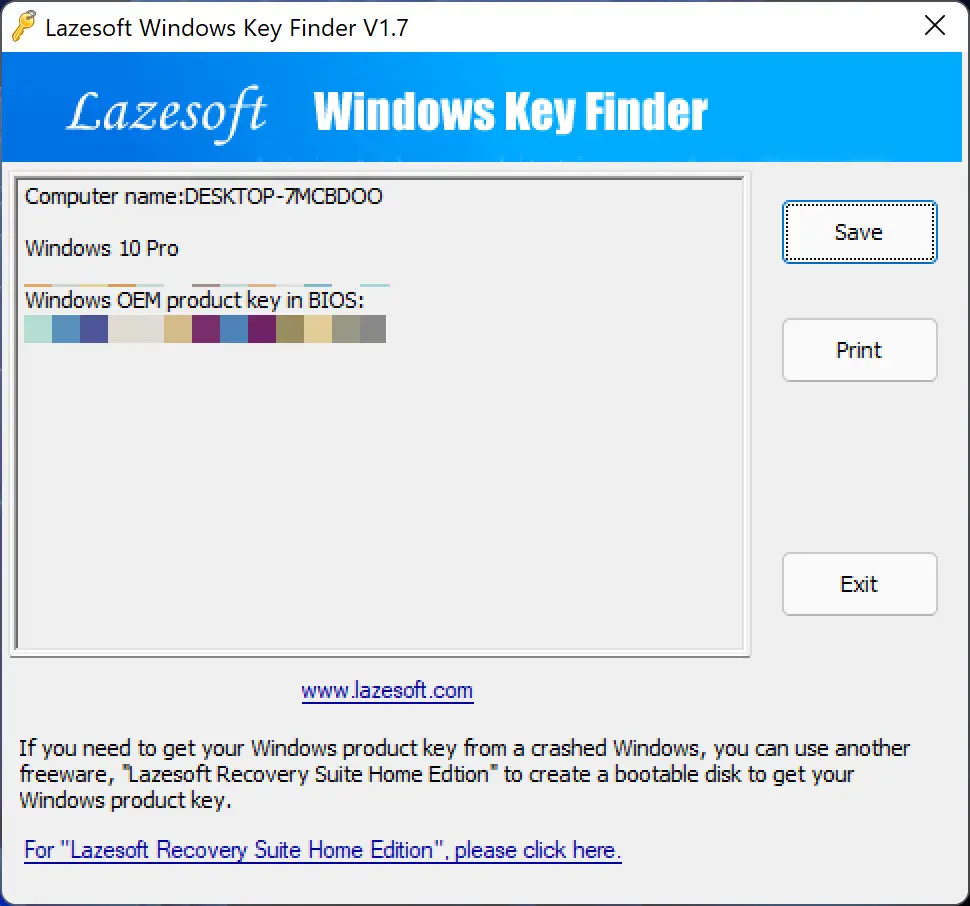 Lazesoft Windows Key Finder is a freeware application to retrieve the product key of the Windows operating system from BIOS/UEFI and registry. Apart from the Windows OS product key, it can also recover the key of all versions of MS Office. It is a portable tool, which means there is no need to install it on your PC. Simply download and run it to view the product key of Windows 11/10 and MS Office (if you have installed it on your PC).