To ensure the safety and security of your important data, we always advise keeping a backup. However, if you've accidentally deleted or formatted your Windows PC's hard disk drive, don't panic. Recuva is a reliable solution that can help you recover lost files, folders, documents, music, images, and videos. This powerful app can also come in handy when retrieving documents from corrupt CDs or DVDs and formatted or damaged hard drives. With Recuva, you can know that your important data can be restored in case of unexpected data loss. For improved data protection, consider using a backup solution in addition to Recuva.
How to Recover Deleted Files, Folders, Music, Images, and Videos?
Follow these steps to recover deleted Files, Folders, Music, Images, and Videos:-
Step 1. To recover all the files/folders, images, videos, etc., while launching the Recuva software, select the "All Files" option and then click the Next button.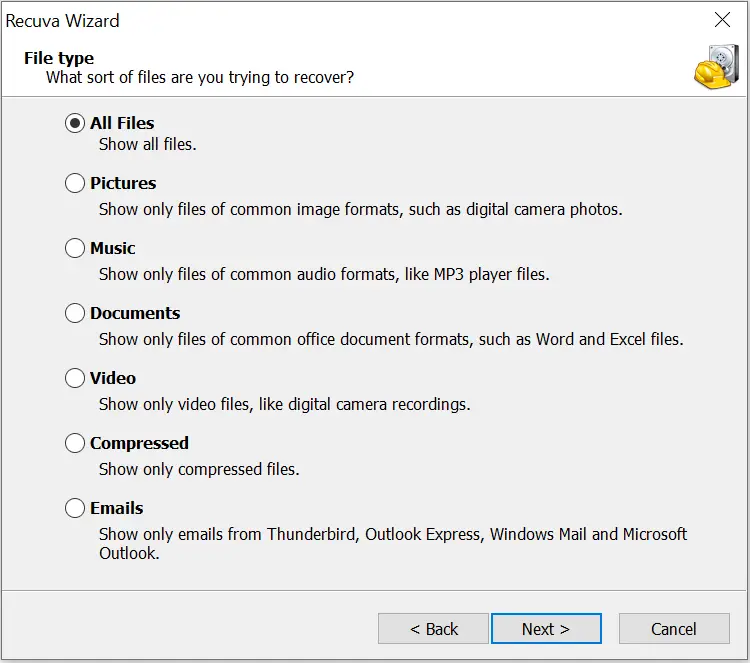 Step 2. It will prompt for the file location from where you want to recover the files. You can scan the internal hard drive / external hard drive by connecting to PC, CD / DVD, and even from Recycle Bin. Select which suits you.
Step 3. Once you have selected the right option, click the Next button. It will prompt for type of scan. You can use a normal scan if you have recently deleted the files by mistake and not overwritten the hard drive/memory card you are trying to recover the data. If you have deleted the files and overwritten the data on that disk, you need to choose the "Enable Deep Scan" option.
Step 4. Press the Next button to continue scanning the disk. It will show the progress of file recovery.
Wait for a complete scan. It will show the list of files that Recuva has recovered; you can restore the recovered data to a local disk or any external disk.
Advantages of Recuva
Recover deleted files from your computer – Recover deleted files/folders, photographs, documents, music files, and even emails. It also recovers data from any rewriteable media like the digital camera's memory card, external hard drive, USB key, iPod drive, iTunes, etc. It also supports the Nikon RAW and Canon RAW (.CRW) formats.
Recovery from damaged or formatted disks – You can recover data from crashed hard drives, formatted drives, camera memory cards, etc.
Recover deleted emails – If you're using a desktop program like Outlook Express, Windows Live Mail, or Mozilla Thunderbird, and you have deleted any email from Recycle Bin / Trash, too, Recuva can recover the permanently deleted emails. When you recover emails with Recuva, they appear in a compressed ZIP file (e.g., Outlook Express.zip). You can use any standard ZIP file reader (including one built into Windows) to open the .ZIP file up and see the emails inside. This application stores each email on the zip file in a standard .EML format that you can import into any email program.
Recover deleted iPod music
Restore unsaved Word documents
Deep Scan
Availability of Portable version
Securely delete files you want to erase forever – As you can recover the deleted data, any hacker can also do. If you have some sensitive data on your disk, you can erase securely using Recuva so that no one can retrieve it later. Securely erase financial records, passwords, confidential documents, or other information and keep it private.
Compatible with Windows 11, Windows 10, Windows 8 / 8.1, Windows 7 / Windows 2008 Server, Windows Vista, Windows XP, and Windows 2003 Server
You might also be interested in Wondershare Recoverit, Disk Drill, and MiniTool Power Data Recovery, free tools to recover your deleted data in Windows 10/8/7.
Download Recuva
You can download the Recuva app from the official website.
Conclusion
In conclusion, data loss can be a frustrating experience, but with the right tools, you can recover your deleted files, folders, music, images, and videos. Recuva is a powerful app that can recover data from damaged or formatted disks and recover deleted emails and iPod music. It also features a Deep Scan option, a Portable version, and a Securely delete files feature. It is compatible with various Windows versions and supports various file formats, including RAW formats. However, it is always essential to have a backup solution to ensure the safety and security of your important data. With Recuva, you can have peace of mind knowing that you can restore lost data in case of unexpected data loss. Download Recuva from the official website and recover your deleted data today.