Lock-A-Folder is a free software tool that allows you to secure and protect your important files and folders from unauthorized access. It is an easy-to-use tool that can help you keep your personal and confidential data safe and secure. With Lock-A-Folder, you can lock any folder on your computer, and only authorized users can access it with a password.
Features of Lock-A-Folder
Lock-A-Folder comes with several features that make it a reliable and efficient folder-locking tool. Some of the notable features of Lock-A-Folder are:-
Simple and User-friendly Interface
Lock-A-Folder has a simple and user-friendly interface, making it easy for anyone to use, even if you are not tech-savvy. The tool is designed with a minimalistic interface that allows you to lock and unlock your folders with just a few clicks.
Password Protection
This folder-locking software lets you lock your files and folders with a password, ensuring that only authorized users can access them. The password can be set during the installation process, and you can change it anytime.
Hide Folders
Lock-A-Folder also lets you hide your folders from prying eyes, adding an extra layer of security. When you hide a folder, it becomes invisible, and only authorized users with a password can access it.
Multiple Language Support
Lock-A-Folder supports multiple languages, including English, Spanish, German, French, Italian, and more. This feature makes it easier for users who are not native English speakers to use the software.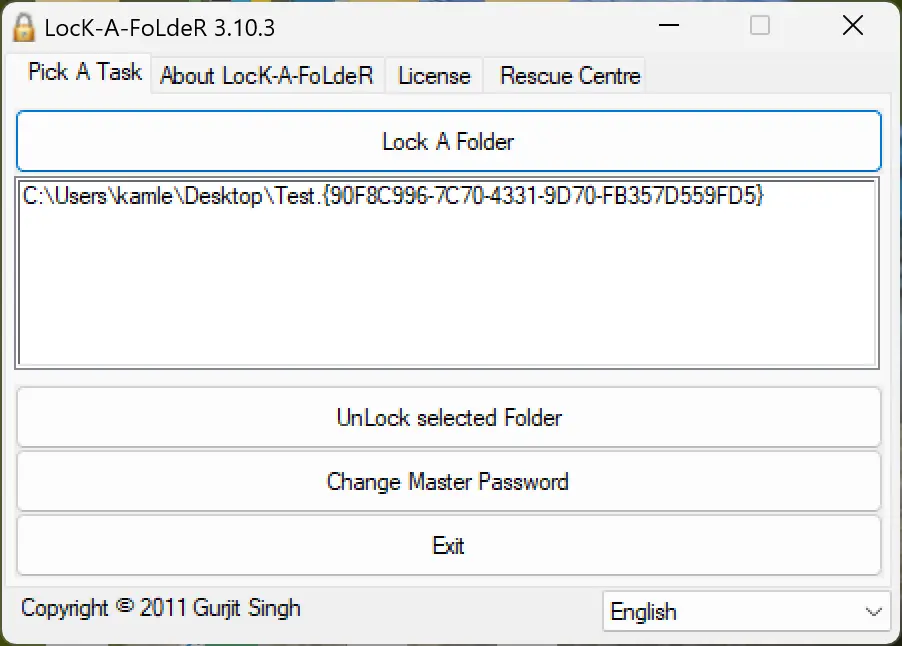 How to Use Lock-A-Folder?
Using Lock-A-Folder is quite simple and straightforward. Here's how to use it:-
Step 1. Download Lock-A-Folder from a reliable website and install it on your Windows PC.
Step 2. Launch Lock-A-Folder and set a password to secure your folders.
Step 3. Click on the "Lock A Folder" button to add a folder you want to lock or hide.
Step 4. Select the folder you want to lock or hide and click "OK."
Step 5. To unlock a folder, launch the Lock-A-Folder application and enter the correct password.
Step 6. If you want to unhide a folder, select the folder in the Lock-A-Folder interface and click on the "UnLock selected Folder" button. The folder will become visible, and all users can access it without a password.
Conclusion
Lock-A-Folder is a reliable and easy-to-use folder-locking software that can help you protect your sensitive files and folders from unauthorized access. With its password protection feature and hide folders option, you can rest assured that your files are safe and secure. Moreover, its integration with File Explorer and support for multiple languages make it a convenient tool for users worldwide. If you want to secure your files and folders, Lock-A-Folder is definitely worth trying.