USB flash drives have become an integral part of our digital lives, allowing us to store and transfer data conveniently. However, they can also be a breeding ground for malware and viruses. To protect your USB drives and keep your data safe, Panda USB Vaccine offers an effective solution.
What is Panda USB Vaccine?
Panda USB Vaccine is a user-friendly security tool designed to immunize your USB flash drives against malware infections. By preventing the execution of malicious files, it ensures the safety of your data and the devices you connect your USB drives to.
How does Panda USB Vaccine work?
Panda USB Vaccine works by creating a protective shield on your USB drive. When you enable the vaccine on your USB drive, it modifies the autorun.inf file, a file responsible for the automatic execution of files upon connecting the drive to a computer. By adding a special command to the autorun.inf file, Panda USB Vaccine blocks the execution of any potentially malicious files, safeguarding your computer and USB drive from malware threats.
How to Use Panda USB Vaccine?
Using Panda USB Vaccine is straightforward. Follow these simple steps to secure your USB drives:-
Step 1. Download and install Panda USB Vaccine from the Panda Security website.
Step 2. Insert your USB drive into your computer.
Step 3. Open Panda USB Vaccine.
Step 4. Select the USB drive you want to vaccinate from the list of available drives.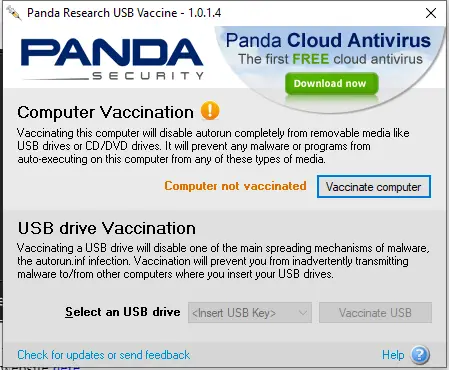 Step 5. Click the "Vaccinate USB" button.
Step 6. Wait for the process to complete.
Once vaccinated, your USB drive is protected from autorun-based malware infections.
Benefits of Panda USB Vaccine
Enhanced Security: Panda USB Vaccine provides an extra layer of security, preventing malware from automatically executing on your USB drives and infecting your computer.
Ease of Use: The user-friendly interface of Panda USB Vaccine makes it simple for anyone to immunize their USB drives, even without technical expertise.
Compatibility: Panda USB Vaccine is compatible with various Windows operating systems, ensuring that you can use it on different computers and USB drives.
Free of Cost: Panda USB Vaccine is available as a free tool, offering robust protection without any financial burden.
Download Panda USB Vaccine
You can download Panda USB Vaccine from its official website.
Conclusion
In conclusion, safeguarding your USB drives from malware threats is crucial in today's digital landscape. With Panda USB Vaccine, you can easily immunize your USB drives, ensuring the safety of your data and devices. Give it a try and experience enhanced security for your USB drives today!