We all take screenshots or create videos on a regular basis. The built-in Snipping tool on Windows 11/10 can be used to take screenshots or freeware like a Greenshot. ShareX might be a better choice if you are looking for a freeware tool to take a screenshot and record a screen on Windows 11/10.
Screen capture programs like ShareX are convenient and efficient to use. You can do all sorts of things with ShareX, such as taking full-screen screenshots with the Print Screen button. You can also take screenshots of specific windows or specific regions of the active screen. With ShareX, you can edit your screenshots instantly by adding squares, circles, arrows, text, blurring things, pixelating things, etc.
You can use ShareX in two ways when it is launched. To access the various tools, you can use the program window. Or you can minimize the window to your system tray, look for the ShareX icon, and click on it. Those who prefer keyboard shortcuts will find the most popular hotkeys on the home screen of this tool. They will find the same categories listed here as well. For example, you need to press the Alt + Print Screen hotkey to capture an active window.
You can even change these given hotkeys by navigating to Hotkeys setting. This software allows you to assign your own keys that are comfortable and convenient to use. You can even add a new hotkeys/shortcut button here by clicking on the Add button.
If you want to take a screenshot, you have many other choices. In the left sidebar of the tool, select Capture, and you will see a list of options (like Fullscreen capture, Window capture, Monitor, Region, Screen Recording, Scrolling capture, Auto capture, etc.) available for capturing the screen.
The ShareX freeware also allows capturing the screenshot after a specific time delay. You can select between 1 second, 2 seconds, 3 seconds, 4 seconds, and 5 seconds.
Even for the screen recording, you can use the shortcut button Shift + Print Screen to Start/Stop Screen recording or directly go to capture and select Screen recording. The best part of ShareX is that you can record any part of the screen. Similarly, you can use this program using the shortcuts button directly or going to the capture button in the upper left sidebar for the needed utility.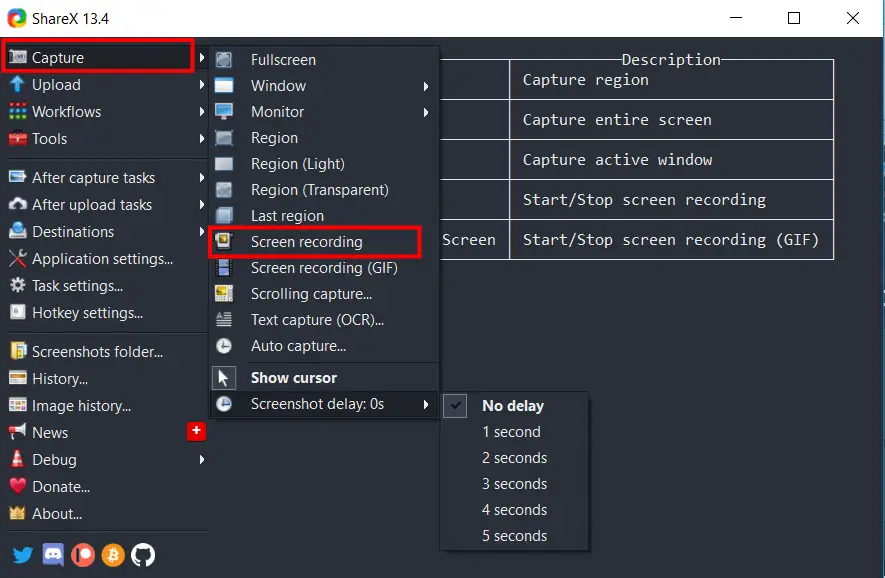 If you ever need to convert any of your video files, ShareX has a useful video converter. On the home screen, go to Tools, and select Video converter. It will open a new window to input the video files you want to convert. When you click on Tools, in addition to the video converter, there are other useful utilities to check out. A few tools include a screen color picker, image editor, ruler, DNS changer, QR code generator, directory indexer, and much more.
The QR code creator is quite handy, and restaurants have been using them lately to access their menus. Copy and paste the URL into the box to create the new QR code; for this, go to the Tools and select the QR code.
As a user, I have never used or found any free screen capture program with so many utility tools and functions with handy functionality. ShareX is a beneficial application for those who want to take a screenshot or record the desktop screen.
It is available for download through Microsoft Store for Windows 11/10. Even you can download this freeware app for Windows 7 and 8.1 from the developer website.