On a Windows 11 Taskbar, you can't do a lot of customization according to your needs. Hence, you might search for a new tool to customize your Windows 11 Taskbar. By default, you can change a couple of visual effects, but using third-party software's you can tweak a lot according to your choice.
In this gearupwindows article, we will introduce a new application known as TaskbarXI. It is still under development so that it may crash during use.
TaskbarXI for Windows 11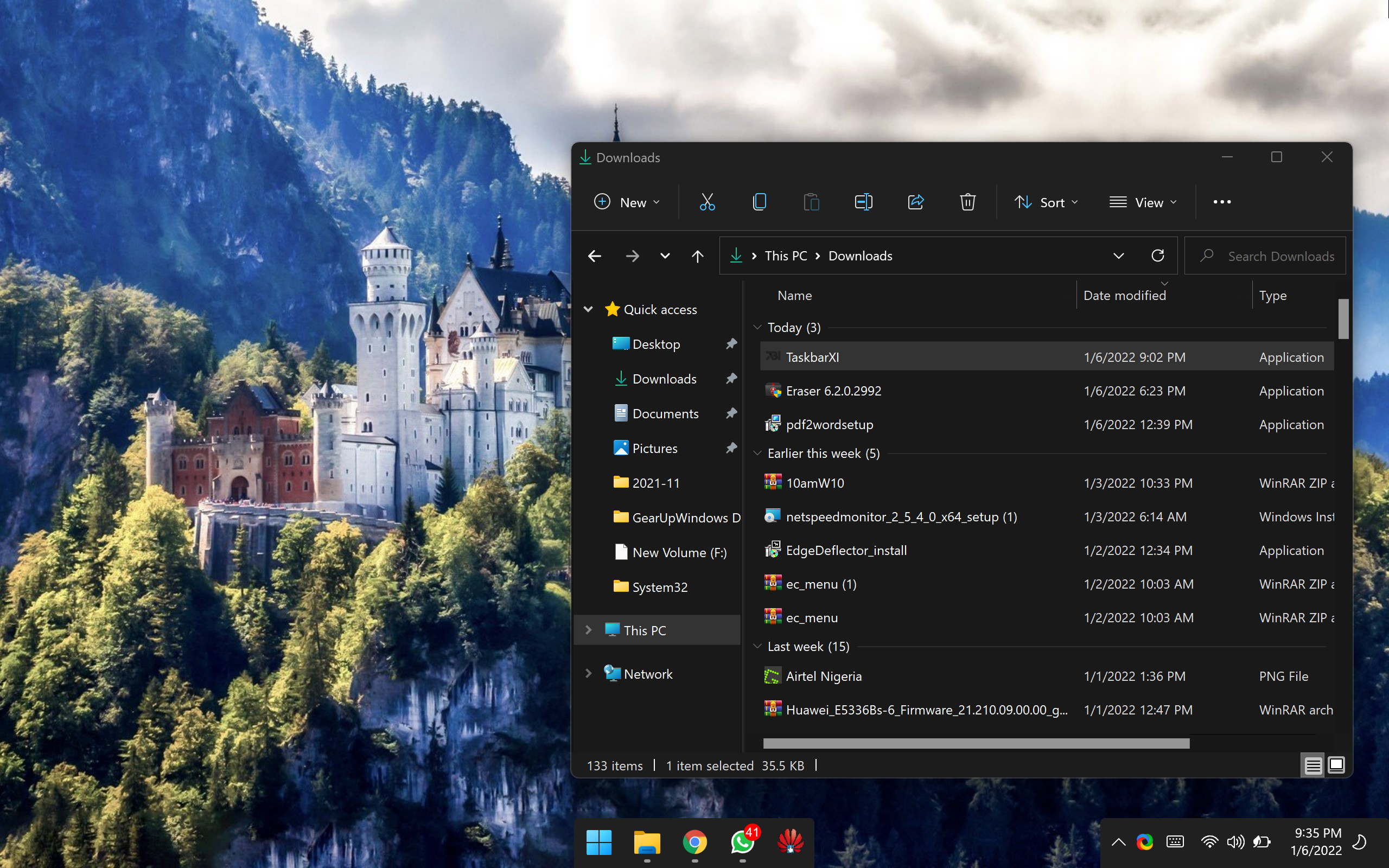 Programmed on C++, the TaskbarXI is the successor to the TaskbarX application from the same developer, but TaskbarXI is still in an early development phase. It does not have a graphical interface yet.
TaskbarXI is a portable tool that means there is no need to install it on your computer. To customize the taskbar, download this program from the GitHub page and run it as administrator.
When you run this app, it shrinks the taskbar to a dock. However, you should note that when you have a window that is maximized, i.e., the taskbar will look as usual. Again, when you minimize the window or do not run in maximized mode, or switch to the desktop, the tool will automatically shrink the taskbar to a dock, with the wallpaper overflowing the edges. The system tray and clock detach from the taskbar and appears like a secondary dock. Also, the edges of the dock get rounded, which looks nice.
The tool displays the taskbar on multiple monitors and supports the system tray and the clock as well. If you are not a fan of the centered icons, you can always use them with a left-aligned taskbar. You need to align the taskbar items to the left side by navigating to Windows 11's Settings > Personalization > Taskbar.
Furthermore, the application works with Windows 11's light and dark themes. However, there is no option to make any changes like the size of the taskbar, transparency, auto-hide, etc. It sits in the taskbar overflow (System tray) when you install this application. Just click on its hidden icon, and on the pop-up window, click the Yes button to close this application.
Features of TaskbarXI
Turn the Windows 11 Taskbar into a dock.
Turn the tray/clock into a dock.
Support multiple monitors.
Support separate DPI scaling.
Switch back to normal on a maximized window.
Support left and centered taskbar.
Tray icon to exit TaskbarXI and revert to the default taskbar.
Upcoming features
Simple GUI to change the settings.
Change taskbar background style and color.
Download TaskbarXI
If you want to try TaskbarXI, you can download this free application at GitHub.