The Ultimate Windows Tweaker 4 is popular and free software for Windows 10. It is specially built for Windows 10 and comes with several tweaking options. With this freeware tool, you can personalize your computing experience. By tweaking your Windows 10, you can make your system faster, more stable, personal, and more secure with just a few mouse clicks.
Tweaking on Windows 10 PC can be done through the Settings app, the Registry Editor, or the Group Policy Editor. With the help of Ultimate Windows Tweaker, one can perform the tweaking task with single mouse clicks.
Ultimate Windows Tweaker for Windows 10
This tweaker is less than 1 MB in size but includes over 200 tweaks. It sports a clean, minimalistic UI, offering links in the left panel and tabs on the top in some of the categories. It is completely portable and does not require installation. Just download and run the Ultimate Windows Tweaker to start tweaking Windows 10. At present, you can download the latest version, 4.7.1 of Ultimate Windows Tweaker.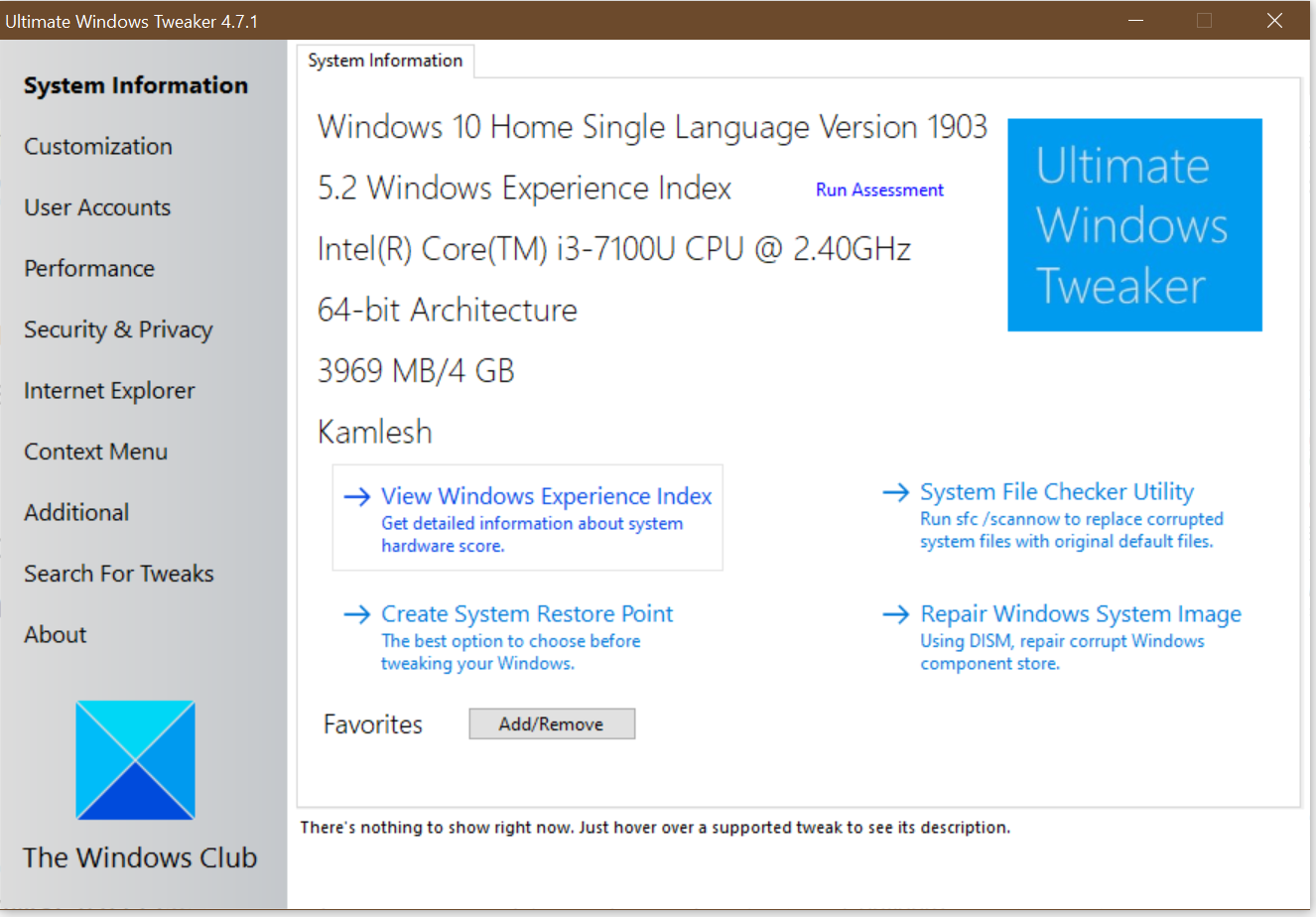 Once you launch this portable app, you can see different categories as a menu on the left side, e.g., System Information, Customization, User Accounts, Performance, Security & Privacy, Internet Explorer, Context Menu, Additional, Search for Tweaks, and About.
By clicking on the first left-side menu System Information, you can see the version of Windows 10, CPU, and RAM information. From here, you can also create a system restore point, run System File Checker Utility, and even repair Windows System Image.
Customize Windows using Ultimate Windows Tweaker
Customization tab offers to tweak settings of your Taskbar, Thumbnails, File Explorer, and the Modern UI. You can opt to use a Light or Dark theme for OS or apps, disable Start animations, change Battery Date & Time flyouts or change the Volume Control, show or hide Frequent folders or Recent files, Change Aero Settings, enable access of Camera on Lock Screen, Customize inbuilt folders, etc.
Tweak User Account using Ultimate Windows Tweaker
User Accounts tab offers to change your User Account settings, Logon information, and sign-in options. You can even enable or disable a built-in Administrator Account from here. You can customize your Windows 10 to display last logon information on Logon Screen, enable verbose Logon Messages (will display your messages on Logon), and force users to press CTRL+ALT+DEL for logon.
Tweak Performance using Ultimate Windows Tweaker
The Performance tab offers options to optimize Windows 10 to best suit your requirements. You can configure waiting time to kill applications during Windows shutdown, waiting time to end services at shutdown, and waiting time to kill non-responding applications.
Ultimate Windows Tweaker: Security and Privacy
The Security & Privacy tab offers to tweak to make Windows 10 unbreakable. You can restrict access to Registry Editor, Control Panel, Task Manager, WinKey Shortcuts, Command Prompt, Administrative Shares, User Account Control, Shutdown ability, Sign Out ability, Encryption of File System, System Restore Configuration, File Explorer Options Menu, Telemetry, Biometrics, Advertising ID, Handwriting Data Sharing, Taskbar Bing Web Search, Cortana, Wi-Fi Sense, Windows Update Sharing, Windows Feedback Requested, Password Reveal Button, Steps Recorder, Inventory Collector, Application Telemetry, Calender, Microphone, Access to User Account info, etc.
Tweak Internet Explorer
Internet Explorer offers tweaks for Internet Explorer 11. You can tweak Internet Explorer's appearance and behavior through this menu.
Tweak Context Menu using Ultimate Windows Tweaker
Context Menu offers tweaks to add Windows Store apps, features, and useful functions to the right-click context menu. You can the following on the right-click context menu: News, Travel, Maps, People, Mail, Music, Money, Microsoft Edge, Alarms & Clock, Games, Weather, Sports, Calendar, Film & TV, Store, Reading List, Settings, OneNote, Registry Editor, Notepad, Calculator, etc.
Additional tweaking menu offers see some additional system and Network tweaks.
Search For Tweaks menu is used to search under Ultimate Windows Tweaker 4. If you want to search for a specific tweak under this freeware, you can do the same with this search bar. From the available results, double-click to go to the respective tweaking section.
Download Ultimate Windows Tweaker
As we can see above, Ultimate Windows Tweaker is very user-friendly, and tweaking under Windows 10 is possible in a few clicks only. You can download the latest version of Ultimate Windows Tweaker from here.