IObit Unlocker is a powerful and free-to-use file unlocker tool that allows you to delete, move, or rename files and folders that are blocked by an unknown program or process on your computer. It is designed to help users deal with stubborn files that cannot be deleted by traditional methods due to various reasons, such as being locked by a program, accessed by other users or processes, or being a system file.
IObit Unlocker for Windows 11 and 10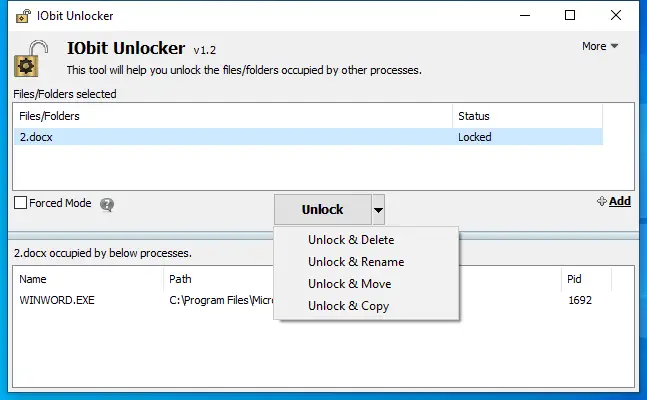 The program's interface is simple and user-friendly, allowing users to select the files or folders they want to unlock or delete. Once you have selected the file or folder, IObit Unlocker will display a list of processes that are currently using the file, along with the type of lock and the process ID.
One of the key features of IObit Unlocker is the ability to unlock files and folders with a single click. You can either choose to unlock the file or folder and perform the operation, or force it to be unlocked and deleted. The program also allows you to schedule file deletions at the next reboot, which is useful when you want to delete a file that is currently in use and cannot be deleted.
IObit Unlocker supports multiple languages and works on all Windows operating systems, including Windows 10, 8, 7, Vista, and XP. The software is available as a standalone executable file that can be installed on your system or as a portable version that can be run directly from a USB drive.
Another advantage of using IObit Unlocker is that it integrates with the Windows Explorer context menu, making it easy to unlock and delete files from any location on your computer. Once installed, you can simply right-click on a file or folder and select "IObit Unlocker" from the context menu to unlock it.
One of the standout features of IObit Unlocker is its ability to scan and delete deep-rooted files and folders that cannot be removed by traditional methods. It can also delete files that are currently being used by other programs, which can be helpful when you are trying to clean up your system and need to remove files that are no longer needed.
Conclusion
In conclusion, IObit Unlocker is a versatile and reliable file unlocker tool that offers users a simple way to delete, move, or rename stubborn files and folders. Its user-friendly interface and integration with the Windows Explorer context menu make it easy to use, and its powerful features, such as scheduling file deletions at the next reboot and scanning and deleting deep-rooted files, make it a must-have tool for anyone dealing with stubborn files on their computer.
Download IObit Unlocker
You can download IObit Unlocker from its official website.