Are you tired of struggling to play high-definition videos on your portable devices? Do you find it frustrating when your favorite editing software doesn't support the formats of your recorded videos? Look no further! Tipard HD Video Converter is here to rescue you from these compatibility woes and elevate your video viewing and editing experience.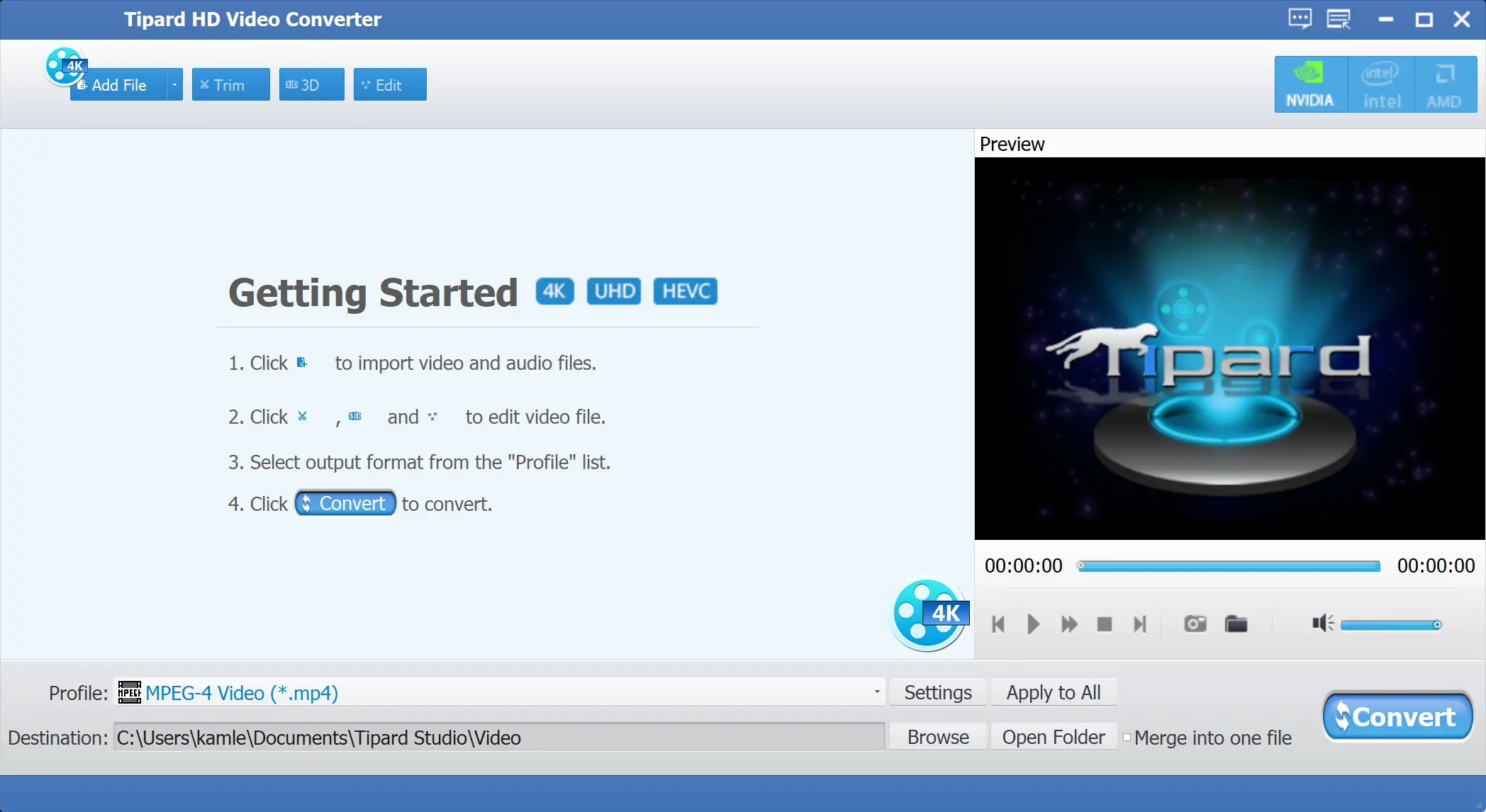 With Tipard HD Video Converter, you can effortlessly convert 4K UHD and 1080p HD videos into various formats, such as MP4, AVI, FLV, MKV, WMV, and WebM. Whether you've captured videos with your camcorder or downloaded them online, this powerful software has got you covered. Say goodbye to the frustration of unsupported video formats and hello to a world of endless possibilities.
One of the standout features of Tipard HD Video Converter is its ability to convert 4K UHD video to 1080p HD video with remarkable speed and precision. This means you can enjoy your high-definition movies in full clarity and resolution, even on devices that don't support 4K playback. With Tipard HD Video Converter, you can now watch your favorite videos on your iPad, iPhone, iPod, HTC One, Samsung Galaxy series, and various Android devices.
But the benefits don't stop there. This versatile software also allows you to extract audio from both HD and SD video files. Whether you want to save a beautiful soundtrack or create audio clips for your projects, Tipard HD Video Converter makes it a breeze.
Not only does Tipard HD Video Converter excel at conversion, but it also offers a range of editing tools to enhance your videos. You have the power to adjust the video effects, including brightness, saturation, contrast, hue, and volume. Trim your videos to extract specific segments or remove unwanted parts. Crop the video or change its aspect ratio to fit your desired screen size. You can even add watermarks, both text, and pictures, to personalize your videos and protect your content. And with the merge function, you can effortlessly combine multiple clips into a single file for seamless viewing.
Customizability is key, and Tipard HD Video Converter lets you fine-tune your output video and audio parameters. Different devices have specific requirements, and this software allows you to adjust settings such as frame rate, resolution, bitrate, audio encoder, sample rate, channels, and audio bitrate. By optimizing these parameters, you can ensure smooth playback and superior image quality tailored to your device's capabilities. Plus, you can save your preferred settings for future use, making it even more convenient.
The user-friendly experience provided by Tipard HD Video Converter sets it apart from the rest. You don't need to be a tech expert to navigate this software. Its simple interface and intuitive operation make converting and editing videos a breeze, even for beginners. Just follow the instructions, click the "Convert" button, and witness your videos transform into stunning high-definition masterpieces. Tipard HD Video Converter truly brings convenience and efficiency to your digital life.
Get Tipard HD Video Converter Free License Key
Now, here's the exciting news: You have the chance to get a 1-year giveaway of Tipard HD Video Converter! Don't miss this opportunity to unlock the full potential of your HD videos and elevate your video playback and editing experience. Simply visit the giveaway page, enter your name and email address, and click "Get Now" to receive your annual license. You'll also receive an email with the license details. Now download the setup file from this link, install it on your computer, and launch it. When prompted, enter your email address and registration code and hit the Register button.
Upgrade your video experience today with Tipard HD Video Converter. Don't let compatibility issues hold you back from enjoying your favorite videos in the best quality possible. Take advantage of this exclusive giveaway and embark on a journey of HD video excellence.
Conclusion
In conclusion, Tipard HD Video Converter is the ultimate solution for converting, editing, and optimizing high-definition videos. With its powerful features and user-friendly interface, you can effortlessly convert 4K UHD and 1080p HD videos into various formats, extract audio, and enhance your videos with editing tools. Don't let compatibility issues limit your video enjoyment – take advantage of the 1-year giveaway and elevate your video experience today. Embrace the world of HD video with Tipard HD Video Converter and unlock endless possibilities for your digital life.