Nowadays, most modern PC comes without a physical CD/DVD drive; here, Virtual CloneDrive is handy for those who need to mount an image file.
Although there is a built-in option in Windows 8 and 10 to mount ISO disc image files, it has limited functions, and most Windows users prefer to use a third-party tool. For instance, an inbuilt ISO mounter creates a single virtual drive.
Virtual CloneDrive is a freeware tool that lets mount ISO, IMG, BIN, UDF, DVD, and other format image files on Windows PC and works like a physical CD, DVD, or Blu-ray drive, although it only exists virtually. You can mount image files into the virtual drive from your hard disk or a network drive by just double-clicking and start using it as a normal CD, DVD, or Blu-ray.
The Virtual CloneDrive supports up to 15 virtual drives simultaneously, no matter the image file containing audio, video, or simple data. There is no limit of size to mount in Virtual CloneDrive; it may be the image file is 700 MB or 7 GB in size, and it will mount without any issues. Once installed on your PC, it fully integrates itself into Windows Explorer context menus, which means you can access it by right-clicking on any image file. You can even access Virtual CloneDrive by clicking on its icon from the system tray.
Virtual CloneDrive
You can install Virtual CloneDrive in any Windows version, including Windows XP, Vista, Win7, Win8, Win10 (both 32-bit and 64-bit architecture), and start working with an image file. Once you install Virtual CloneDrive, it sits in the system tray of Windows; you can launch its setting by clicking on its icon on the system tray.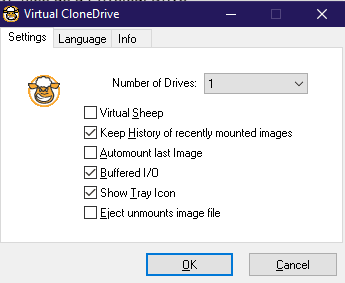 If you want to mount multiple image files at once, increase the number of virtual drives and mount the required image files in a separate virtual drive. However, by default, when you install it on your PC, it creates a single virtual drive.
Mounting an image file is easy on Virtual CloneDrive; right-click on the image file and select the Mount option from the context menu.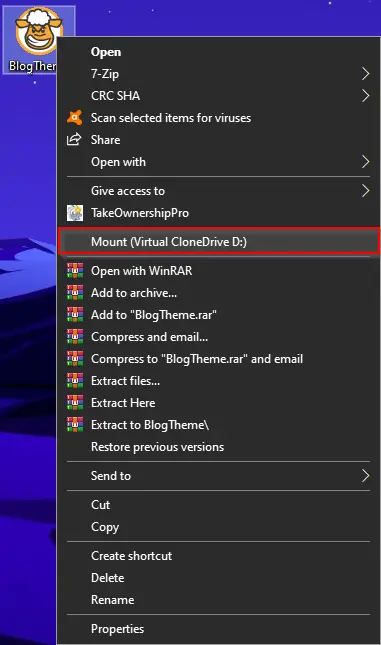 Once you have performed the required task after mounting the image file, please right-click on the image file and select unmount option to dismount it.
Virtual CloneDrive also stores a history of recently mounted image files that you can see later. You can also enable/disable history, show/hide tray icon, show/hide sheep icon in a virtual drive, and enable/disable the option to eject unmounts image file using the Settings menu.
Virtual CloneDrive Features
Mounts images as a virtual drive
Supports up to 15 virtual drives simultaneously
Supports all common image formats such as ISO, BIN, IMG, UDF, DVD, and CCD
Emulation of CD, DVD, and Blu-ray media
Stores history of recently mounted images
Automount last image
Eject button supports
Integrates into Windows Explorer context menu
Double-click an image file to mount as a drive
Free to use
You might also be interested in WinCDEmu free CD/DVD emulator for Windows that supports ISO, CUE, BIN, and more.
Download Virtual CloneDrive
You can download Virtual CloneDrive from the official website link.