If you have recently installed Windows 10 on your PC, your mind may strike the following questions:-
Where do I find drivers on Windows 10?
Where can I find installed drivers?
How do I see all my drivers?
This post is going to answer all these questions. We all know about drivers, and your PC hardware is useless without drivers. If you are using Windows 10, you already know that Microsoft pushes drivers with the Windows update. However, it is possible to stop the automatic update of drivers on Windows 10 without any third-party tool. It is also possible to update the drivers manually on Windows 10, and even you can backup and restore device drivers. If you prefer to use a third-party freeware tool, you may like to use Snappy Driver Installer, DriverBackup, Double Driver, or DriverMax.
As you can see above, several opportunities are available for the drivers on Windows 10. Let it be any method you are using to install the drivers. Have you ever wondered where Windows 10 stores all these drivers? Ninety percent of Windows 10 users may not know the answer about the location of drivers in the Windows 10 operating system. No issue; in this post, we will explain the area of installed drivers in Windows 10 and how to access them.
Where is the location of Installed Drivers in Windows 10?
Your PC may include hundreds of generic drivers for most common devices such as sound cards, graphics cards, ethernet cards, WiFi adapters, and printers. There is nothing wrong if Microsoft installs the drivers for your PC, but sometimes you may need to install a third-party or OEM driver for hardware to unlock all its features.
If you are not aware of the location of drivers in Windows 10, you should know that all built-in and third-party device drivers are stored and protected in a system folder called DriverStore, and it is located under the System32 folder. This folder includes all drivers that are part of Windows 10 generic drivers or installed by a  third-party tool. So, the full path of the drivers on Windows 10 PC will be C:\Windows\System32\DriverStore, where "C" is the driver letter where Windows 10 is installed. For instance, if you have installed Windows 10 on the "D" drive, then the path will be D:\Windows\System32\DriverStore.
Under the DriverStore folder, you will not find three different folders en-US, FileRepository, and Temp. Double-click on the FileRepository folder to see all the device drivers.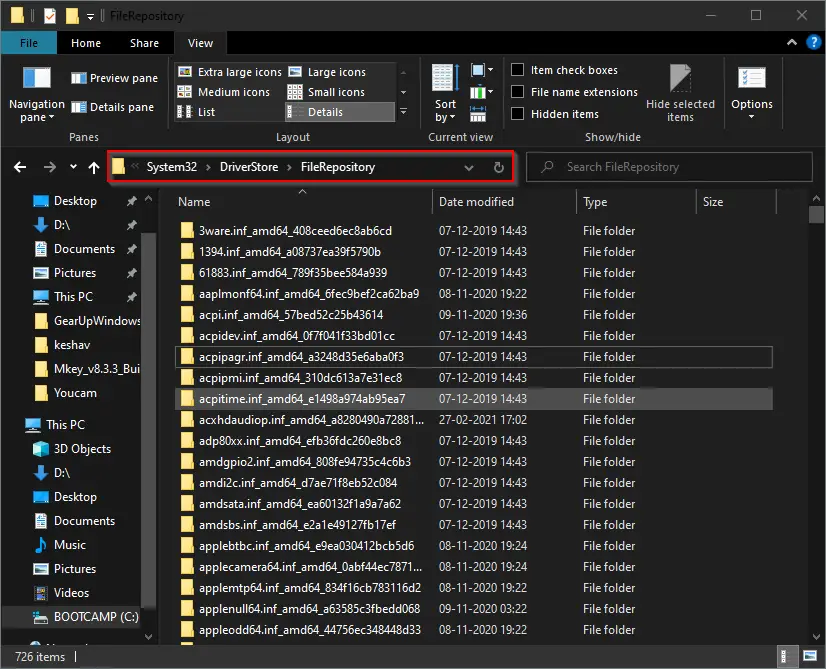 Is it safe to remove drivers from the DriverStore folder?
If any hardware is not working correctly on your Windows PC, it is never safe to manually delete or remove the device drivers from the DriverStore folder. It might prevent you from reinstalling drivers. It would be best if you use a built-in tool to uninstall drivers from Windows PC.