Device Drivers are a vital part of the Windows operating systems, including Win 11/10/8/7. If any drivers are outdated or corrupted in your PC, the device will cause problems or even stop working. NVIDIA is one of the most popular graphic processing units, and most of the high-end new laptops come equipped with an NVIDIA graphics card. Graphics processors are essential in furnishing the graphics, including your normal video playback.
Download NVIDIA Drivers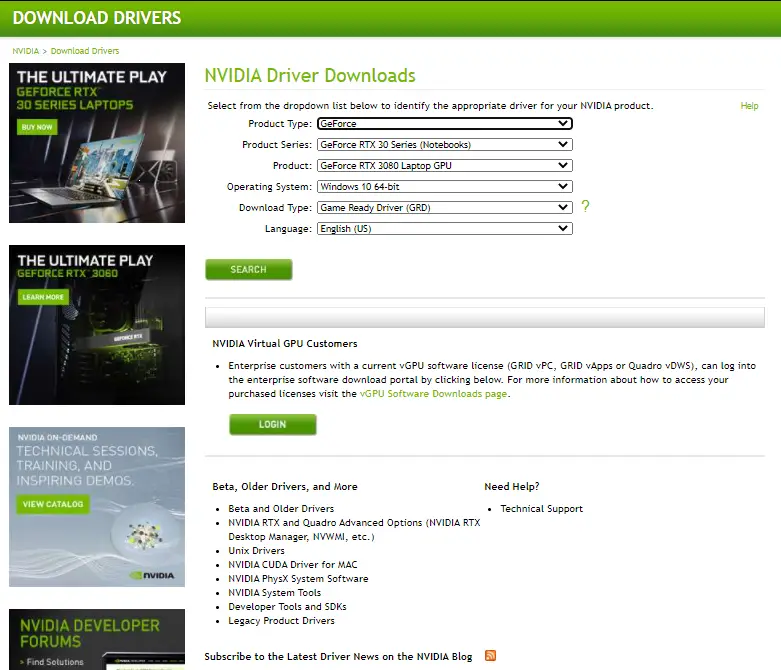 During the Windows Update, Microsoft also updates the Drivers, but you may also require to update the device drivers manually if it does not. To update the drivers manually on Windows PC, open the Device Manager and right-click on the NVIDIA entry. Select Update drivers. Windows will check if driver updates are available, and if they are, they will be downloaded and installed.
However, downloading NVIDIA drivers from the manufacturer's sites is always a good idea. Please navigate to the NVIDIA page, select the details of your hardware, and download it. You can search by Product Type, Product Series, Product, Operating System, and Language.
What is my NVIDIA Driver version?
If you don't know your current NVIDIA driver version, you need to open the NVIDIA Control Panel menu > Help > System Information. The driver version should be mentioned at the top of the Details window.
Additionally, you can also obtain the Driver version of NVIDIA products by navigating to Windows Device Manager. Right-click on the graphics device and then select Properties. In the next step, select the Driver tab and check out the Driver Version.
NVIDIA Smart Scan
Most manufacturers understand that everyone cannot manually update the driver, so they offer a Smart scan. The NVIDIA online tool will automatically scan and download the latest drivers for you. Furthermore, this program also notifies you when a new driver update is made available. This online scanner requires JAVA to be installed.
It is always recommended to download and install the original manufacturer's drivers only to rely on a third-party website.
Double Driver and DriverBackup are tiny freeware utilities that let you backup and restore drivers on Windows 11/10 PC easily. For Intel chipset drivers, you can download the Intel Driver & Support Assistant.