We all love customizing and tweaking Windows operating systems. We don't leave any opportunity to customize our Windows 10 if we get any good freeware. A few options are available to customize the Windows 10 operating system, e.g., configuring the Lock screen of Windows 10 to display a slideshow, changing the desktop background and setup slideshow, show/hide / resize Desktop Icons, etc.
Above all mentioned, customization is possible in Windows 10 OS without any third-party tool.
We have also reviewed some freeware tools like Windows Logon Screen Changer and Rainbow Folders to customize the Windows appearance.
Those who used to download free tools to customize Windows will love Winaero Tweaker. Winaero Tweaker is an all-in-one tool to customize and tweak Windows operating system. There are a bunch of options available to customize your Windows 10.
Winaero Tweaker is not just for Windows 10; you can use the same tool to tweak Windows 7 and even Win 8.
Winaero Tweaker for Windows 10
In this post, we will walk through some of the important options available under Winaero Tweaker.
System Information – Navigate to Home > Information from the left side menu to get the hardware and OS information. You can get the details about the Operating system version, processor details, RAM, display, and WEI score from this option.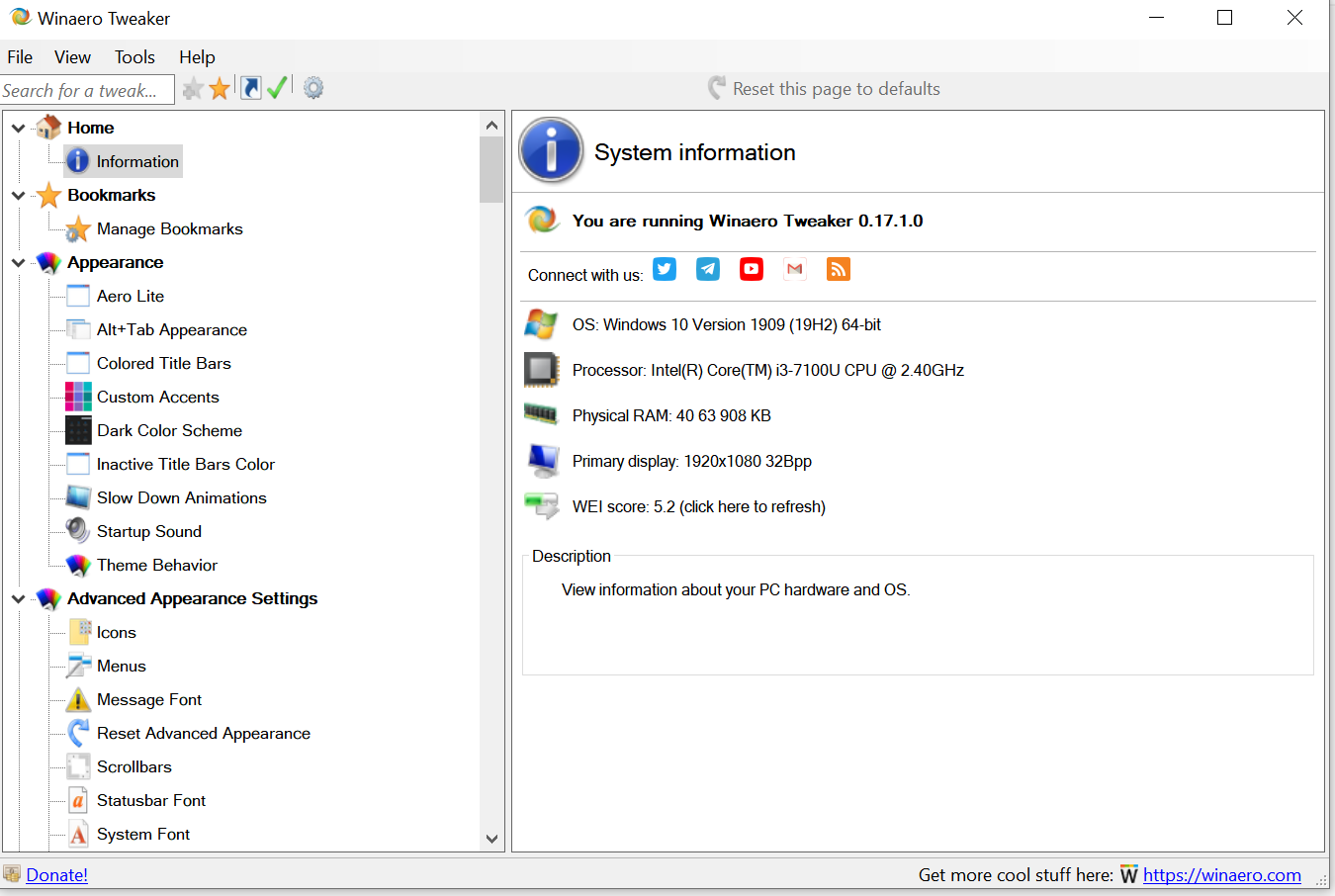 Aero Lite – Under the Appearance menu, you can find Aero Lite settings. Under Aero Lite, there are two options available through which you can enable the Aero Lite theme or switch to the Windows default theme.
Once you activate the Aero Lite theme, it will change the windows taskbar's appearance and the Start menu. After applying the Aero Lite theme, the taskbar will become opaque, window frames will get borders, and the entire appearance of the OS will be similar to what you get with the Aero Lite theme on Windows 8.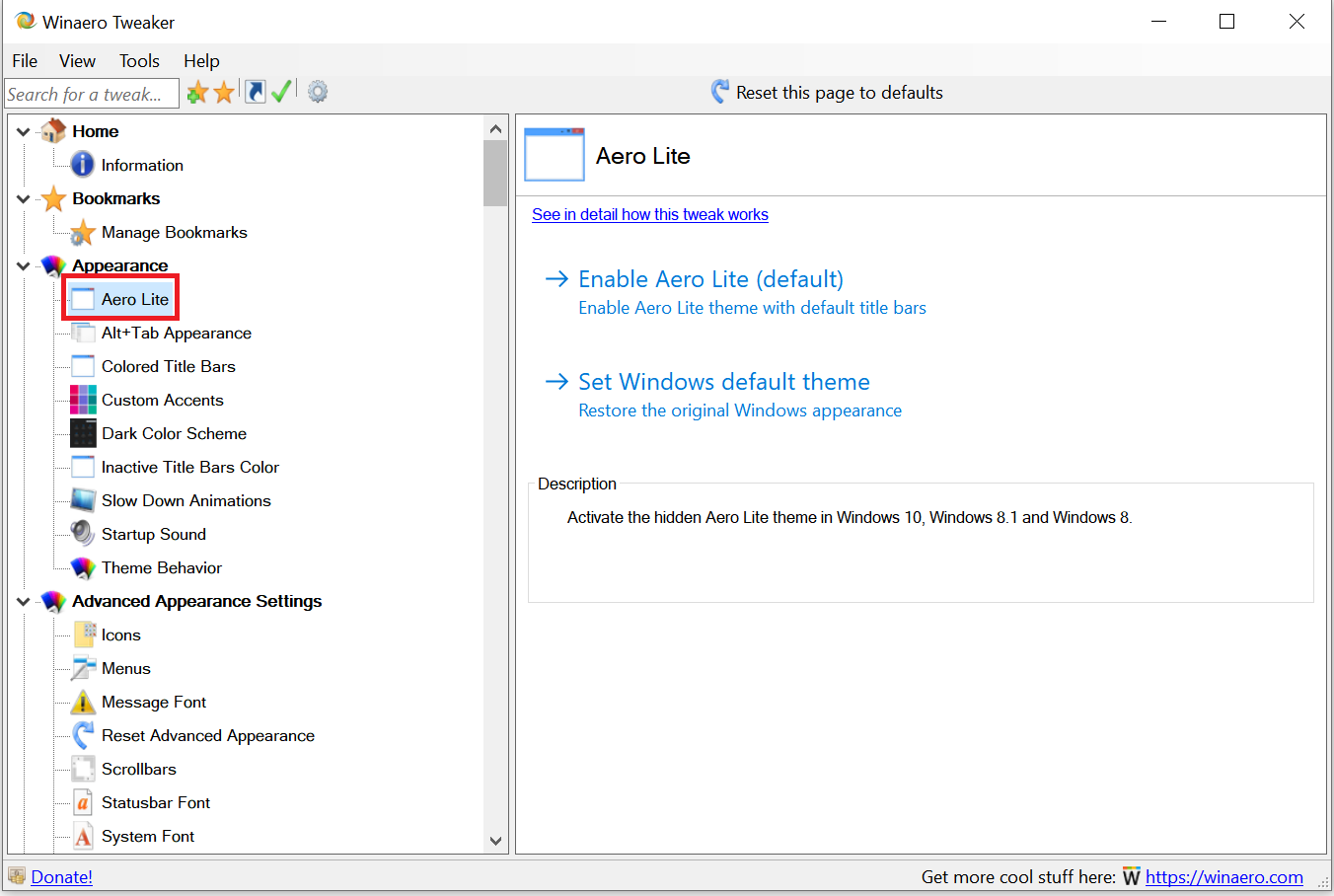 Alt+Tab Appearance – Alt+Tab keys are used to switch between opened windows. Through the Alt+Tab Appearance option, you can set the transparency level of its background, and even you can dim wallpaper.
Colored Title Bars – Microsoft has blocked colored title bars for all opened windows since Windows 10 build 10056. If you want to restore colored title bars in Windows 10, you can do it with Winaero Tweaker.
You can see the changes after enabling colored title bars.
Theme Behavior – When you change Windows 10 theme, it automatically adjusts mouse pointers and desktop icons. If you want to prohibit changing mouse pointers and desktop icons, you can uncheck these options from here.
Icons – Winaero Tweaker app allows us to change the default font of icons and horizontal and vertical spacing.
Menus – It allows us to adjust the height of Windows menus and a font change.
Ads and Unwanted Apps – Windows 10 shows various types of ads, and sometimes it automatically installs apps from the Windows store. You can use this option to disable ads and other annoying features in Windows 10.
Automatic Registry Backup – Starting Windows 10 version 1803, Microsoft has stopped the automatic backup of the Windows Registry. If you want to re-enable, you can do the same with Winaero Tweaker.
Chkdsk Timeout at Boot – Due to improper shutdown of windows, the hard drive partition gets corrupted, and when you start windows, it tries to recover the files/folders during startup. If you want to set a custom timeout for auto-check, you can configure it from here.
Download Winaero Tweaker
There is a lot of customization possible using Winaero Tweaker. We have seen a few options to customize the Windows default behavior. You can download the Winaero Tweaker latest version from here.