A lot of application helps you mount an iso image file to a virtual drive. However, a few applications are available to mount ZIP, RAR, and 7z Archives as a virtual drive. This gearupwindows article will share a freeware application that helps you mount an archive file as a virtual drive.
WinArchiver Virtual Drive for Windows 11 and 10
WinArchiver Virtual Drive is a free tool that helps you mount all kinds of CD/DVD images and compressed archives on a virtual CD-ROM. ZIP, RAR, and 7z are popular formats, and a least Windows users are aware that it can also be mounted as a virtual drive, similar to an ISO file.
Using WinArchiver Virtual Drive, you can run programs or access the files from a virtual disc without using the original CD/DVD. Also, you don't have to extract its contents in a folder. CD/DVD is almost outdated, and now almost all modern PCs come without a physical CD-ROM. If you have downloaded a compressed file from the internet and want to mount it in CD/DVD ROM without actually burning it to a physical CD/DVD, this free application is a great solution.
WinArchiver Virtual Drive is similar to other applications of its kind, such as WinCDEmu, except that it can also mount ZIP, RAR, 7Z, and other archives as virtual discs. With the help of this utility, you can run compressed archives without actually extracting them to a folder on your hard disk. It is useful if you are running out of space and you have to access the content of a large file, for instance, an 11GB file. Once you download 11GB of file and extract it to your PC, it will occupy another 11GB of free space on your PC hard drive. In other words, if you compress a file, you will lose another double space of the size of a compressed file. By simply mounting the archive file to a virtual drive, you can do the same work and save a lot of space and effort.
In function, WinArchiver Virtual Drive is similar to an ISO file mounting software. After installation, you need to set one or more virtual drives and mount your archive files on that drive. It is also possible to enable the application to start at system startup.
Mounting an Archive File
Mounting an archive file using WinArchiver Virtual Drive is extremely easy. First, download and install WinArchiver Virtual Drive software on your PC. After installation, it will sit in the System Tray. Then, by clicking on its icon on the system tray, you can access its configuration.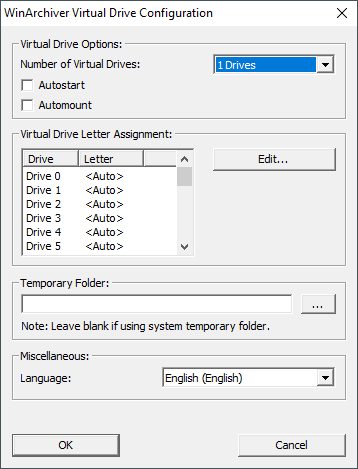 Set the number of virtual drivers you want to set (minimum one and maximum up to 23 virtual drives supported) and then click the OK. Here, you can do other settings if you wish, like automount and autostart.
Now, navigate the path where you have kept the archive file you want to mount on a virtual drive. Right-click on the file and select WinArchiver > Mount > Drive Letter. That all. Now, your selected archive file is mounted on a virtual drive.
Unmounting mounted virtual drive is quite simple. Right-click on the drive letter in File Explorer and select the "Eject" option.
Download WinArchiver Virtual Drive
WinArchiver Virtual Drive is compatible with all versions of Windows, including Win 11, 10, 8, 7, Vista, and XP. We have personally tested it with Windows 11 and 10 (64-bit), and it is working as advertised. You can download the latest version of the free tool from here.
You might also be interested in Pismo File Mount that lets you mount ZIP, ISO, CISO, CFS, and PFO files as Virtual Folder as well as Virtual Drive.