Whenever my Windows 11/10 performance slows down, I search for a free tool to speed up or gear up my PC performance. We found a good and working software for my Windows PC during the search, the Glary Utilities. Once I downloaded and started using it, I found it includes a 1-click clean-up button. After checking around several good free Windows optimization tools, finally, I settled down with Glary Utilities Free.
Before proceeding further, we want to mention that it has free as well as paid versions. Hence, please download the correct version to optimize your PC free of cost.
Glary Utilities Free Reviews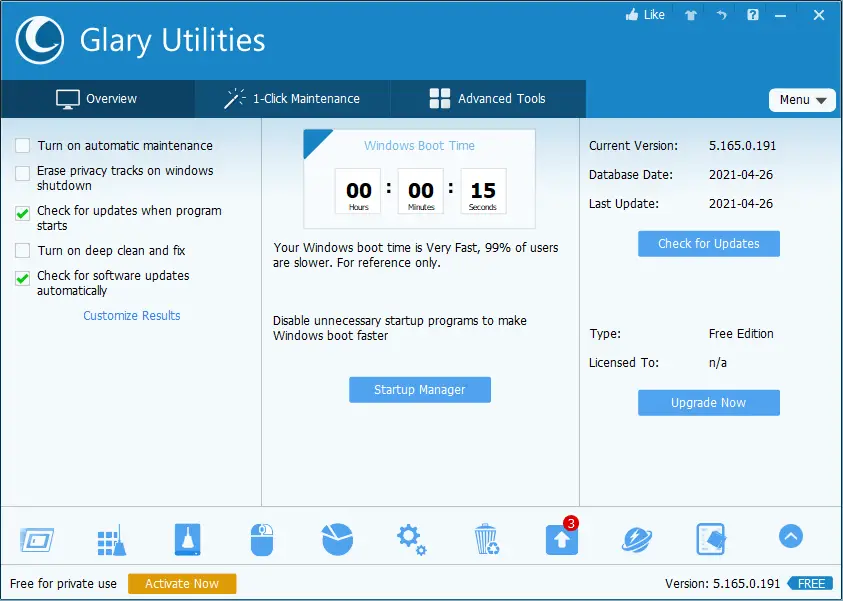 Once you download, install and run it on your computer, the first thing you will notice is that the free version of Glary Utilities comes with a compact and user-friendly interface. It is straightforward to use. It is divided into several modules to keep your Windows PC optimized and in top health. The following are the main modules included in Glary Utilities Free:-
Startup Manager
Registry Repair
Disk Cleanup
Context Menu Manager
Disk Space Analyzer
Process Manager
Uninstall Manager
Software Update
Browser Assistant
Tracks Eraser
Malware Remover
Driver Manager
Shortcut Fixer
Duplicate Files Finder
Empty Folders Finder
Quick Search
File Undelete
File Splitter
Check Disk
Disk Defrag
File Encrypter
File Shredder
System Information
Undo Changes
Memory Optimizer
Registry Defrag
Above mentioned, all features are packed in a small tool Glary Utilities that is less than 20MB in size. Let me cover the main topics one by one.
1. Startup Manager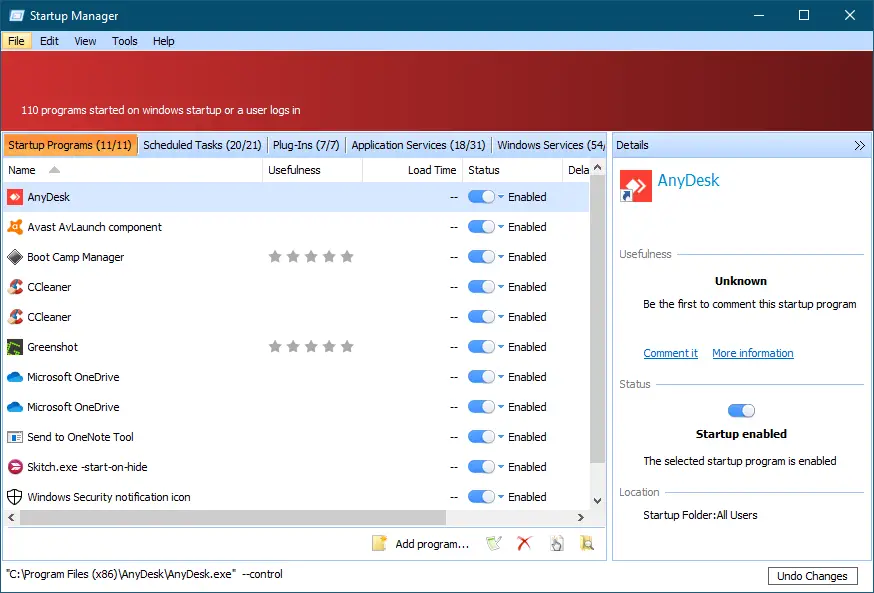 Startup Manager is one of the elements of Windows that slow down the performance of a PC. To manage the start-up programs that run automatically when Windows starts, Glary Utilities has included a separate tool, "Startup Manager."
Using this tool, you can enable, disable or delete the start-up entries. This tool also allows you to manage Scheduled Tasks, Plug-Ins, Application Services, and Windows Services. Clicking on any entry will display the details about the selected application on the right-side pane. You will not find these types of features to manage startup programs in a freeware program.
2. Registry Repair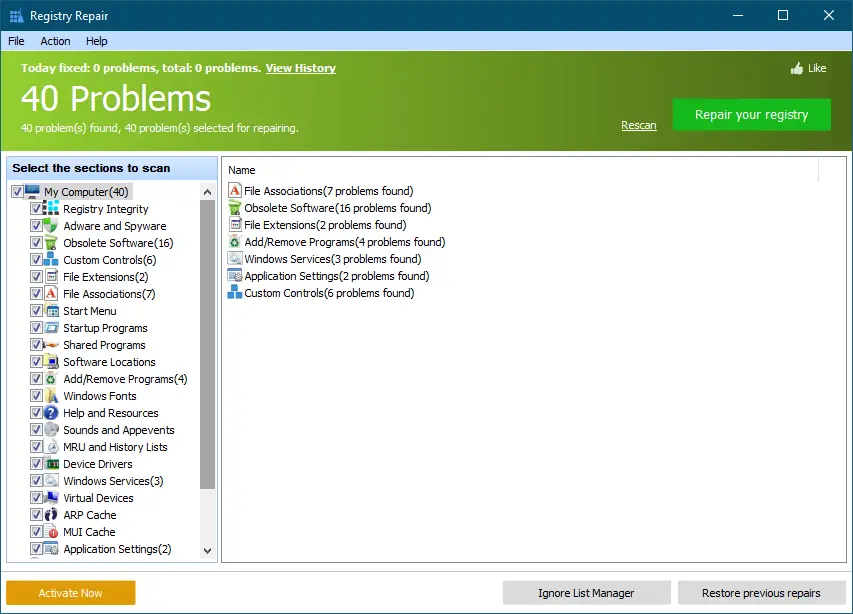 Registry Repair is another module that attracts Windows users. It lets you clean and fix the registry issues on your PC and thus helps improve overall performance. Auslogics Registry Cleaner and IObit Advanced SystemCare are other freeware that takes care of the Windows registry.
3. Disk Cleanup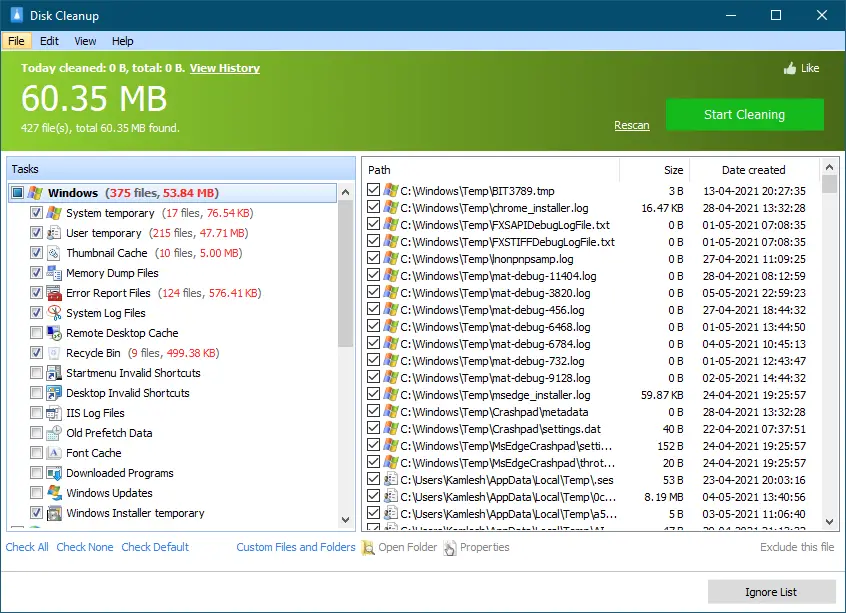 Glary Utilities includes a Disk Cleanup tool that helps you keep your PC clean from unwanted system files, for instance, System & User temporary files, Thumbnail Cache, Memory Dump files, Error Report, System logs, Remote Desktop cache, recycle bin items, etc. You can clean all of them at once, or you can clean the selected unwanted files only. On Windows 11/10 PC, it is possible to clear Thumbnail Cache and free disk space automatically once in 30 days.
4. Context Menu Manager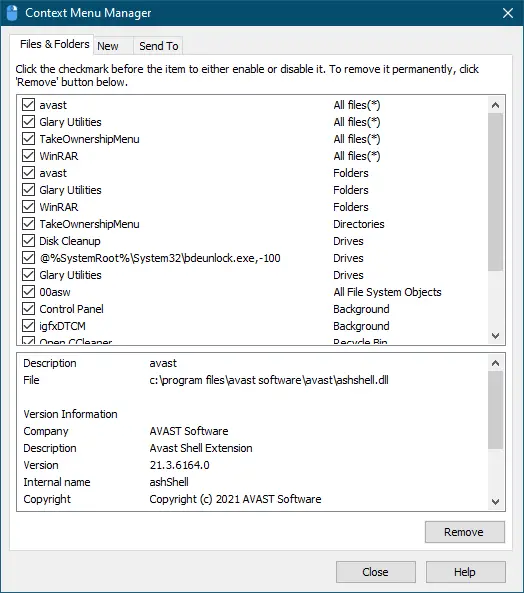 Context Menu Manager is another useful tool that allows you to manage the context-menu entries for files and folders. One can even edit the entries in the "New" and "Sent To" right-click menus. Alternatively, you can use a powerful and free tool, "Easy Context Menu," to manage right-click menu items.
5. Disk Space Analyzer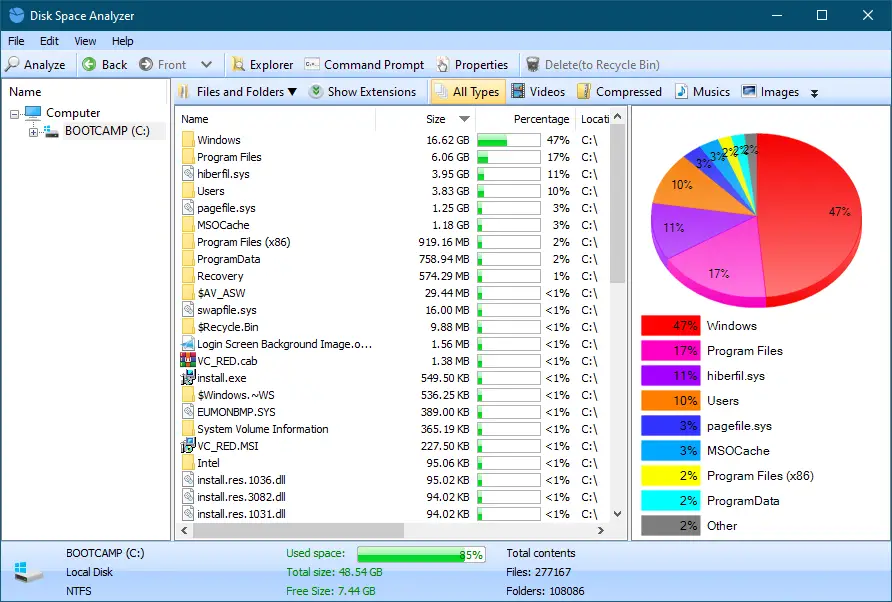 The Disk Space Analyzer feature studies the hard disk and provides an output in a colorful graphical chart. In the chart, you can see the hard disk usage by the percentage, divided into several categories, i.e., Windows, Program Files, etc.
6. Process Manager
Process Manager tool observes programs that run on your PC and help you in stopping spyware and Trojans.
7. Uninstall Manager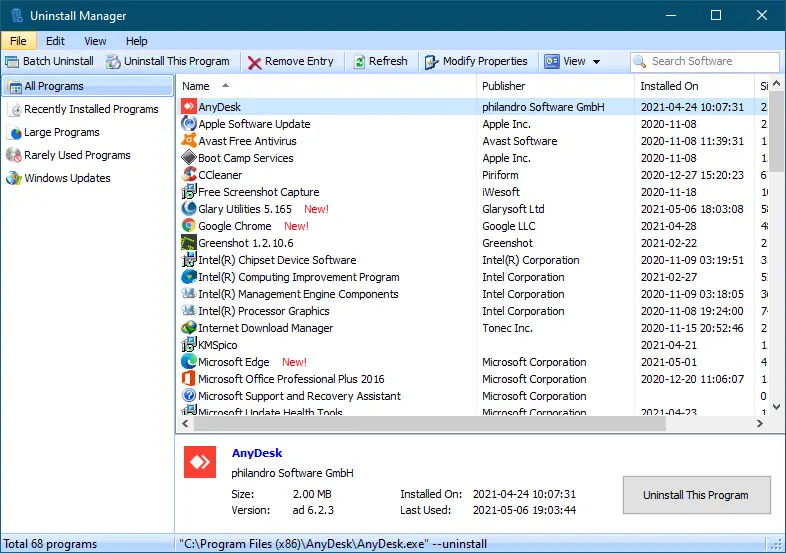 Uninstall Manager functionality of Glary Utility helps you completely uninstall programs you no longer need. It also offers a "Batch Uninstall" function that lets you uninstall more than one software at once. The Uninstall Manager can remove the installed Security Update, but it cannot find and uninstall UWP apps until writing this post. Wise Program Uninstaller and Revo Uninstaller are alternate freeware apps specially developed to uninstall residual files and registry entries.
8. Software Update
The Software Update feature of Glary Utilities scans your computer from installed programs and alerts you when an update is available over the internet. Once you find an update is available for any software, you can download them from the link provided by Glary Utilities. You don't have to find updates for every software that you have installed on your Windows machine.
9. Browser Assistant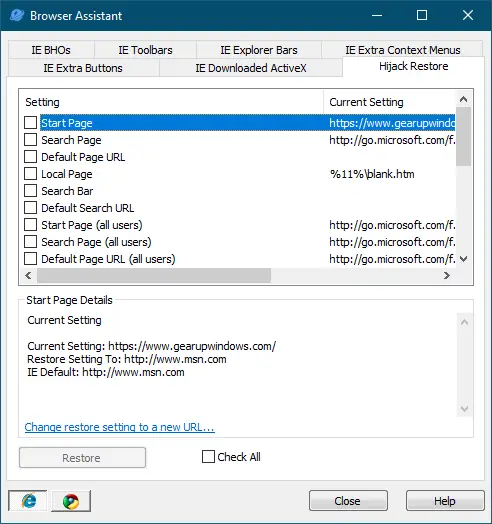 Browser Assistant lets you access and manage all modern web-browsers Internet Explorer, Chrome, Edge, Opera, Firefox, etc. web-browser BHOs, Toolbars, Bars, Context Menu, Extra Buttons, and ActiveX. It also helps you restore the hijacked Start Page, Search Page, Search Bar, Search Engine, and more from any web browser.
10. Tracks Eraser
This functionality of Glary Utilities removes the privacy entries from your PC and secures your private data over the internet.
11. Malware Remover
This function scans your computer for Malware and removes it from your PC. It even lets you back up a file before deleting it to restore them if it is important for you. IObit Malware Fighter is a free and powerful app to protect your PC from viruses, ransomware, spyware, Trojans, adware, and worms. If you notice your computer is infected with malware, you should give it a try.
12. Driver Manager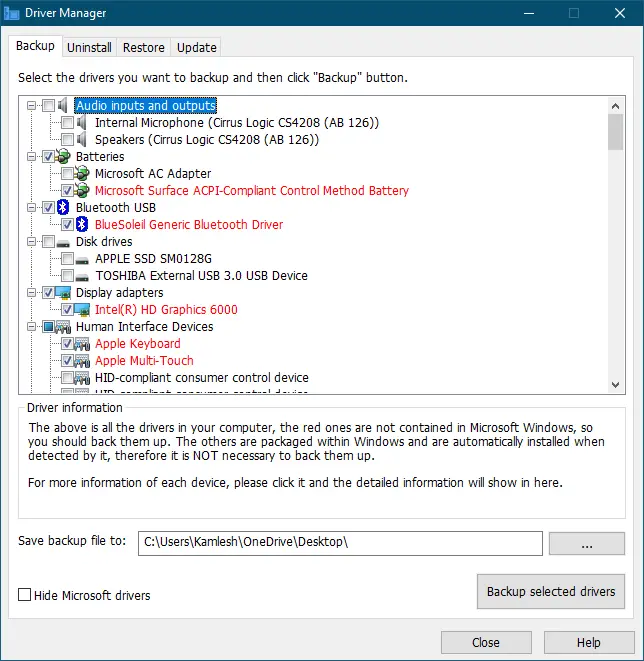 Glary Utilities's Driver Manager is another powerful tool that lets you update, uninstall, backup, and restore the drivers. It scans the computer or laptop and checks with its own maintained database if a driver needs an update.
13. Shortcut Fixer
This function of Glary Utilities searches for all shortcuts and lets you delete or fix them in a single click.
14. Duplicate Files Finder
Duplicate Files Finder searches your computer for space-wasting and error-producing duplicate files.
15. Empty Folders Finder
The empty Folders Finder option helps you find and remove empty folders in your windows. It is safe to delete empty folders, although you will not earn any space on your hard disk as they occupy 0 bytes. Although it is good housekeeping, if you see it is unwanted, you can go ahead.
16. Quick Search
You can use the Quick Search option as an alternative to Windows' default File Explorer search. It separates your search results into Shortcuts, Music, Pictures, Programs, Videos, Archives, etc.
17. File Undelete
If you have accidentally deleted any files from your PC, you can use this function to recover them. It provides a search box to find the file. If Glary Utilities cannot recover the deleted files, you can consider using one of the famous freeware Recuva, MiniTool Power Data Recovery, or Wondershare Recoverit.
18. File Splitter
File Splitter function will split bigger files into small chunks, useful for those who want to store bigger file parts into different hard disks or USB flash drives. You can even utilize WinRAR software to split the bigger files into small pieces.
19. Check Disk
Check Disk can be utilized to find your hard drive and its file system for errors. Once an error is detected on the hard disk, it will automatically fix to prevent data loss.
20. Disk Defrag
Due to the SSD structure, it does not gets fragmented, and you don't need to defragment it; however, if you are still using HDD, you can use this function to defrag the HDD and speed up the overall system performance. Alternatively, you can utilize one of the free defragmentation tools from here.
21. File Encrypter
The File Encrypter function lets you protect files and folders with a password to help you protect them from unauthorized access.
22. File Shredder
File Shredder lets you erase files or folders permanently from your PC so that no one can recover them.
23. System Information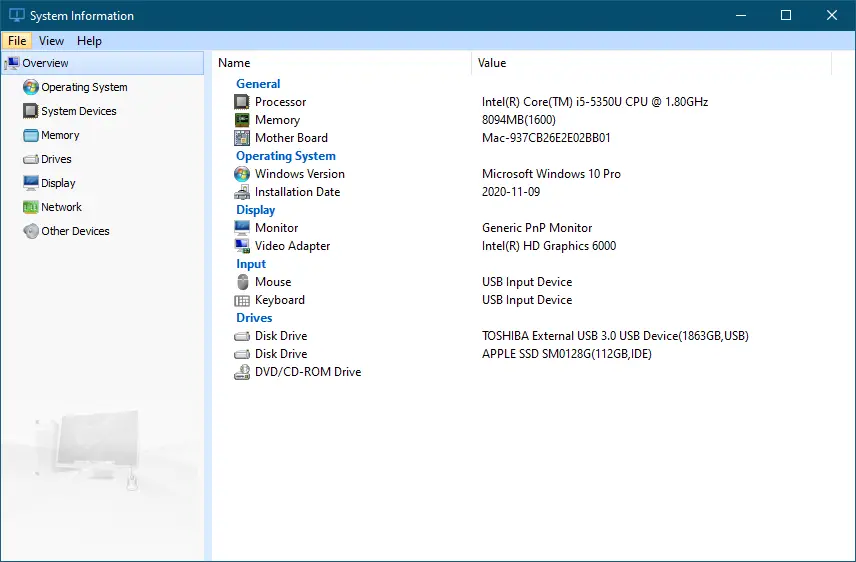 The System Information function scans your PC, collects information, and presents it to you neatly. O&O DeskInfo and Speccy are other freeware tools that gently show the full system information.
25. Undo Changes
Undo Changes option offers to create and use System Restore Points.
26. Registry Defrag
Registry Defrag is the last function that Glary Utilities provides. Using this feature, you can defrag the Windows registry to reduce fragmentation, correct structural errors, and recover unused memory space.
1-Click Maintenance
The best part of this freeware that I would like is 1-Click Maintenance. It is a combination of features that let you run at once on your PC.
If you have a little time to optimize your PC, you can activate the 1-Click Maintenance, and your PC will be tuned for a few minutes.
Final Opinion on Glary Utilities
Glary Utilities is the best freeware and comes with a lot of features. In no other freeware tool, you can find the functionality which is provided by this software. It is an all-in-one app that can care for your PC and keep it geared up.
Download Glary Utilities
You can download the free and latest version of Glary Utilities from its official website.