Microsoft has launched Windows 11 this year with quite a few improvements compared to previous Windows versions, including Windows 10. If you are looking for a freeware tool to customize a few settings of Windows 11 quickly, then you should try out Windows 11 Fixer.
Windows 11 Fixer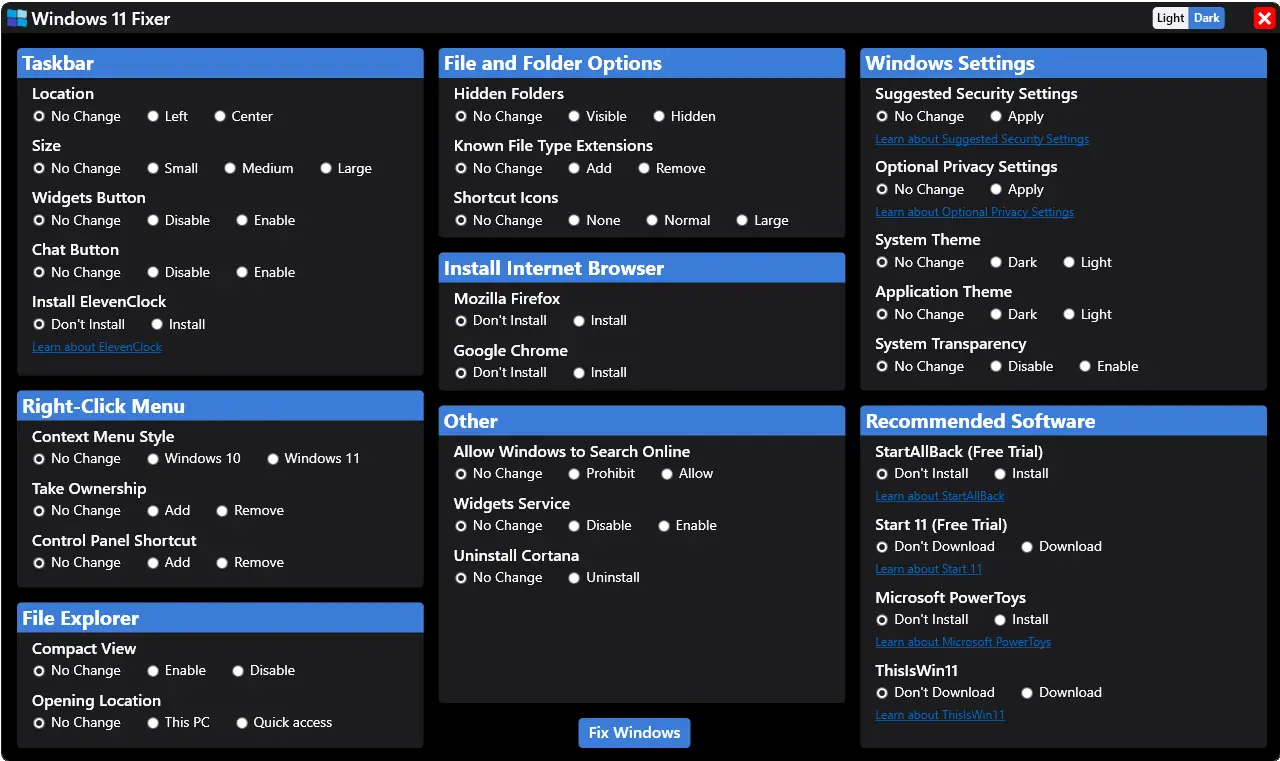 Windows 11 Fixer is a free and open-source program for Microsoft's Windows 11 operating system that allows you to make several usability adjustments quickly. On Windows 11 OS, Microsoft has made several changes—for example, the taskbar with reduced functionality and File Explorer with severe usability issues.
When you launch Windows 11 Fixer program, it displays all of its tweaks in its interface. However, to run this application, you need to install .NET Core 5.0. Fortunately, .NET Core 5.0 is included in the archive that you download from the project's GitHub repository.
Using Windows 11 Fixer is quite easy. It is just a matter of flipping switches to change the configuration. After that, hit the Fix Windows button at the bottom to apply the changes. This app offers several options to change. For instance, the Taskbar section has five different options, including changing the size of taskbar items, changing the location of taskbar items to left or right, removing the chat and widgets button, and installing the freeware ElevenClock.
Other options included in this software are enabling compact view mode in File Explorer, using the Windows 10 context menu instead of Windows 11's context menu, disabling online search functionality, displaying hidden files and folders in Explorer, and more. Apart from that, this software also allows you to install third-party applications such as the tweaker ThisIsWin11, Start 11, or  Microsoft PowerToys.
You can switch the system theme to dark or light using the Windows Settings section and even enable or disable transparency.
It is a portable application, which means there is no need to install it on your PC. Just download it and then unzip it into a folder. After that, double-click on its executable file to run and make changes on your PC.
Main features of Windows 11 Fixer
Allows customizing the look and feel of the taskbar.
Adjust the right-click context menu to your liking.
Modify file explorer, and adjust file and folder options with ease.
Install a variety of software, including commonly used internet browsers.
Adjust a range of Windows Settings.
Additional options to enhance your Windows 11 experience.
Download Windows 11 Fixer
If you need, you can download Windows 11 Fixer from GitHub.
Conclusion
In conclusion, Windows 11 brings several new features and changes to the Windows operating system. However, some users may prefer the functionality of previous versions of Windows. If you are one of them, then Windows 11 Fixer may be an ideal solution for you. This freeware tool provides a straightforward interface to customize the taskbar, file explorer, and several other settings on Windows 11 quickly. Its portability makes it easy to use, and you can download it directly from its GitHub repository. With Windows 11 Fixer, you can enhance your Windows 11 experience to your liking.