Several times you face a problem in Windows PC, and then you start hunting the internet for freeware tools. Windows Repair Toolbox is a free program for Windows devices that provides you access to third-party repair and troubleshooting tools. In size, it is 3 MB only and requires Microsoft .Net Framework to work properly. It is compatible with all versions of Windows, including XP, Vista, 7, 8, 10 & 11. This portable application does not include any third-party tools; instead, it comes with direct links to several applications. You need to download those tools for the first time use. Apart from the third-party tools links, it also includes some native Windows tools that you can use directly by clicking on its interface.
Windows Repair Toolbox for Windows 11/10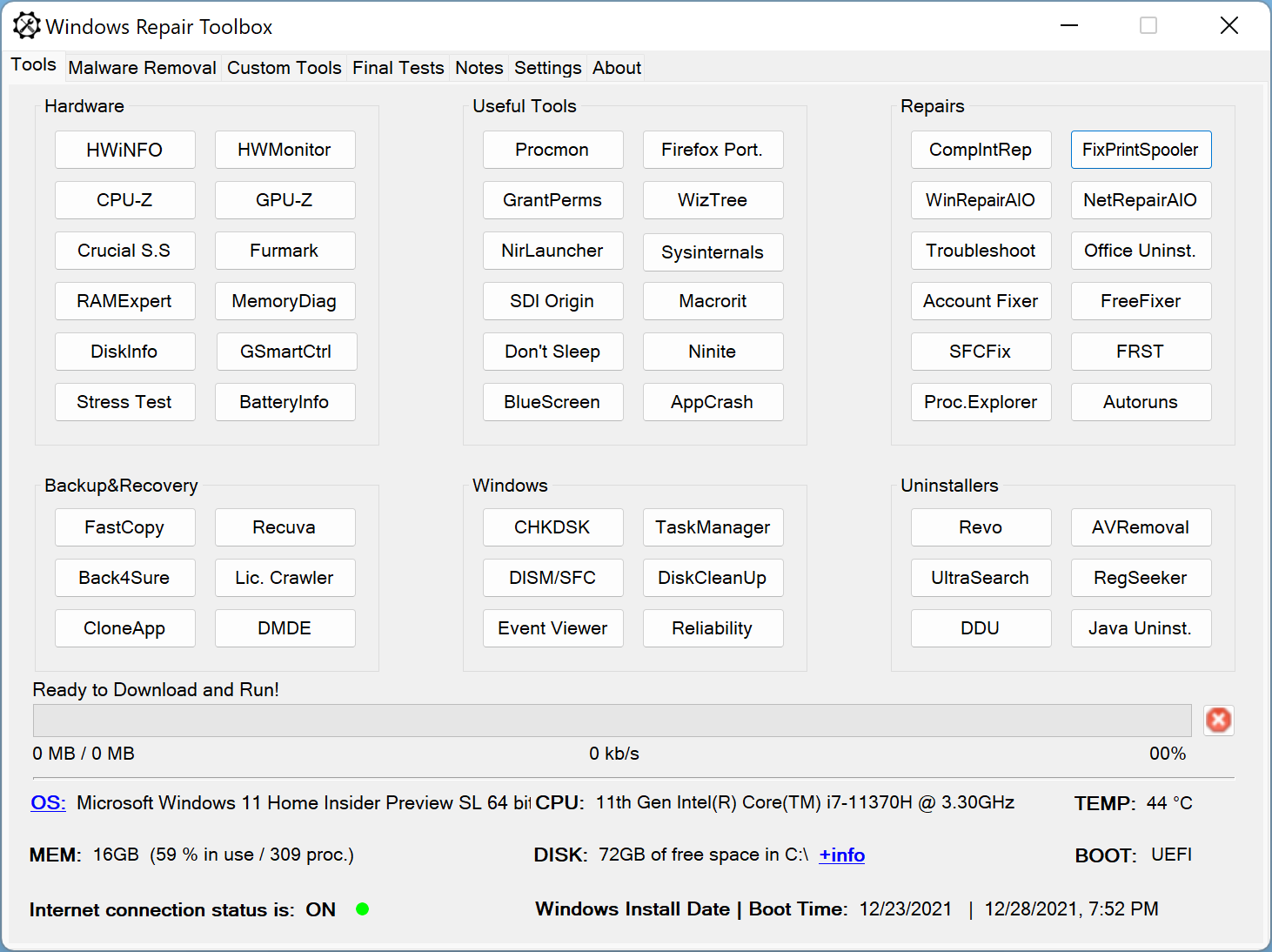 When you download and run this program, its main interface lists the available tools in groups such as hardware, backup & recovery, Windows, Uninstallers, etc. If you are familiar with Windows operating systems, you will not get into trouble identifying most of these tools listed in this app.
To use any tool for the first time which is listed in "Windows Repair Toolbox", click on the tool name, and it will be downloaded right away to your PC. Next time to use the same tool, you need to just click on that.
Although downloading is fast, there is no indication of where these programs are downloaded. All programs open in their own interface from where they can be used to troubleshoot or repair the computer.
When you launch "Windows Repair Toolbox" on your PC, it displays information about the state of the PC at the bottom of the screen. This includes free disk space in Windows installation drive, total RAM & used RAM, whether an Internet connection is available, a temperature reading, and more.
When you switch to Malware Removal, you find additional programs listed there that provide you with options to tackle malware infections.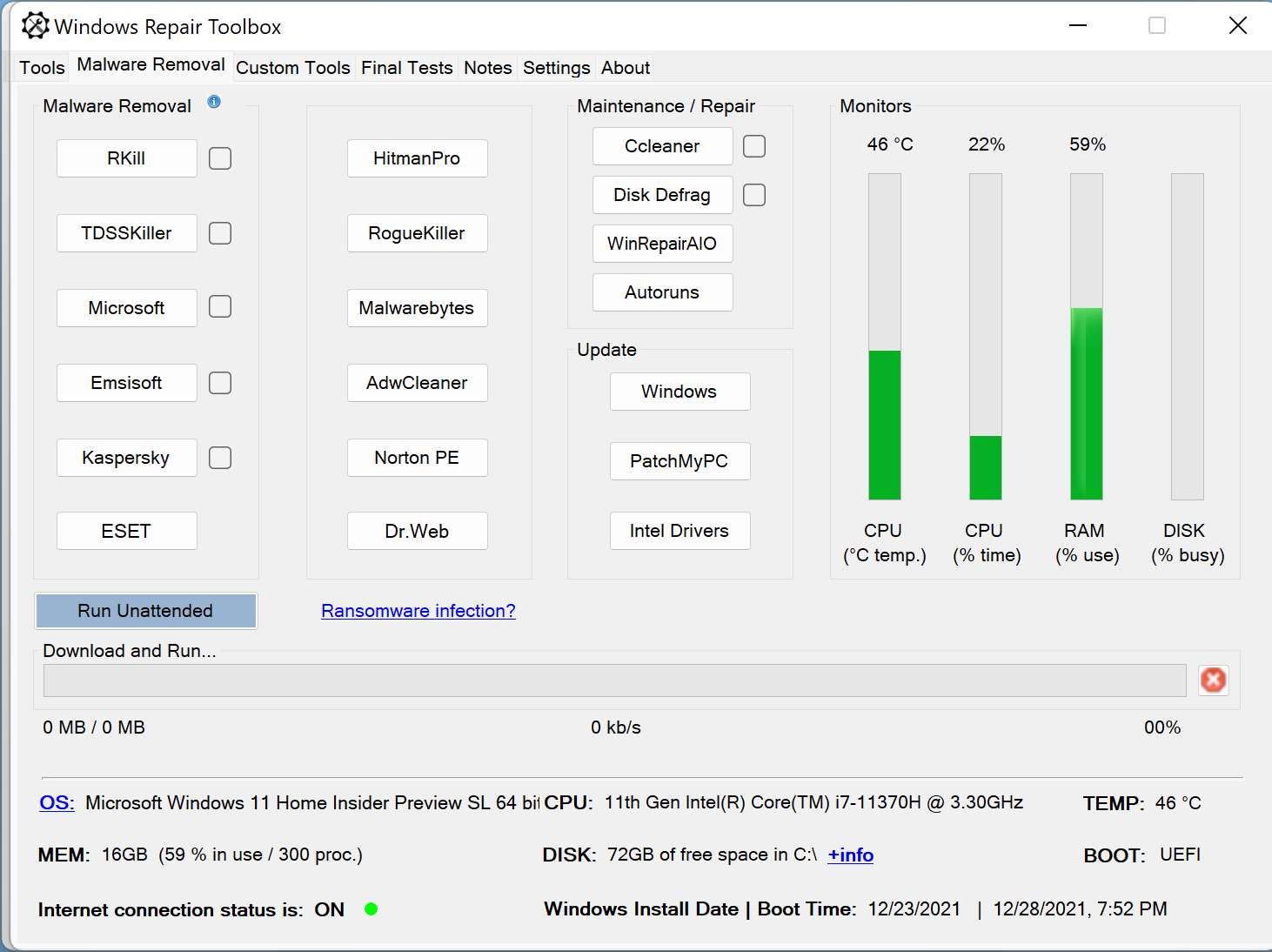 Sometimes, a company name is displayed instead of a program name, makings things even more complicated. You will unable to know which programs will get loaded when you click on. Such as  Microsoft, Kaspersky, or Emsisoft. However, when you hover the mouse over that program, you will find out more about those apps in the tooltip. By reading that messages, you can know more about the program what you are going to download and what you will get.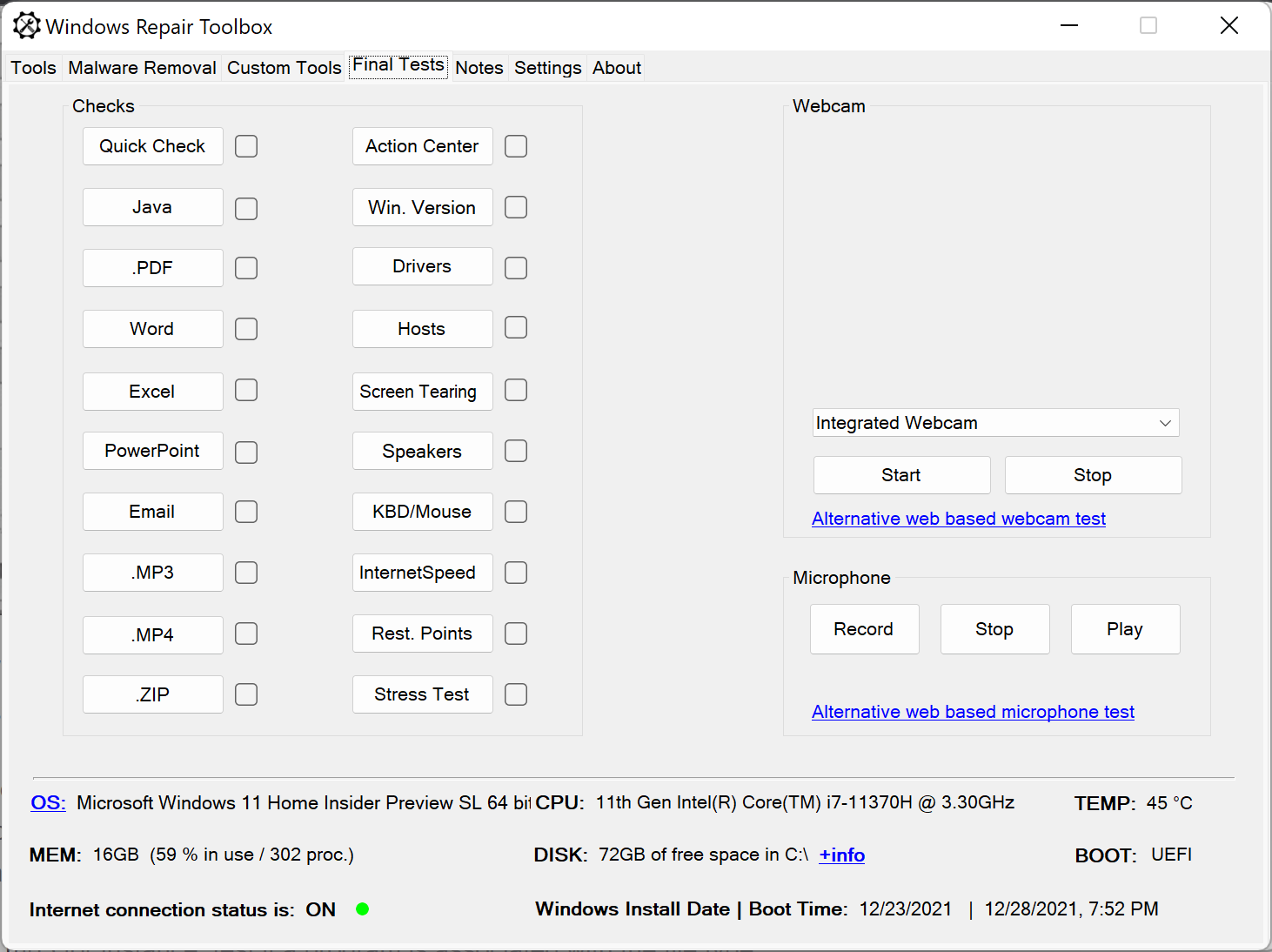 When you switch to "Final Tests tab," that Windows Repair Toolbox offers, you will see a number of tests that you can run to verify certain settings or files on your computer. It is a helpful tab to test if a program is associated properly, for example, pdf or mp3, test if a program is associated with the file type.
When it comes to Notes tab, it is quite interesting as it allows you to quickly write down (or paste) notes in the interface.
Apart from the above mentioned features of Windows Repair Toolbox, heading over Settings tab, you can quickly update all the program which you have downloaded using this tool.
Closing Words
Windows Repair Toolbox is a handy collection of third-party programs and links to Windows tools that helps you in troubleshooting issues that you offen experience on a PC running the Windows operating system. The program clearly states that which is built for which purpose.
All in all, this is a well designed program. It would be even better if it would reveal additional information about tools and file which you are going to download.
Download Windows Repair Toolbox
You can download Windows Repair Toolbox from its official website if you need it.