Windows 11/10/8/7 comes with an inbuilt feature to burn ISO files on CD / DVD. But, there is no direct way to burn USB Flash Drive to make it bootable. One can use Microsoft's Windows USB/DVD Download Tool or third-party ISO2Disc freeware to create a bootable USB flash drive. Windows USB/DVD Download Tool comes with limited functionality, which means you can only create a bootable USB flash drive of Windows 7 / 8 / 10 / 11, but ISO2Disc also lets you create Windows To Go Drive. The Windows To Go feature lets you mount Windows 11/10 without actually installing OS on any computer.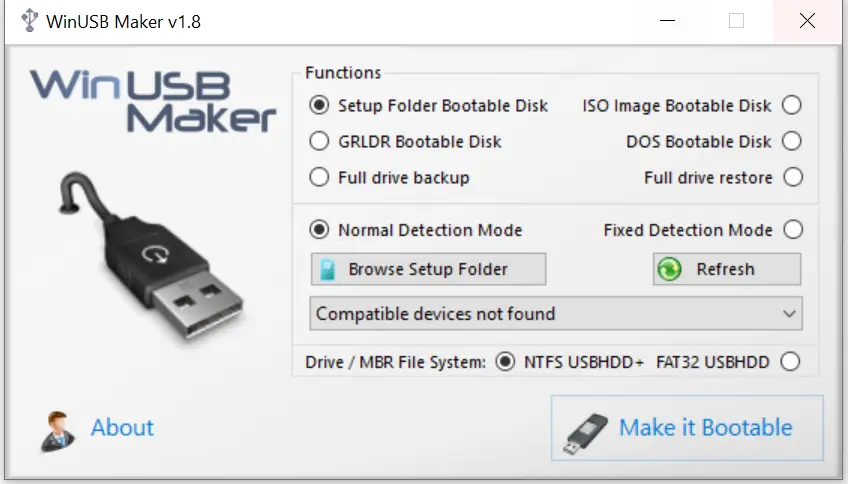 A WinUSB Maker is a freeware tool that lets you create a bootable Windows startup disk on any removable USB thumb drive or USB hard drive. Apart from creating a bootable USB drive, this tool also creates bootable ISO images, GRLDR, DOS disks, and full drive backup/restore. It is effortless to use. You need a Windows installation disk or an existing setup disk, ISO image, or folder to use the program.
WinUSB Maker also includes checkboxes to force either NTFS or FAT32 file systems, expanding the range of compatible devices. It also verifies the valid bootable ISO file.
How to Create a Bootable USB of Windows 10 / 8.1 / 7 from ISO?
Step 1. Download, Install and launch the WinUSB Maker freeware tool.
Step 2. From the radio buttons, select ISO Image Bootable Disk.
Step 3. Click Browse ISO Image and select the bootable ISO file of Windows 7 / 8 /10 / 11.
Step 4. Now connect USB flash drive / Pen drive to PC. It will automatically detect the inserted USB drives. If not, then press the Refresh button to detect it.
Step 5. Once the USB drive is ready, press the "Make it bootable" button.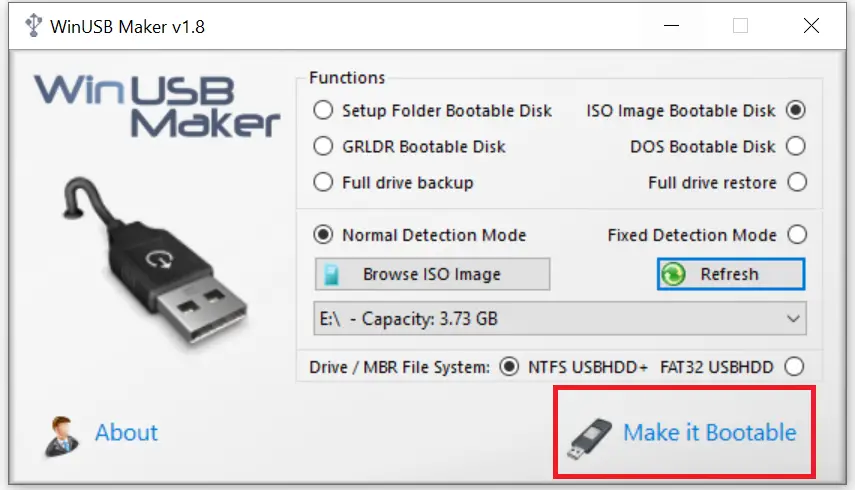 Step 6. It will give a warning; click Yes to continue.
Step 7. Now, it will format the inserted USB flash drive and start copying the files from the ISO file.
Copying of the files is extremely fast in WinUSB Maker software. Within the progress bar, it shows which files are getting copied. Overall, this is a good app that can be used to create a bootable USB flash drive.
Download WinUSB Maker
You can download WinUSB Maker from here.
Once you have created a bootable USB flash drive, you can test it without installing it on your computer or laptop.
That's it.