If you store sensitive data on your Windows machine and don't want to show it to other user accounts, Wise Folder Hider can hide them.
Wise Folder Hider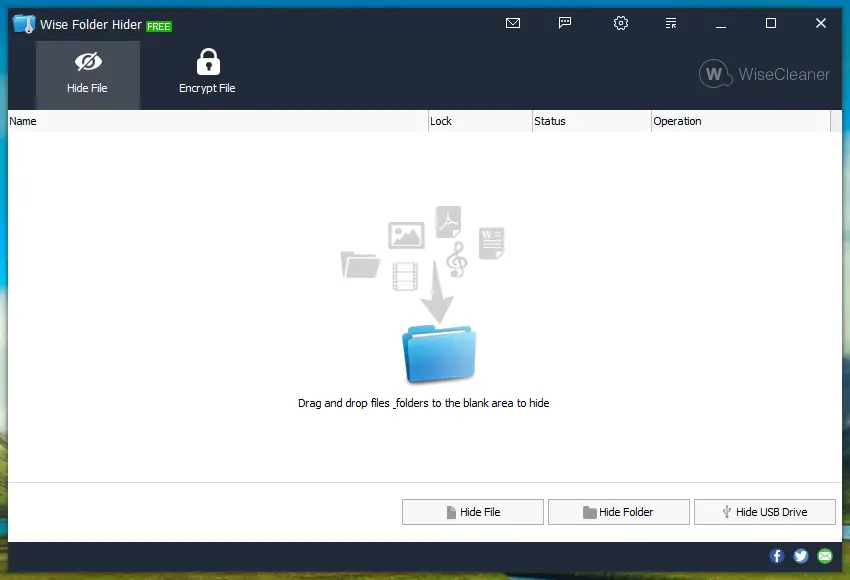 Wise Folder Hider is a freeware tool that lets you hide any file or folder on your PC and protects within the password. Hence, if someone has gained access to that file by any means, they will be unable to open it. You can save your private or essential data easily from unauthorized access and deletion. The second-level password for a specific file, folder or drive also increases security.
When you download, install and run it the first time on your PC, this free application will prompt a master password. Once you have set a password, you are ready to go.
Whenever you open Wise Folder Hider, it will prompt the master password to access it.
After entering the correct password, you can log in to this free software.
Folder Hider also allows you to "Hide USB Drive" data. When you have some sensitive data on your USB drive, and you need to share it with others, you can hide and password-protect your file and folders on the USB stick with a single click. Even the USB drive is lost, the necessary files will not be stolen.
The other benefit of this Folder Hider software is that you can not uninstall this app from your PC without unhiding your files or folders. One other important thing we noticed, once you hide any file or folder, it will not be visible on your PC even after you change the settings in folder options of your PC.
Unlike other folder hiders, to modify a hidden file or folder, you don't have to unhide it, edit it, and then hide it again. A single click of the 'Open' button will open the hidden file or folder, so it becomes visible to you. Edit or modify and then close the app, and it will remain hidden again automatically, saving you extra steps. This unique feature comes in handy when you hide some files that you use or edit frequently.
The Wise Folder Hider comes with an easy and very intuitive user interface. Even a first-timer or novice can get the hang of it in a minute. Once installed on PC, it automatically integrates it to the context menu, allowing hide files or folders by right-clicking them without launching Wise Folder Hider.
How to Hide or Unhide File or Folder using Wise Folder Hider?
Hiding or unhiding a file or folder is easy using Wise Folder Hider. Launch the Wise Folder Hider, click on Hide File or Hide Folder button, and select a file or folder from your PC.
Alternatively, drag a file or folder on the software to hide them. Close the Hider Hider, that's all!
To unhide a file or folder, relaunch the application. Input the password to log in. Next to the file or folder, click the drop-down "Operation." Select the Unhide option from the drop-down. The hidden file gets restored to its original location immediately.
Final Opinion on Wise Folder Hider
The free version of Wise Folder Hider can hide a file or folder of a maximum of 50MB in size. If you need to hide a bigger file or folder, you need to go for a paid plan. There is another cache on this freeware. If you forget the master password and cannot log into the program, you need to upgrade to a Pro plan to recover the lost password.
Download Wise Folder Hider
It is compatible with Windows 11, 10, 8, 7, Vista, and XP. You can download the latest version of Wise Folder Hider Free from its official website.
Update: For a limited period, you can get the free license of Wise Folder Hider Pro.