PC manufacturers have started securing product license keys in the BIOS/EFI since the release of Windows 7. New branded Windows computers now come preloaded with Windows 7, Windows 8, Windows 10, or Windows 11, and there are no longer any stickers with product key information or Certificate of Authenticity (COA) stickers on the computer or battery. However, the product key information can be found by entering the BIOS/EFI of your computer.
If you want to reinstall Windows 7/8/10 on your computer or notebook and don't have a genuine product key, you will need to purchase a new product key from Microsoft. This can be frustrating, especially if you have already purchased a pre-installed Windows 7/8/10/11. Fortunately, third-party tools can help you retrieve the product keys from the BIOS or UEFI.
In earlier versions of Windows, PC manufacturers affixed stickers with the product key to the PC or laptop, which could be reused during the reinstallation of the Windows operating system. However, if your PC is old, the sticker may be damaged, making it impossible to read the key. Similarly, if you assembled your laptop or computer and separately purchased a Windows product key from a dealer, you may have lost the key. In these situations, third-party tools can help you recover the key from the Windows installation.
Earlier, we introduced the NeoSmart Windows 11/10 Product Key Tool, which comes with a famous team of BCD software. With the Windows 10 Product Key Tool's help, you can quickly obtain Windows 7, Windows 8, Windows 8.1, Windows 10, and Windows 11 product license keys from the BIOS or EFI.
Wise Windows Key Finder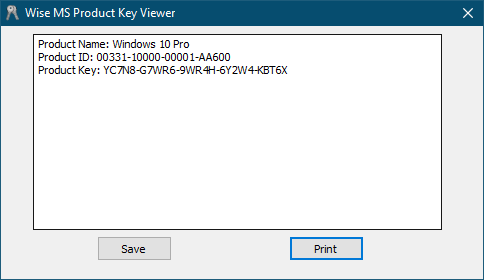 If you're looking for a free tool to retrieve your Windows product key, Wise Windows Key Finder is a great option. It works with all versions of Windows, including the latest Windows 11, Windows 10, Windows 8.1, Windows 8, Windows 7, Windows Vista, and even Windows XP. It can also find Windows Server keys, including Windows Server 2003, Windows Server 2008, Windows Server 2008 R2, and Windows Server2012. This tool also supports Microsoft Office 97, Office 2000, Office XP, Office 2003, Office 2007, Office 2010, and Office 2013 product keys.
Wise Windows Key Finder is a portable freeware app with an easy-to-use interface. Once you open it, it automatically recovers and displays your Windows and Microsoft Office product keys. You can then save the key information as a text file or print it on paper. If you're using a Windows 10 PC, you can even print the PDF file in a PDF printer. This tool is compatible with both Windows 32-bit and 64-bit architecture, making it a versatile option for all users.
Download Wise Windows Key Finder
You can download the Wise Windows Key Finder from its official website.