Xtreme Download Manager (XDM) is a freeware tool that lets you gear up the download speed up to 5 to 6 times. As for all premium download managers, this free XDM also features pause, resume, and stop. If you don't want to compromise any feature of a premium download manager, you can get the freeware tool without spending a single penny.
Xtreme Download Manager (XDM) is one of the best download managers in the market that will let you download your videos, music, documents, software, etc., from the internet with a single click. According to the developer, it can increase download speed by more than 500%. The developer has integrated data compression, connection rescue, and segmentation algorithm to gear up or speed up the download.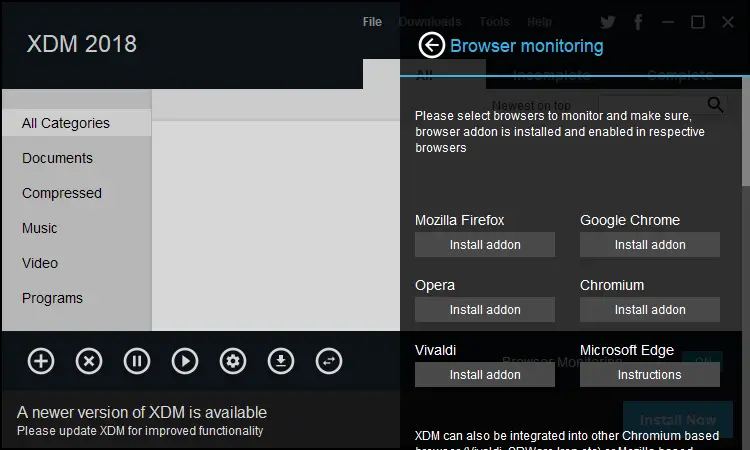 If you are not using a download manager yet, you should adopt this free and fast download manager. Besides the download, this software converts streaming videos from YouTube, Vimeo, Dailymotion, Google Video, and thousands of other websites. It lets you resume broken or dead downloads and even schedules a download. If you are downloading a video, it enables you to see the preview without completing the download.
XDM seamlessly integrates with all popular browsers such as Google Chrome, Mozilla Firefox, Opera, Vivaldi, Edge, and many more to download and save streaming videos from the web. It segregates the file into documents, compressed music, video, and program categories for you. With a single click, you can see all the incomplete or complete downloads.
The best part of this free software lets you convert downloaded videos to popular MP4 and MP3 formats. It supports HTTP, HTTPS, FTP, DASH, HLS, HDS protocols, firewalls, proxy servers, PAC scripts, file redirects, cookies, authorization, download queue, scheduler, and many more.
Xtreme Download Manager Features
Download documents, videos, audios files 5-6 times faster.
It can save video from YouTube, Dailymotion, Vimeo, Facebook, and thousands of popular video-sharing sites.
It integrates itself with all modern browsers on Windows, Linux, and Mac OS X. It supports Google Chrome, Chromium, Mozilla Firefox, Vivaldi, and many other popular browsers.
It comes with a built-in video converter, converting the downloaded video to MP3 and MP4 formats.
It supports HTTP, HTTPS, FTP, and video streaming protocols like MPEG-DASH, Apple HLS, and Adobe HDS.
It supports Authentication, Proxy Servers, Cookies, Redirection, etc.
Video download, clipboard monitoring, automatic antivirus checking, a download scheduler, system shutdown on download completion are other features of this XDM.
It resumes broken or dead downloads caused by connection problems, power failure, or session expiration.
It works with Windows ISA, auto proxy scripts, proxy servers, NTLM, Kerberos authentication.
Download Xtreme Download Manager
You can download this free download manager from sourceforage.net.
You might want to check out a few more free download managers like Neat Download Manager, Ninja Download Manager, Free Download Manager, GetGo Download Manager, Download Accelerator Plus (DAP), FlashGet.