iTop Data Recovery Pro, as the name suggests, is a data recovery software that allows you to recover lost or deleted files from storage devices. It can retrieve 1000+ formats of lost documents, photos, videos, and audio. Using iTop Data Recovery, you can recover lost data with a few mouse clicks. You can retrieve lost or deleted files from Windows Recycle Bin, Hard Drive, SSD, External Disk, USB Drive, Memory Card, Digital Camera, etc.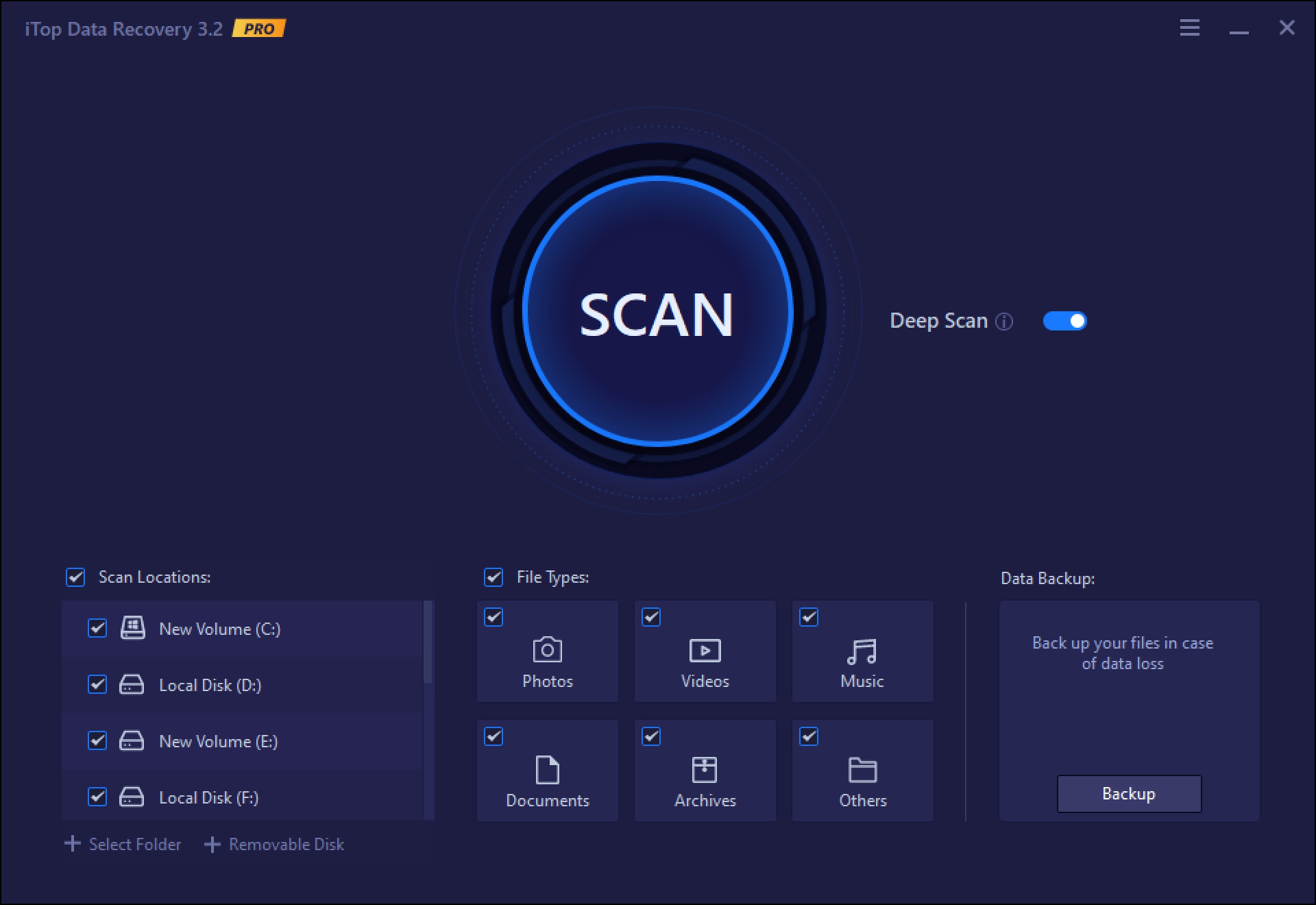 iTop Data Recovery makes the recovery process so simple that you only need a few clicks. Just select file locations and file types, click the SCAN button, and then the recoverable data information will show up. You can select particular file types and locations or select all file types and locations before the scan. Now recovery tool will do a deep scan and display not only the basic information like file name, original location, and size but also an evaluation of the recoverability for each file and a preview of the data before recovery. Then, you can select the desired data you want to retrieve and click the Recover button.
Apart from retrieving the lost data from your computer, the iTop Data Recovery Pro also lets you backup your important files and folders on an external drive. You can also automate the backup process using this application.
To sum up, iTop Data Recovery may be your ideal choice for recovering emptied Recycle Bin, retrieving lost data, and recovering data from system crashes, hard drive formatting, or other errant operations that result in data loss.
iTop Data Recovery is available in free and pro editions. The free edition has limited features, so you need to go for a pro plan. You can activate your Pro copy of iTop Data Recovery in this giveaway without paying a penny. Up to 50 PCs can be activated using the below license:-
7187B-E7197-B247A-CAF43
Please note that activating your copy of the iTop Data Recovery Pro will be valid for the next three months. If you need, you can extend the license by purchasing the software.
Download iTop Data Recovery Pro
You can download iTop Data Recovery from its official website. After that, enter the giveaway mentioned above key to activate the Pro features.
This software is compatible with Windows 7, 8/8.1, 10, and Win 11.