Capture and share your most inspiring videos with ease using FineShare FineCam Pro. This advanced AI virtual camera is designed specifically for video recording and conferencing, offering you a seamless and professional video experience wherever you are. Whether you're a content creator, educator, remote worker, or simply someone who wants to elevate their video communication, FineShare FineCam Pro is the go-to choice for achieving high-quality results.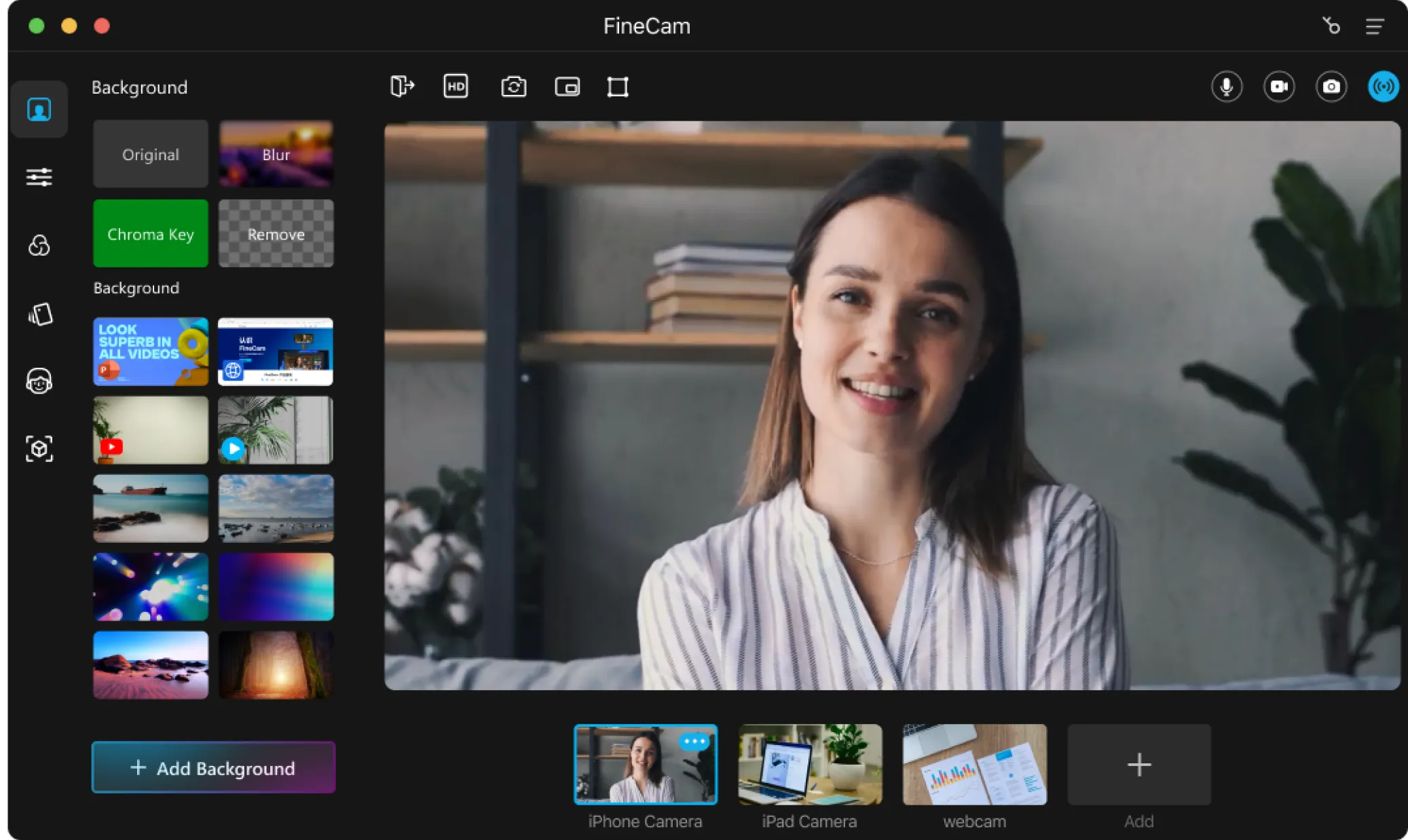 Say goodbye to subpar video quality and hello to a new level of professionalism. FineCam AI Virtual Camera enhances your video capabilities in multiple ways, allowing you to create captivating videos and conduct engaging video conferences. Let's explore why FineCam Pro is the ultimate tool for your video needs.
Turn your phone into a handy, portable HD webcam with FineCam. By leveraging wireless connectivity and multiple angles, you can transform your smartphone into a powerful webcam. Adjust camera settings for the perfect look, control zoom, orientation, resolution, and switch between front and rear cameras effortlessly. FineCam provides you with the flexibility to capture videos from different perspectives and achieve the desired visual impact.
But FineCam Pro offers more than just a phone webcam. With its robust features, you can unlock infinite possibilities for your videos. Connect any camera you have, whether it's a digital camera, DSLR camera, action camera, external webcam, or integrated webcam. There are no limitations on the number of connected cameras, enabling you to capture content from multiple sources simultaneously.
FineCam Pro leverages advanced AI algorithms to automatically remove backgrounds, giving you a polished and professional look. You can apply unique and creative backgrounds to enhance your videos, adding a touch of personality and professionalism to your video conferences and recordings. The AI background generator allows you to generate unique backgrounds in seconds, ensuring your videos stand out.
Do you want to capture your screen and webcam footage simultaneously? FineCam Pro has you covered. The desktop camera mode lets you easily position your webcam footage anywhere on the screen, allowing for more accurate recording of both your screen and yourself. It's perfect for presentations, tutorials, and any scenario where you want to engage your audience with both visual and verbal content.
FineCam Pro goes beyond video enhancement by offering powerful and simple ways to share your content. By utilizing multimedia features, you can effectively communicate your ideas to others and elevate the level of professionalism in your videos. Whether you want to mirror your iPhone or iPad screen to your computer, showcase slides, webpages, or even share YouTube videos, FineCam Pro provides a seamless and hassle-free experience.
Getting started with FineCam Pro is quick and easy. Within seconds, you can begin your video calls, online courses, product demos, and tutorial recordings. FineCam offers different free themes to help you get the perfect layout, background, and lens style for your video. You can brand your videos effortlessly with the intuitive overlay editor, adding and editing your brand information to create professional-looking videos that represent your identity.
FineCam Pro is not just a tool for creating videos; it's a gateway to building connections with your audience. Whether you're an online teacher looking to engage students, a remote team needing seamless collaboration, a salesperson delivering captivating product demos, a doctor providing virtual consultations, or an influencer creating engaging content, FineCam Pro is your ultimate companion.
With its deep learning models and GPU hardware acceleration, FineCam Pro ensures efficient background removal and video processing, resulting in high-quality videos with improved efficiency. The segment recording and video remixing features allow you to capture multiple videos and easily remix and export your content. FineCam Pro supports multi-camera capture, enabling you to record content from various sources simultaneously and unleash your creativity.
To top it all off, you can now get FineShare FineCam Pro for free with a 1-year license in our exclusive giveaway. Don't miss this opportunity to take your videos to the next level. Simply follow these three easy steps: launch FineCam, choose a camera, select what you want to record and share, and start creating your inspiring videos. Download FineCam Pro now and express your ideas with clarity and confidence.
Unlock the power of FineShare FineCam Pro and experience the difference it can make in your video creation and communication. Take advantage of this limited-time offer and get your 1-year free license today. Elevate your videos, engage your audience, and leave a lasting impression with FineCam Pro.
How to Get a Free License Key of FineShare FineCam Pro?
To obtain the free license code for FineShare FineCam Pro for one year, follow these steps:
Step 1. Go to the FineCam Pro webpage.
Step 2. Choose the "1 Year Plan" option and click the "Buy Now" button.
Step 3. Enter your email address and click on the "Continue" button.
Step 4. Select your country and enter your Zip/Post code.
Step 5. Click the "Continue" button again.
Step 6. On the next page, click on the "Add discount" link.
Step 7. Enter the promo code "PRODUCTHUNT" and click the "Add discount" button.
Step 8. Choose PayPal or enter your credit card details.
Step 9. Click on the "Subscribe now" button.
Step 10. Your PayPal or credit card will be charged $0, and you will receive an email containing the FineShare FineCam Pro license code for 1 year.
Now, proceed to download the application, install it on your PC, and launch it. Enter the license code you received via email to activate the Pro version for free.
Conclusion
In conclusion, FineShare FineCam Pro is the ultimate AI virtual camera for capturing and sharing inspiring videos. With its advanced features, you can turn your phone into a high-definition webcam, apply AI background removal, switch between multiple camera angles, and enhance your videos with creative overlays and filters. Whether you're a content creator, educator, remote worker, or anyone who wants to create professional-quality videos, FineCam Pro is the go-to choice. Don't miss out on the opportunity to get the 1-year free license in our exclusive giveaway and take your video content to new heights.