Microsoft is working on another app for Windows 11 and 10. The software is currently in Public Beta and available to download from its official Chinese website. This is an all-in-one recommendation and bundled tool that lets you optimize and keep your computer running smoothly.
Microsoft PC Manager for Windows 11 and 10
Microsoft PC Manager is a 1-click optimizer tool that includes several features, including optimization, junk removal, virus removal, as well as other services to make your computer faster. As of now, it is available to download for free from Microsoft's China website. However, it is still in Public Beta, so it is only recommended to download it for testing purposes.
Features of Microsoft PC Manager
The Microsoft PC Manager includes the following features:-
Health Check: It quickly helps you to detect computer problems, clean up garbage (Windows cache, Browser cache, temporary files, system logs, etc.), detect viruses, and solve system risks & issues with one click. Besides that, it also recommends disabling startup apps.
One-click Boost: The app includes a dedicated button to clean up system rubble, releases occupied system memory, and promises to make your Windows as fast as new.
Storage management: This helps you deep clean up system storage space, manage large files, recognize and help you to remove rarely used apps, and free up your computer storage space.
Process management: This helps you to find unused processes quickly and lets you end them with a mouse click to make your system run faster.
Professional virus removal: Your computer is protected by Windows Defender definitions embedded in Microsoft PC Manager.
Browser Protection: It detects your current default browser and helps you block changes by malicious apps. Apart from that, it lets you change your default browser with ease.
Windows Update: This lets you know and updates if an update is available for your Windows or driver components.
Startup apps: This helps you to quickly disable startup apps from your system to speed up the boot process.
As you can see above, Microsoft PC Manager includes every feature in a single program except Registry Cleaner.
When you download and run this app on your computer, you will find the following options under the Cleanup tab:-
Health check,
Storage management,
Process management, and
Startup apps.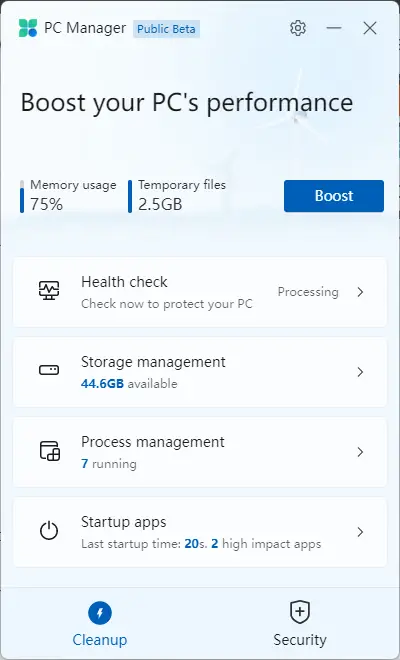 Under the Security tab, you will see options for Windows Update and Browser protection.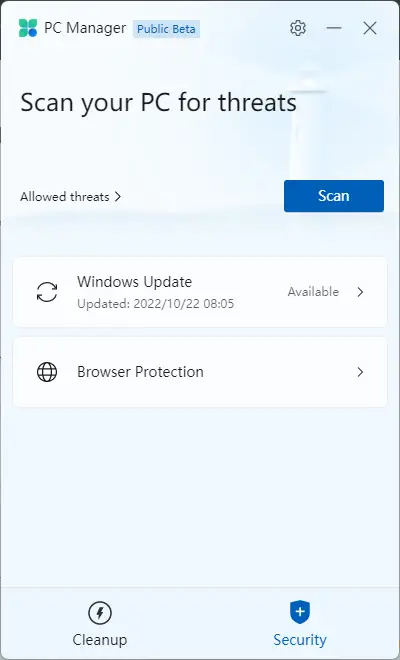 In the PC Manager settings, you can set the app to start automatically when you sign in to your Windows. Apart from that, you can set this software to update automatically.
On the application's main interface, there is a dedicated Boost button that lets you quickly free up RAM and remove the temporary files.
Download Microsoft PC Manager
If you want to try out this application, you can download Microsoft PC Manager from its Chinese website.
Conclusion
In conclusion, Microsoft PC Manager is an all-in-one optimization tool designed for Windows 11 and 10. Currently available in Public Beta on Microsoft's official Chinese website, the app offers features such as health check, one-click boost, storage management, process management, virus removal, browser protection, and more. While the app shows promise and worked well during testing, its future availability and pricing after the final release remains to be seen.