In today's multi-platform world, there's an increasing demand for tools that bridge the gap between different operating systems. For macOS users with a penchant for Windows, this entails having a seamless and reliable method to create Windows 11 ISOs. Enter CrystalFetch, an innovative macOS application designed to simplify the process. Let's delve deeper into what makes CrystalFetch the preferred choice for Mac enthusiasts keen on exploring Windows 11.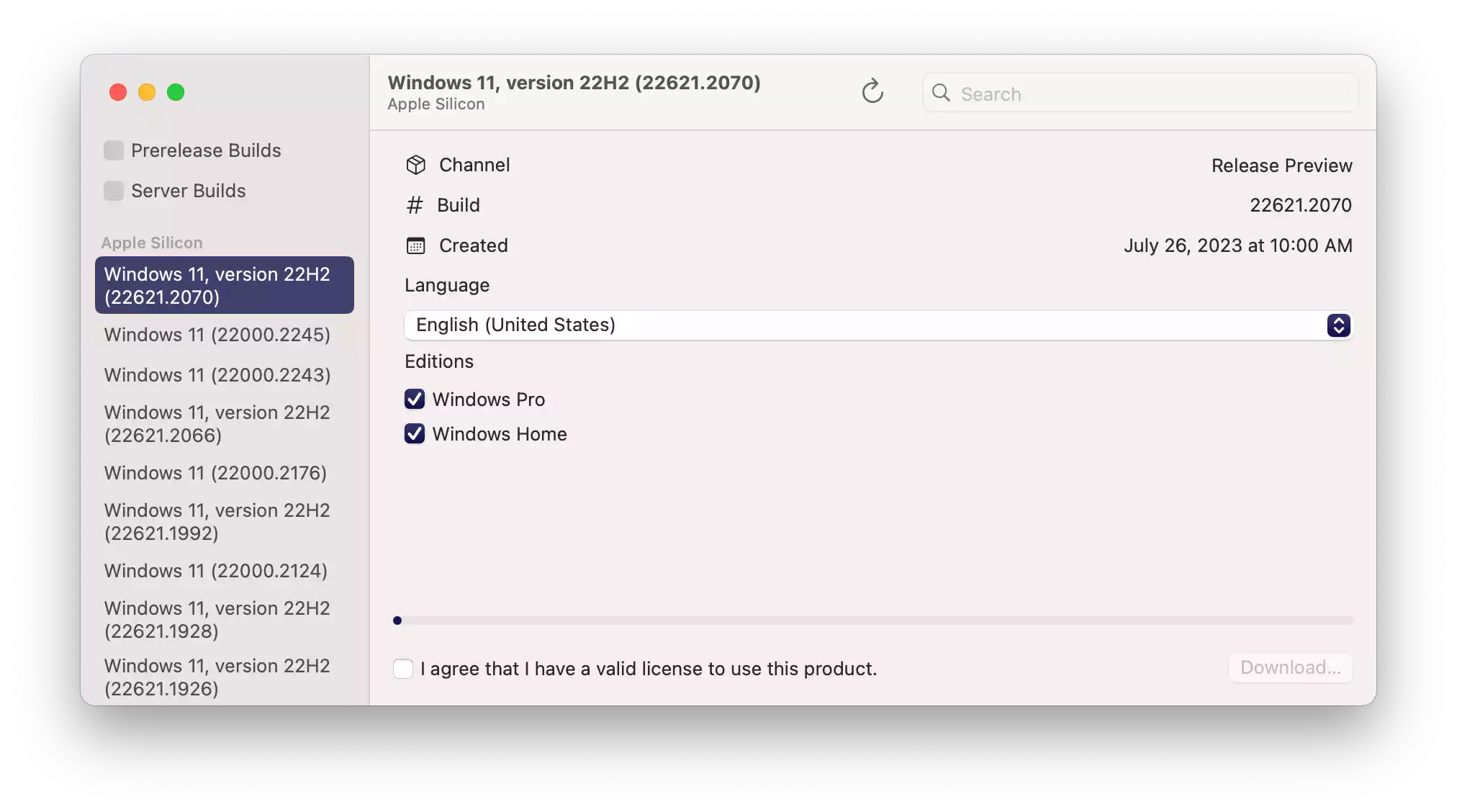 Understanding CrystalFetch
CrystalFetch isn't just another software; it's a well-crafted solution to a problem many macOS users face when they wish to create Windows 11 ISO images. Designed with a focus on user experience, the application offers an intuitive interface that masks the complexities of the UUP dump and various scripting processes.
What sets CrystalFetch apart?
Simplicity: CrystalFetch stands out with its user-centric design. Its interface is straightforward, ensuring that even users unfamiliar with creating ISOs can navigate with ease.
Versatility: The application isn't restricted to any particular VM solution. Whether you're using UTM virtual machines or any other virtualization software on macOS, CrystalFetch has got you covered.
Up-to-date with Windows Releases: From official Windows 11 releases to the latest insider builds, CrystalFetch remains updated, ensuring you always have access to the latest Windows versions.
Innovative ESD Conversion: One of the highlights of the newer versions of CrystalFetch is its ESD conversion method. It's not just about simplicity; it's about efficiency. This method ensures the creation of functional images for Windows 11 x64, enhancing the application's reliability.
A Step-by-Step Guide to Using CrystalFetch
Step 1. Installation: Start by downloading CrystalFetch from its GitHub releases page. Install the app on your macOS device.
Step 2. Launching & Selection: Once installed, launch CrystalFetch. You'll be presented with a list of Windows 11 versions. Choose the desired one.
Step 3. Download & Creation: Upon selection, the application gets to work. It downloads the necessary files and crafts an ISO image, saving the final product in your Downloads folder.
Step 4. Post-creation: The generated ISO can now be utilized with your chosen VM solution, ensuring a seamless Windows 11 experience on your Mac.
Why Choose CrystalFetch Over Other Solutions?
While there are numerous tools available for creating ISOs, CrystalFetch's focus on macOS users sets it apart. It's tailored for the Mac environment, ensuring compatibility, smooth operation, and efficiency. Its capability to work with both UTM virtual machines and other VM solutions enhances its versatility, making it a one-stop solution for all macOS users keen on Windows 11.
Conclusion
In the realm of software that bridges macOS and Windows, CrystalFetch emerges as a clear frontrunner. Its design, functionality, and consistent updates make it an indispensable tool for those looking to craft Windows 11 ISOs on a Mac seamlessly. So, if you're on the hunt for a reliable solution, look no further than CrystalFetch. Dive into the world of Windows 11 on your Mac with confidence, knowing you're equipped with the best tool in the business.
For those eager to explore more or contribute to its development, the application's GitHub page offers a wealth of information and collaboration opportunities.