Macrorit specializes in Windows partitioning and offers its Partition Extender Pro for free during the giveaway period. Unlike the Macrorit Partition Expert Pro, this tool only offers to extend the system partition size.  If you have free space on your HDD or SSD, you can use this tool to utilize that space.
The application comes with an easy-to-use interface and offers only one option, which is increasing the size of a partition. Using this tool, you can easily and quickly manage your computer's storage space. Without losing any data, you can use this software to increase the partition of your drive.
Basically this tool utilizes the free space from its neighbor partition and automatically merges unallocated space into the partition. There is no need to manually shrink the partition and create unallocated space for extending the partition.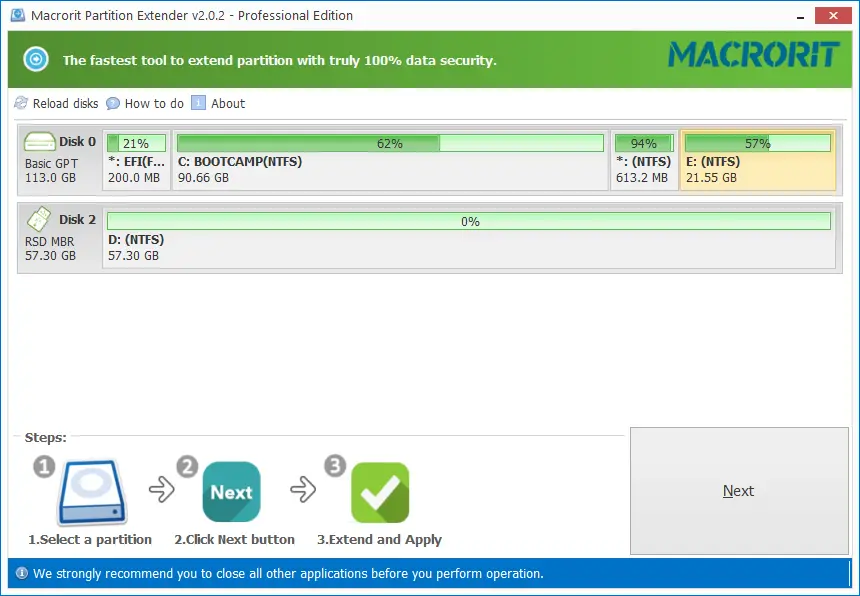 Once you download, install and run this tool, it will display all partitions, connected drives, used space as well as free space in an elegant manner. While this application does not provide exact figures of used or unused space, it does provide percentages and a graphic representation of the available space.
To increase the space of your system partition of the "C" drive partition, select the volume and click the Next button. If you want to add free space manually, you can choose how much space you want to add to it and then click the OK/Next button.
The Partition Extender Pro is extremely fast also. It quickly extends the drive and even applies the changes without restarting your computer.
Download Macrorit Partition Extender Pro Free
The application is compatible with Windows 11 and 10 (32-bit and 64-bit). You can download it from its official website.
Once you have downloaded and installed it on your PC, launch the tool. Then enter the following giveaway license to enjoy all the features for free:-
241539136BEB7FDE77A98CA9F831E048C79988A2DF511F233209