In a world where technology evolves at a rapid pace, ensuring your computer runs smoothly is essential. If you've ever experienced the frustration of a sluggish PC, AVG TuneUp 2024 might be the solution you've been waiting for. And the best part? For a limited time, you can snag a free 1-year activation code through an exclusive giveaway from COMPUTER BILD. Read on to discover how AVG TuneUp can breathe new life into your device and how you can claim your free activation code.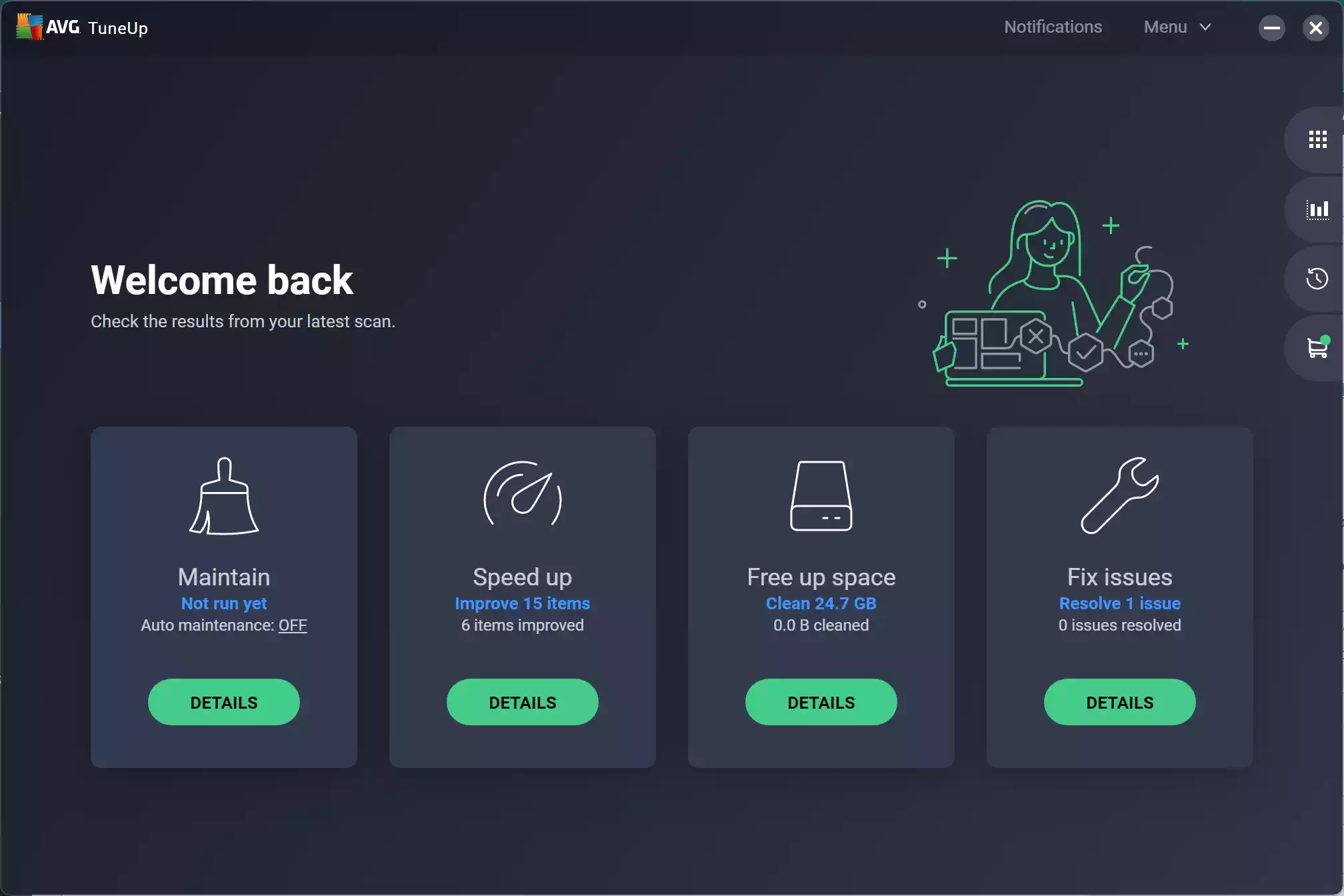 Unlock the Power of AVG TuneUp 2024
1. 24/7 Automatic Maintenance: Say goodbye to the hassle of manual PC maintenance. AVG TuneUp's Improved Automatic Maintenance works tirelessly in the background, tuning your PC every week. This means fewer bugs, crashes, and freezes, allowing you to enjoy better performance every time you power up your computer.
2. Speed Up Your Windows PC: Experience faster program launches, quicker PC startup times, and smoother gameplay. AVG TuneUp utilizes patented Sleep Mode technology, intelligently putting unnecessary programs to sleep and waking them up only when needed. This not only boosts speed but also optimizes your PC's overall performance.
3. Uninstall Unnecessary Software: Is your PC cluttered with bloatware and programs you never use? AVG TuneUp's Software Uninstaller detects and removes unwanted software, including trial versions and preinstalled programs, freeing up valuable space on your hard drive.
4. Remove Junk Files: Over time, your PC accumulates unnecessary files that can slow it down. The Disk Cleaner in AVG TuneUp deep-cleans your hard drive, eliminating installer files, old backups, and temporary system files. Reclaim storage space for the things that truly matter.
5. Update Programs Automatically: Keeping your software up-to-date is crucial for security and performance. AVG TuneUp's Software Updater checks your installed programs and updates them with a single click, preventing security issues and bugs.
Claim Your Free 1-Year Activation Code
Follow these simple steps to take advantage of this exclusive giveaway:-
Step 1. Visit the exclusive giveaway page provided by COMPUTER BILD.
Step 2 Use the coupon code: cb-qgog-pfkn.
Step 3. Click the "SEND CODE" (CODE SENDEN) button.
Step 4. Hit "GET CODE" (HER CODE ABRUFEN) to unveil your license or activation code.
Step 5. Scroll down and click on the "GET CODE HERE" button to reveal the license code.
Step 6. Now, download the setup file from the official link.
Step 7. Install it on your PC and then launch it.
Step 8. Click on Menu and select My Subscriptions.
Step 9. Click on the "Enter activation code" button.
Step 10. Enter the registration you got in the above step 5.
Act fast! This giveaway is valid for one year, with no automatic extension. Supplies are limited, and the offer is available only while stocks last. Be sure to activate your code by January 31, 2024.
Don't miss this opportunity to optimize your PC's performance for free. Download AVG TuneUp 2024 and experience a faster, smoother, and more efficient computer today!