Are you looking for a powerful and comprehensive system tool to optimize the performance of your PC? Look no further! We have exciting news for you. You now have the chance to get HARDiNFO 8 PRO, the ultimate system tool, absolutely free with a lifetime license through our exclusive giveaway!
HARDiNFO 8 PRO is a feature-packed software that provides detailed system information and helps you manage your computer efficiently. Whether you are a tech enthusiast, a gamer, or simply want to ensure your PC is running at its best, HARDiNFO 8 PRO has got you covered.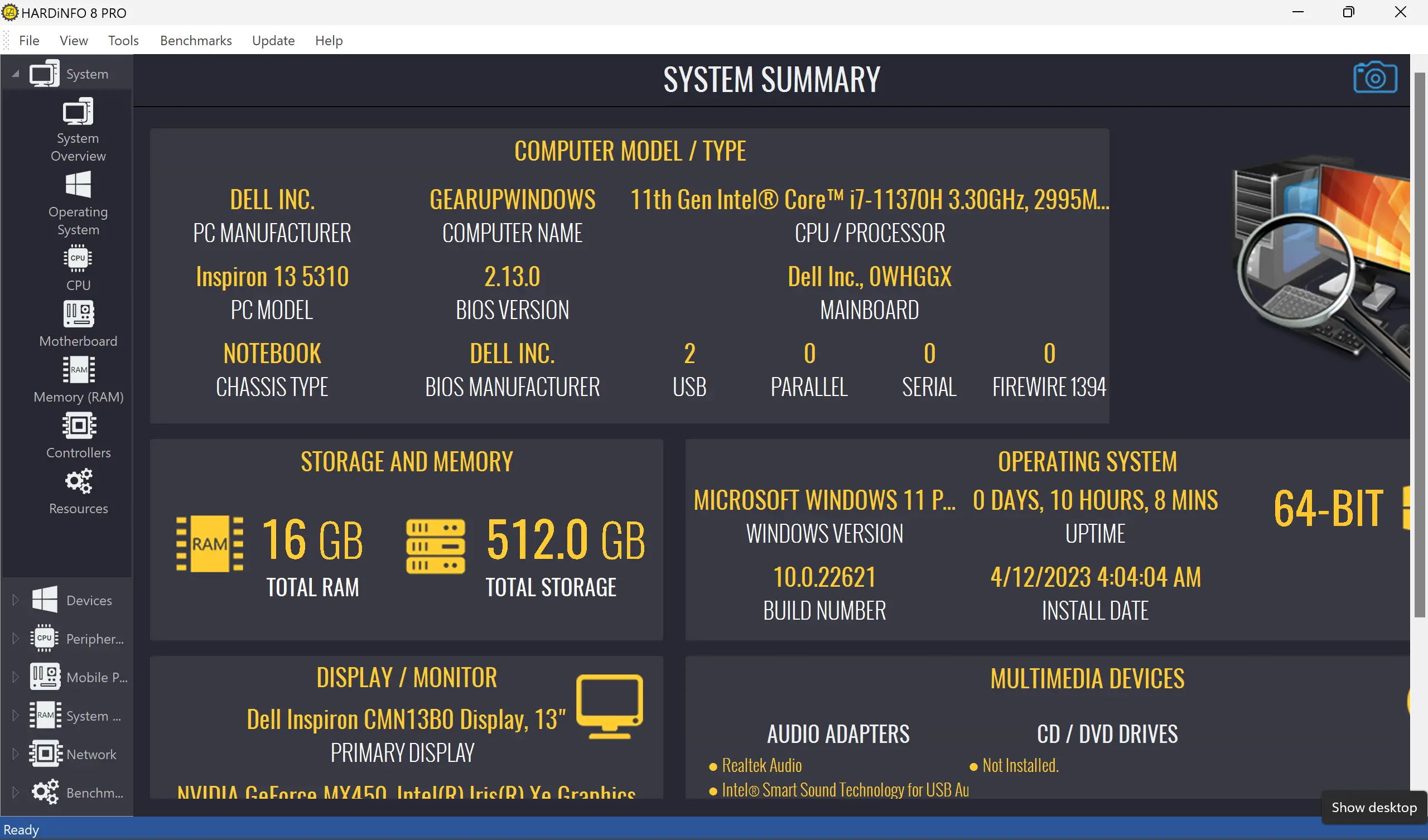 With HARDiNFO 8 PRO, you can delve into the depths of your PC's hardware and gather comprehensive information about its components and peripherals. From your CPU and memory to your motherboard, display adapter, HDD/SSD disk drives, and even your notebook battery, HARDiNFO 8 PRO provides detailed insights into every aspect of your system.
But that's not all! HARDiNFO 8 PRO also includes advanced benchmarking features that allow you to test the performance of various components, including your display adapter, CPU, memory, and storage drives. Compare your benchmark results online and see how your PC stacks up against others.
Monitoring your computer's health is crucial, and HARDiNFO 8 PRO excels in this aspect as well. It offers an array of monitoring tools to keep track of your CPU usage, RAM memory usage, network traffic, and notebook battery charge/discharge cycles. Stay informed about the state of your hardware and take necessary actions to maintain optimal performance.
One of the standout features of HARDiNFO 8 PRO is its user-friendly interface. The software presents the hardware information in well-organized categories with high-quality graphical representations, making it easy to understand even for beginners. The intuitive design ensures that you can navigate through the tool effortlessly and access the information you need without any hassle.
How to Get HARDiNFO 8 PRO for Free?
To get your hands on the HARDiNFO 8 PRO lifetime license for free, follow these simple steps:-
Step 1. Visit our giveaway page and provide your name and email address.
Step 2. Check your email inbox for a message containing an activation link. Click on the link to get the license code. If you don't receive the email within 10 minutes, remember to check your spam folder or try using a different email address.
Step 3. Download HARDiNFO Pro from this link. During the installation process, input the user name, user company, serial number, and email address to activate the software.
Step 4. Once the installation is complete, voila! You now have HARDiNFO 8 PRO Lifetime at your disposal to optimize and enhance your PC experience.
Remember, this is a limited-time offer, so don't miss out on the opportunity to acquire this incredible system tool at no cost. HARDiNFO 8 PRO has been trusted by millions of users for over 15 years, and now it's your chance to benefit from its powerful features.
Take control of your PC's performance, gather detailed system information, benchmark your components, and ensure your hardware remains in optimal condition with HARDiNFO 8 PRO. Don't wait any longer; enter the giveaway today and elevate your computing experience to new heights!
Conclusion
Don't miss out on the chance to get HARDiNFO 8 PRO, the ultimate system tool, for free with a lifetime license through our exclusive giveaway. With its comprehensive hardware information, advanced benchmarking features, and intuitive interface, HARDiNFO 8 PRO is the perfect tool to optimize your PC's performance and keep your hardware in check. Take advantage of this limited-time offer and elevate your computing experience today!