In today's digital age, protecting our sensitive data has become more important than ever. Whether you're selling an old computer, disposing of a storage device, or simply want to ensure your information doesn't fall into the wrong hands, data erasure is crucial. TS DataWiper for Windows is here to offer a reliable and user-friendly solution, and now you can get it as a lifetime giveaway. Let's explore how TS DataWiper can help you securely and permanently erase your data, providing you with peace of mind.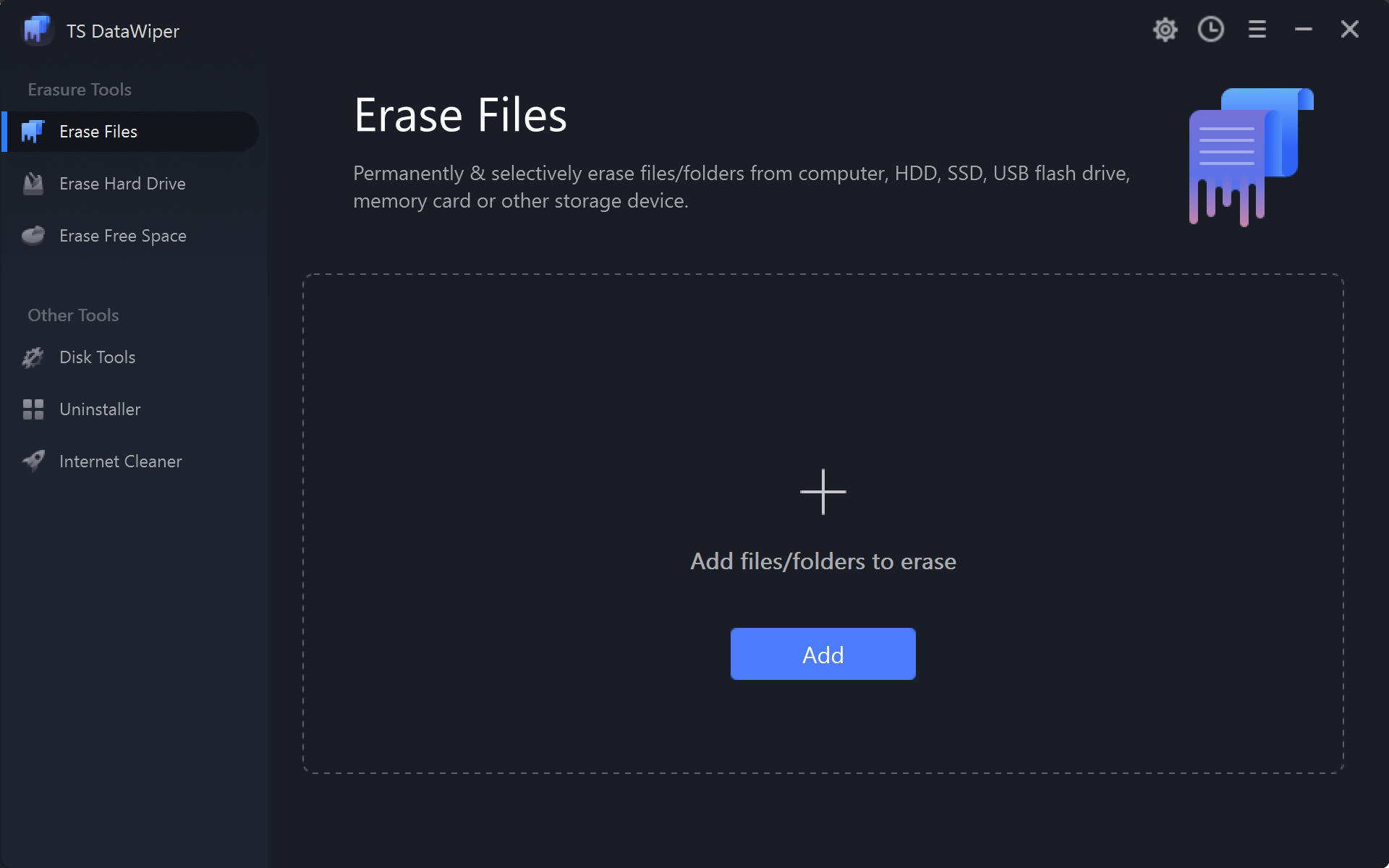 Permanently Erase Your Data
TS DataWiper for Windows guarantees 100% safe and effective data erasure. It allows you to securely delete data from a wide range of devices, including computers, SSDs/HDDs, USB drives, memory cards, and even digital cameras. By using military and government-level data erasure standards, TS DataWiper ensures that your data is irreversibly erased, leaving no chance for recovery.
Flexible Data Erasure Modes
This user-friendly software offers four powerful data erasure modes tailored to your specific needs:-
Erase Files: With TS DataWiper, you can selectively and permanently shred files and folders from any storage device. This mode is ideal for securely deleting sensitive documents, personal files, or confidential information.
Erase Hard Drive: If you're planning to sell or dispose of your old computer or storage device, this mode wipes the entire hard drive, leaving no traces of your data. Rest assured that your information will be beyond recovery.
Erase Free Space: Even after deleting files, traces of sensitive data may still remain on your hard drive's free space. TS DataWiper allows you to erase this free disk space, ensuring that any previously deleted data is permanently removed without affecting your existing files.
Manage Disk: Beyond data erasure, TS DataWiper also provides disk management functionalities. You can format, rename, and repair hard disk drives and external devices effortlessly, all within a single tool.
User-Friendly Experience
TS DataWiper prioritizes ease of use without compromising on security. The intuitive interface guides you through each step, making the data erasure process accessible to both beginners and advanced users. With just a few clicks, you can safeguard your data without the need for technical expertise.
Certified Data Erasure Standards
Rest assured that your data will be erased according to internationally recognized standards. TS DataWiper adheres to certified data erasure algorithms, including HMG Infosec Standard 5, Baseline, DOD 5220.22-M, U.S. Army AR380-19, and Peter Gutmann's algorithm. These rigorous standards ensure the complete and irreversible destruction of your data.
How to Activate TS DataWiper for Free?
Unlock the full potential of TogetherShare TS DataWiper v2.2 with a free license key. Follow these simple steps:-
Step 1. Download the software from the official website. Install it on your computer, ensuring seamless data erasure.
Step 2. Once the installation is complete, navigate to the software's interface and locate the "Activation" button. Click on it to register TS DataWiper and unlock the full version.
Step 3. To activate the software, enter the provided TS DataWiper for Windows license code: JKWDZ-3USN4-PNJNQ-TFZZS-QTRR4. This code will validate your license and enable all the powerful features and functionalities.
Securely erase your data and safeguard your privacy with TogetherShare TS DataWiper. Don't miss out on this opportunity to experience efficient and reliable data erasure.
Conclusion
In an era where data privacy and security are paramount, TS DataWiper for Windows provides a reliable and user-friendly solution for permanently erasing your sensitive information. With its flexible data erasure modes, certified standards, and lifetime giveaway offer, TS DataWiper is the ideal choice to ensure your data stays safe from unauthorized access or recovery attempts. Download TS DataWiper today and take control of your data security with ease and confidence.