Are you looking for a reliable and feature-packed audio recording software? Well, you're in luck! For a limited time, you can get ThunderSoft Audio Recorder for absolutely free. This giveaway is the perfect opportunity to obtain a top-notch tool that allows you to capture sound from your computer and microphone effortlessly. Whether you need it for work, school, or entertainment purposes, ThunderSoft Audio Recorder has got you covered.
ThunderSoft Audio Recorder for Windows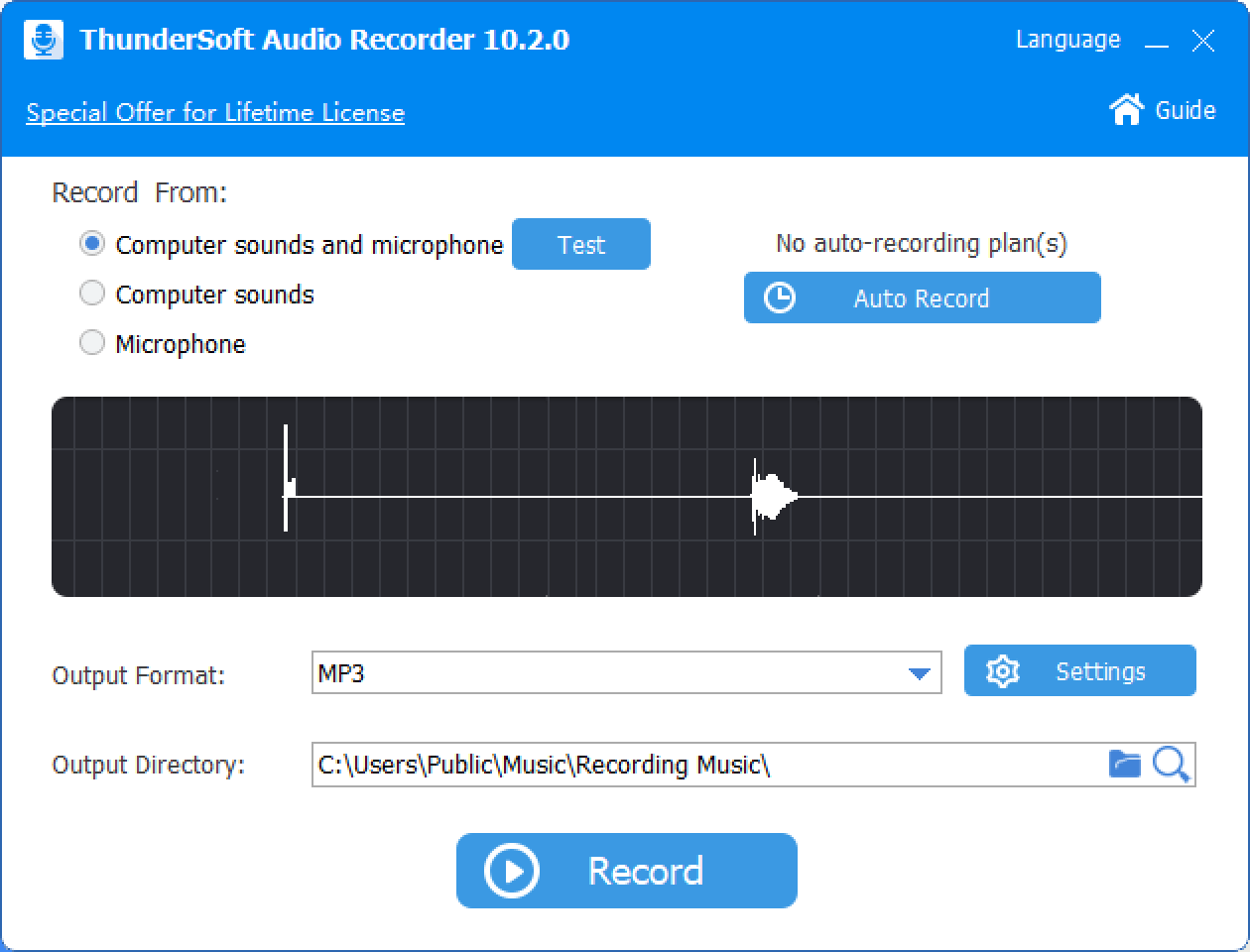 One of the standout features of ThunderSoft Audio Recorder is its ability to record sound from both your computer and microphone simultaneously. This means you can easily capture audio from various sources, such as streaming music, in-game sound effects, Skype calls, and voice chats. No matter what you need to record, ThunderSoft Audio Recorder delivers excellent results.
With support for a wide range of output formats, including popular ones like MP3, OGG, AAC, AC3, FLAC, M4A, MKA, WAV, and WMA, you have the flexibility to choose the format that suits your needs best. Whether you want to listen to your recordings on your favorite music player or transfer them to portable devices, ThunderSoft Audio Recorder has got you covered.
Another fantastic feature is the ability to create recording plans. You can schedule ThunderSoft Audio Recorder to automatically start recording at specific times or based on certain triggers. This is incredibly convenient if you have regular recording sessions or if you want to capture audio without having to initiate the process each time manually.
Customization is key, and ThunderSoft Audio Recorder allows you to preset high-quality audio output and manage various audio parameters. You can fine-tune settings such as audio bitrate, sample rate, and channel to ensure your recordings meet your desired quality standards.
The software also excels at recording streaming music, making it easy to save your favorite songs or create a personal music library. Additionally, ThunderSoft Audio Recorder supports recording sound from Skype and many other popular voice chat tools. So, whether you're having an important conversation or conducting an interview, you can trust ThunderSoft Audio Recorder to capture every detail.
Not only does ThunderSoft Audio Recorder offer powerful features, but it also supports long-time recording, allowing you to record audio for extended durations without limitations. This makes it ideal for recording lectures, seminars, podcasts, and any other long-form audio content.
Get ThunderSoft Audio Recorder Free License
To take advantage of this limited-time giveaway, simply follow these steps:-
Step 1. Download the ThunderSoft Audio Recorder installer from this link.
Step 2. Install the software on your computer following straightforward instructions.
Step 3. After installation, launch the software and click on the Register button.
Step 4. You will be prompted to enter a license key. Use your email address and enter the provided license key:-
62976-57112-21853-87451-27866-62073
Step 5. Click on the Register button.
Once you've completed these steps, you're ready to enjoy ThunderSoft Audio Recorder with a lifetime free license.
Don't miss out on this incredible opportunity to get ThunderSoft Audio Recorder for free. Enhance your audio recording experience and unlock the full potential of this fantastic software. Remember, this giveaway won't last forever, so act now and grab your free copy of ThunderSoft Audio Recorder.
Conclusion
In conclusion, the limited-time giveaway of ThunderSoft Audio Recorder presents a fantastic opportunity to acquire a high-quality audio recording tool for free. With its ability to capture sound from both your computer and microphone simultaneously, support for various output formats, and convenient features like auto-recording and customization options, ThunderSoft Audio Recorder is a reliable and user-friendly choice for all your recording needs. Don't miss out on this chance to get your hands on this exceptional software and take your audio recording experience to the next level. Act now and enjoy ThunderSoft Audio Recorder with a lifetime free license.