Trash is a special folder that is used to store deleted files that are waiting for permanent deletion. However, in Windows 10, when someone removes a file or folder, it does not display a dialog box and sends the file or folder directly to the trash. There is a way to activate the deletion confirmation dialog in Windows 10 by changing the Recycle Bin settings.
Some users (including myself) want to send the files to Trash, while someone wants the file to be deleted permanently without sending them to Trash. This means, once a file or folder is removed from a disk, it cannot be recovered.
If you are one of those that do not want a dialog box to appear while deleting a file/folder on Windows 10, in other words, want to delete the file permanently without any dialog box, this guide will help you on the same.
Note: If you do not want to send the file/folder after deletion into Recycle Bin, you can use the shortcut, select the file or folder, and from the keyboard, press Shift + Delete keys. It will bypass the Recycle Bin, and the file/folder will be permanently deleted from your computer or laptop.
How to delete files directly without sending them to Trash on Windows 10?
Step 1. Right-click on the Recycle Bin from the Desktop, and from the context menu, select Properties to open the Recycle Bin Properties window.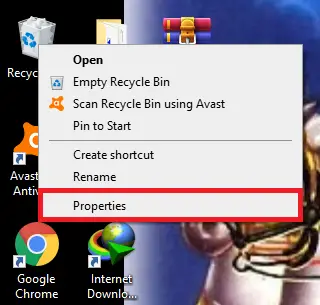 Step 2. Select the disc drive from where you want to remove the file/folder permanently. Next, click on "Don't move files to Recycle Bin. Remove files immediately when deleted."
Note: If you have several partitions on your Windows 10, you should repeat the same step for another disk drive.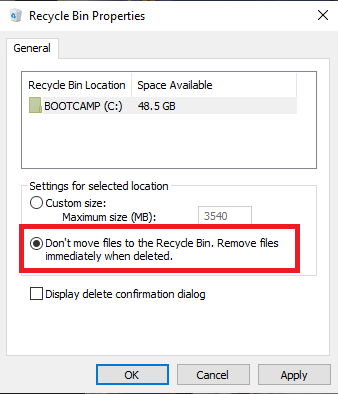 Step 3. Now click on the Apply, then an OK button.
Once the above steps are completed, when you delete any file or folder from the disk drive, it will not be stored on Recycle Bin, which means it will be permanently deleted from your computer or laptop.