Many users face problems due to accidentally moving a folder to another location without knowing it. It happens due to a sensitive touchpad or mouse that causes the accidentally dragging of folders/files to unwanted places. If you are one of those users who want to disable drag and drop to prevent accidental move or copy in Windows 11/10, this post will help you.
When you drag a file/folder from one location to another in File Explorer, it will offer you to move it or copy it depending on whether you drag it to another folder on the same drive or another drive.
To disable the drag-and-drop feature of Windows 10, one needs to change the drag-and-drop distance to an immense value. For instance, you could change it from the default 400 pixels to 2000 pixels, so it will be impossible to drag files for such a long distance (Basically, you need to specify a higher value than your screen resolution), essentially disabling the drag and drop feature.
How to Disable Drag and Drop to Prevent Accidental Move or Copy in Windows 11 or 10?
It is possible to disable drag and drop to prevent accidental move or copy in Windows 11/10 using Registry Editor because there is no direct option to disable this feature.
To disable the drag and drop feature in Windows 11/10, use the following steps:-
Step 1. Press and hold Windows logo + R keys from the keyboard to open the Run dialog box.
Step 2. In the Run box, type the following and hit Enter from the keyboard:-
regedit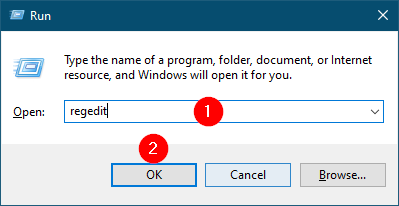 Step 3. In the Registry Editor window that opens, navigate to the following registry key:-
HKEY_CURRENT_USER\Control Panel\Desktop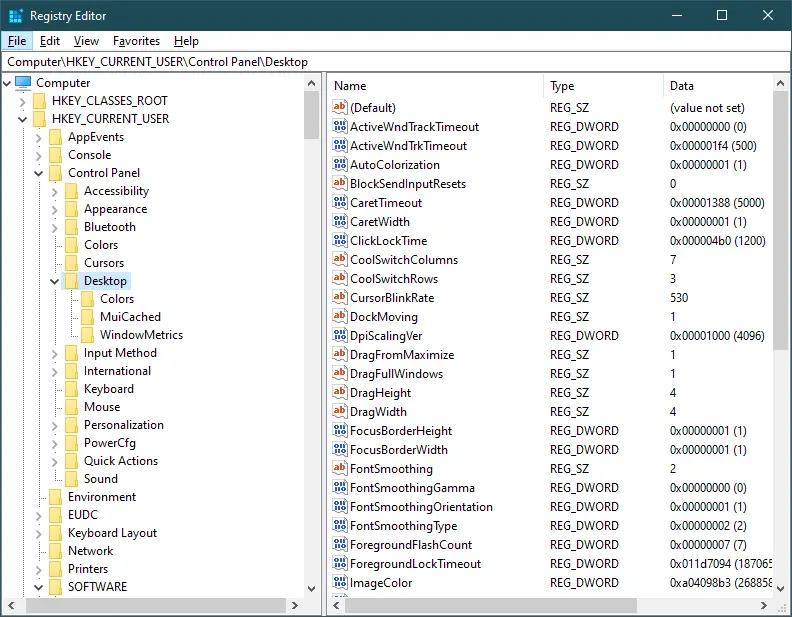 Step 4. On the right side of the Desktop key, you'll see two entries called DragHeight and DragWidth, with its default value 4.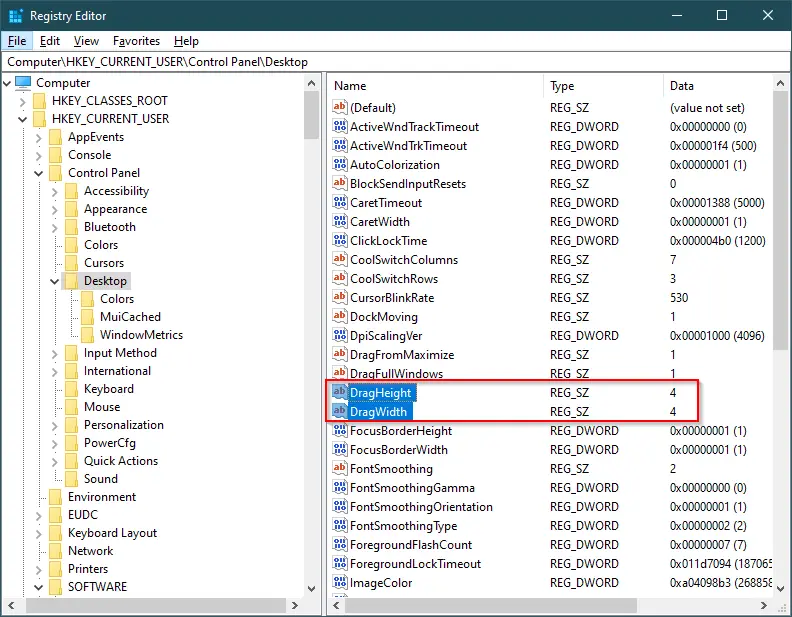 Double-click on DragHeight and change its value to more than your screen resolution of the display. Perform a similar action for DragWidth.
My monitor display resolution is 1440 x 900 pixels, so I set both DragHeight and DragWidth values to 2000.
Step 5. Close Registry Editor window.
Step 6. Restart your computer.
Now try to drag and drop a file; this functionality will no longer work in Windows 11/10.
If you are a novice user, refer to our complete guide on viewing and changing Screen Resolution in Windows 10.