When you delete a file or folder from your Windows 11 PC, it gets accumulated in the Recycle Bin. You need to clean the Recycle Bin to free up storage manually. Otherwise, Recycle will keep the deleted items until their maximum storage size has been exhausted.
Any time, if you wish, you can restore the deleted files/folders from the Recycle Bin to their original location. Due to privacy reasons, if you don't want to send a deleted item to Recycle Bin, you can use the Shift + Delete shortcut keys after selecting an item. Now, the deleted item will be permanently removed from your PC. That means it will not go to Recycle bin, and no one can recover it from there.
If you don't prefer to use the keyboard shortcut to erase an item from your computer and don't want to send deleted items to the Recycle bin, here is how to do its settings?
How to bypass Recycle Bin on Windows 11?
Step 1. Right-click on the Recycle Bin icon on the desktop and select Properties from the context menu.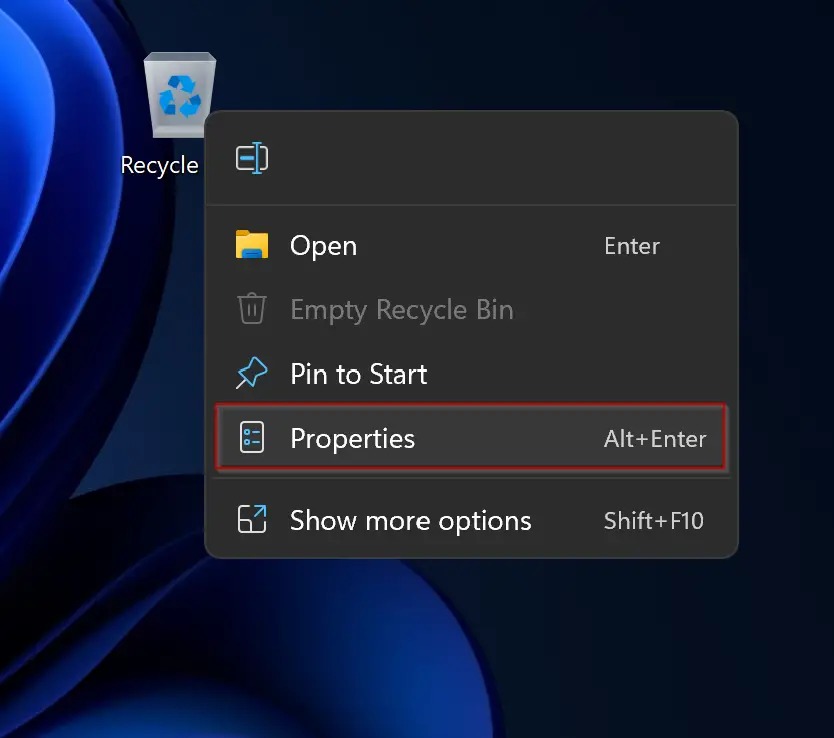 Step 2. On the Recycle Bin Properties window, you'll see each volume is listed. Select the volume you want to skip the Recycle Bin when you delete items.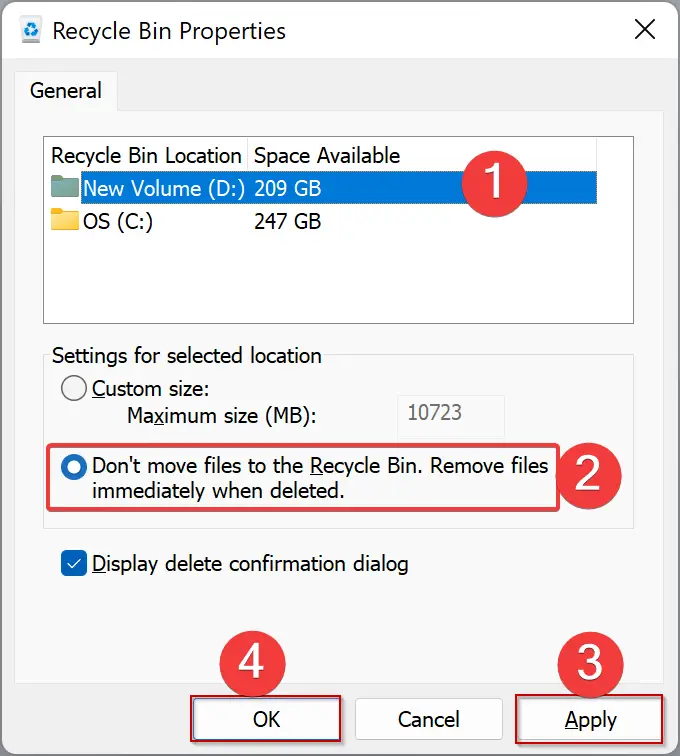 Step 3. Then check the checkbox "Don't move files to the Recycle Bin. Remove files immediately when deleted."
Step 4. Click Apply.
Step 5. Click OK.
You need to repeat the steps for each volume because Windows uses different Recycle Bin settings for each drive.
After performing the above steps, when you delete a file or folder from your computer, it will automatically skip the Recycle Bin. That's means deleted files/folders will not get any room on the Recycle bin.
In the future, if you change your mind and want to store deleted files on Recycle Bin, repeat the above steps, and in step 2, select the Custom size option. Now, erased files/folders will be stored automatically on Recycle Bin.