Many of us install multiple (more than one) Windows operating systems on a single computer. It is useful and effective as you don't have to purchase a separate computer for each operating system. You can install multiple OS in a single machine, and according to your requirement, you can boot in the selected OS.
Suppose you have installed Windows 8.1 and Windows 10 on a single PC; you can configure the boot to launch the default OS, either Windows 8.1 or Windows 10. This means either you can set Windows 10 as a default OS or Windows 8.1 as a default OS. When you boot your computer, it will automatically start on the default OS. Suppose you have set Windows 10 as the default OS; every time you start your machine, Windows 10 will be loaded by default because it comes first on the boot menu. If you have to start your PC in Windows 8.1, on startup, change the boot to Windows 8.1, Windows 8.1 will load automatically.
iReboot
iReboot is free software for non-commercial use that lets you reboot your computer in the selected operating system. It can easily switch between multiple software, which means you don't need to select another operating system each time you switch Windows.
Once you have booted in any operating system and want to switch to another OS, iReboot can help you. Once iReboot is installed on your PC, it sits on the Taskbar and lets you switch from one Windows to another. You don't have to go through the boring boot menu when you have to switch Windows.
Right-click on the iReboot icon in the system tray and then select a version of Windows you want to reboot into and restart your PC to reboot in the selected version of Windows.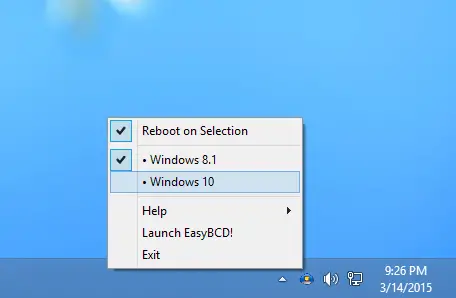 Download iReboot
iReboot is a freeware tool for non-commercial use. You can use this app on Windows 10 / 8.1 / 7 to switch between different operating systems. You can download the latest version of iReboot from the official website.