Looking to recover important data from your Windows device but don't want to spend a fortune on data recovery software? Look no further than Stellar Data Recovery Professional. For just USD $79.99 per year, this powerful software can help you retrieve all your lost documents, photos, videos, email data files, and more. And with the below promo, you can even get a free license!
Stellar Data Recovery Pro 11 for Windows 11 and 10
If you have lost important data from your Windows device, don't worry! Stellar Data Recovery's professional edition can help you recover all your files effortlessly. This software is compatible with all types of Windows devices and can retrieve files from internal drives, USB media, SD cards, and more. With the ability to recover additional file types like Office documents, PDF files, compressed ZIP and RAR files, HTML, and PHP files, you can trust Stellar Data Recovery to get back all your lost data.
Stellar Data Recovery Pro is a trustworthy software that supports NTFS, FAT, and exFAT file systems for recovering data from hard drives or memory cards. With many files on your computer, the risk of losing some of them due to accidental deletion, power failure, or hardware failure increases. However, it provides a simple solution to retrieve deleted files effortlessly.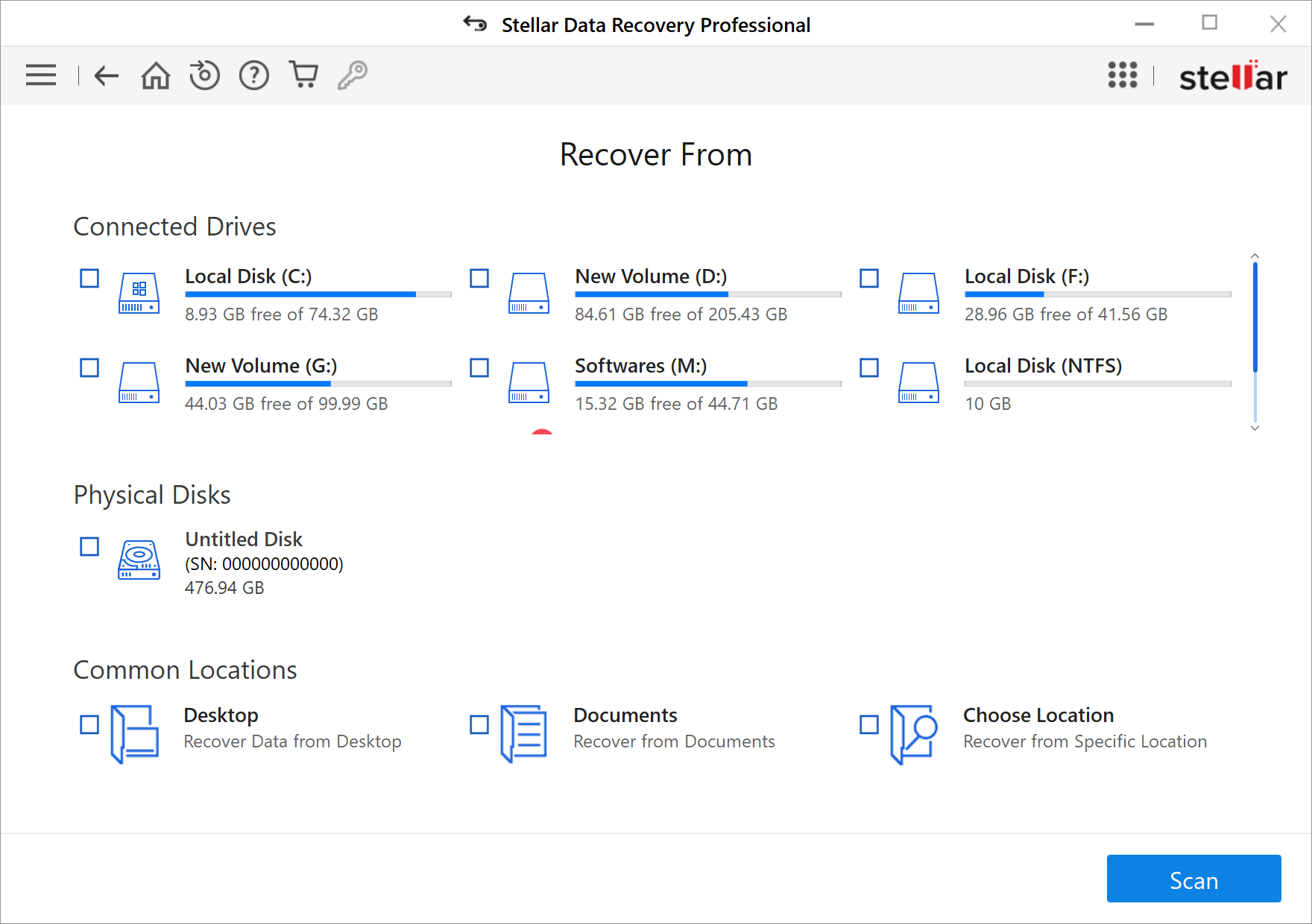 The data recovery program can open a wide range of file types, including pictures, music, videos, emails, documents, and regular folders. The wizard interface guides you through each step of the recovery process, making it user-friendly for all computer expertise levels. To begin, select the file types you wish to recover and the location on your computer to perform the scan.
Stellar Data Recovery Pro has a powerful scan engine that conducts a thorough scan of the selected storage device, displays a preview of files found during the scanning process, and saves them to a specified destination. Moreover, you can recover documents, folders, mails, or multimedia files separately from the storage media and save the scan information to resume the recovery process from the same point at a later stage.
In addition, Stellar Data Recovery Pro offers an option to create an image of a complete hard drive or volume/partition on the drive. This image file can be used to recover lost data even when the actual hard drive is not available. The drive monitor feature is also noteworthy for its potential utility in safeguarding your drive's integrity. It displays useful information about your hard disk drive or solid-state drive, including its status, performance, temperature, and the option to defragment quickly.
In conclusion, Stellar Data Recovery Professional for Windows is an excellent DIY data recovery software that helps you easily recover deleted files & folders, missing or corrupt partitions, and accidentally formatted hard drives. Download it now to ensure that your valuable data is always safe and recoverable, and never lose data again!
Stellar Data Recovery Pro Free
To get your free license, simply visit the giveaway page in the German language, enter your name and email address, complete reCAPTCHA, and hit the 'Get your key Now' button. You will receive a confirmation email from Stellar Data Recovery ([email protected]), so be sure to confirm your email address and wait for 5 to 10 minutes to receive the license code.
Once you have your license code, it's time to install the software. You can download the setup file or installer from this link. After installation, simply launch the app, click the 'Key' icon on the main window, and enter the code to activate the full version.
With Stellar Data Recovery Pro 11, you can recover data from internal drives, USB media, SD cards, and more. It can even recover additional file types such as Office documents, PDF files, compressed ZIP and RAR files, as well as HTML and PHP files. Plus, it can recover data from corrupted volumes, drives encrypted with BitLocker, lost and formatted partitions, systems that have crashed, and 4K-formatted drives with FAT32, exFAT, and NTFS file systems. With its powerful scan engine, user-friendly interface, and useful drive monitor feature, Stellar Data Recovery Professional is a must-have tool for any Windows user looking to keep their valuable data safe and recoverable.