Today, businesses or individuals store their essential information on hard drives or use cloud backup. You might also routinely save your data to a USB stick or an external hard drive.
It is a very stressful moment for anyone who loses data due to hardware or software failure, accidental deletion, malware attack, or cybercrime.
Data recovery software makes it simple and easy to recover your deleted files and folders from your computer or storage media.
While several data backup software programs are available in the market that can make the data recovery process simple and easy to do, if you don't have one, you should try Remo Recover. If a hard drive crashes or is corrupted, you will need a reliable data recovery tool to help restore your missing files and folders.
If you have ever experienced a sudden disk failure or disk error that resulted in data loss, then data recovery software is the only solution. Data recovery software lets you recover deleted, inaccessible, corrupted, or formatted data.
Today, in this gearupwindows article, we will discuss about Remo Recover Windows software – version 6.0. It is one of the best and most reliable data recovery software that comes with many features and makes the data recovery process easy.
Remo Recover Windows
Remo Recover is a popular data recovery software available for Windows and Mac. This helps you quickly recover files from hard drives, memory cards, and other external devices. It also recovers the data from emptied Recycle Bin. It has a simple user, so a newcomer can also use this software.
Remo Recover allows you to recover deleted and lost files from any storage device. You may accidentally delete your files or folders from your computer HDD, SSD, or external devices such as a flash drive or external storage. Remo Recover is the right solution for you, even if you formatted your drive by mistake or crashed due to hardware failure.
Key Benefits of Remo Recover
Recover Deleted or Lost Files
With Remo Recover, you can easily recover your deleted or lost files from 1000 + storage devices. Data recovery is possible through HDD, SSD, USB drive, memory cards, digital camera, DSLR camera, CCTV camera footage, etc. If you lost a file or folder by accidentally deleting it or due to a system crash, you could run a scan for a specific drive or folder to find the missing file. In case of a partition loss or hard disk crash, you should run a complete system check.
Multiple File Formats & File System Supported
Remo Recover supports a lot of file formats. It can identify and recover data from more than 500 +file types. Let it be docs, Excel files, PDF files, PSD files, RAW photos, Zip, RAR, or any other file; the application works as advertised.
Besides that, you can easily recover from a wide range of file systems such as ExFAT, FAT32, FAT16, NTFS, and more. You may have lost your data from external or internal drives like HDD, SSD, USB flash drives, SD cards, etc.; this application is a boon for data recovery.
Multiple Modern Technologies
Remo Recover uses several modern technologies to scan and retrieve data from corrupt, formatted, or crashed drives.
Deep Scan Technology: It comes with a deep scan technology that profoundly scans the partition or drives and effectively recovers data from any data loss scenarios. Its algorithm scans drive sector by sector; as a result, it is able to recover data from unbootable drives, formatted drives, unrecognized USB drives, and more.
iDS (Instant Data Sort) Technology: The iDS technology makes Remo Recover different from its competitors. A data recovery software cannot show file details until the drive scan is completed, but Remo Recover instantly sorts the file and makes them readily available for you to recover before the scan is finished. Once the scan is in progress, this tool organizes your data in the folder structure hierarchy. So you can easily find your data and recover them.
Dynamic Data Recovery: This feature allows you to see what data is being recovered. If you need, you can preview the files or folders and save the file while the scan is in progress.
Preview
The latest version, 6.0 of Remo Recover, has upgraded its Preview function, which allows users to preview a wide range of files such as photos, videos, audio files, raw images, Word documents, excel files, PPT files, and many more. Earlier, this feature allowed users to preview only recovered photos and videos.
Easy-to-Use UI
The software includes a straightforward user interface. In just a three-step process, you can recover your data with ease. All you need to do is select a drive and scan.
Apart from that, it allows you to also search for data using a variety of tags like file name, author name, and so on. You can also preview what files you are recovering, which may save valuable time.
Compatibility
The Remo Recover supports all versions of Windows operating systems, including Windows 7, 8, 10, and 11. Besides that, you can also use it on Windows Server 2019, 2016, and 2012.
How to Use Remo Recover for Data Recovery?
As said above, the Remo Recover is pretty easy to use. Once you downloaded, installed, and purchased the license for your Windows or Mac computer, use these steps:-
Step 1. Launch the Remo Recover on your PC.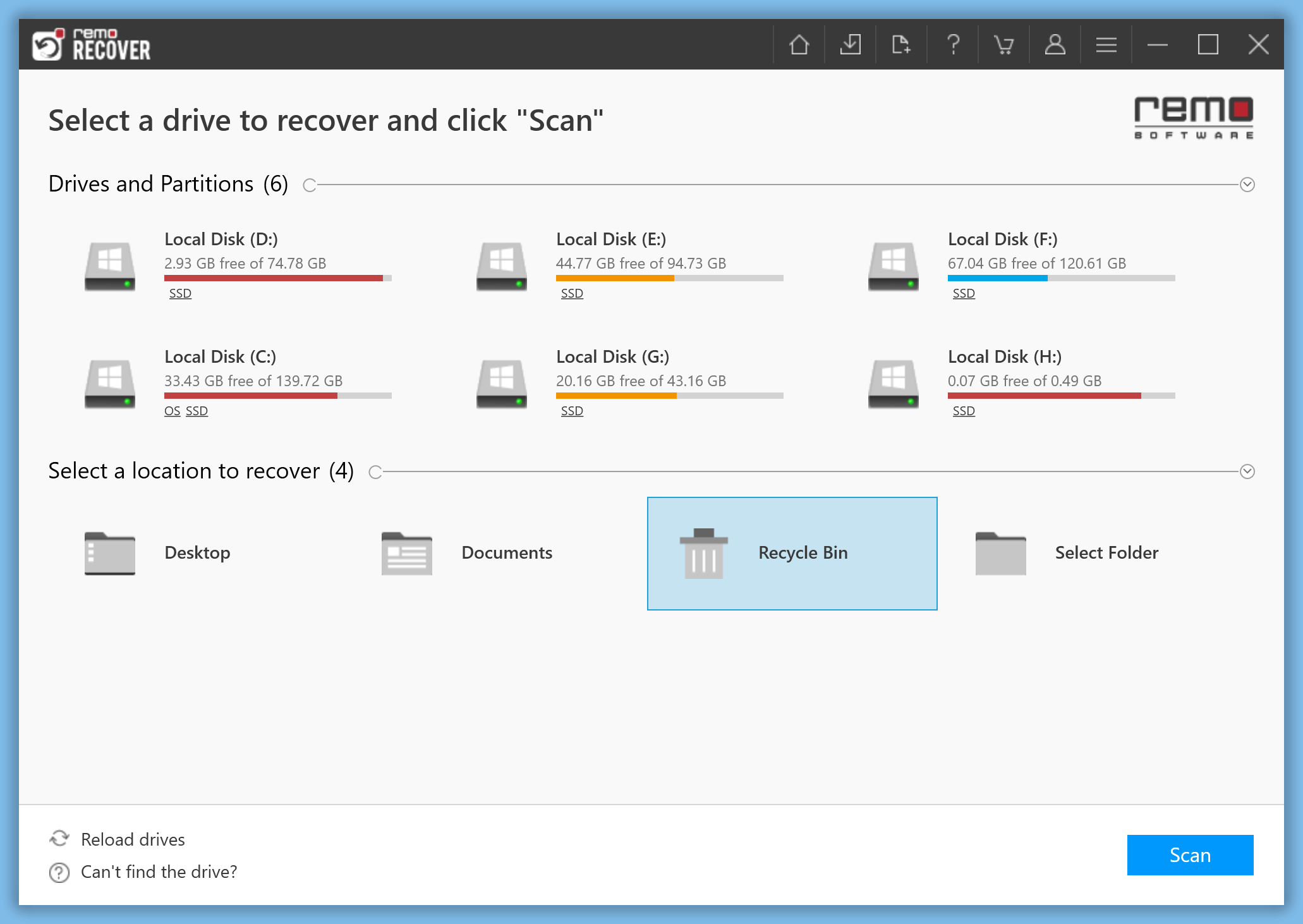 Step 2. Select a drive, folder, or Recycle bin on the allocation interface and click on the Scan button.
Step 3. When scanning is in progress, you can click on the Dynamic Recovery View button to preview your files immediately.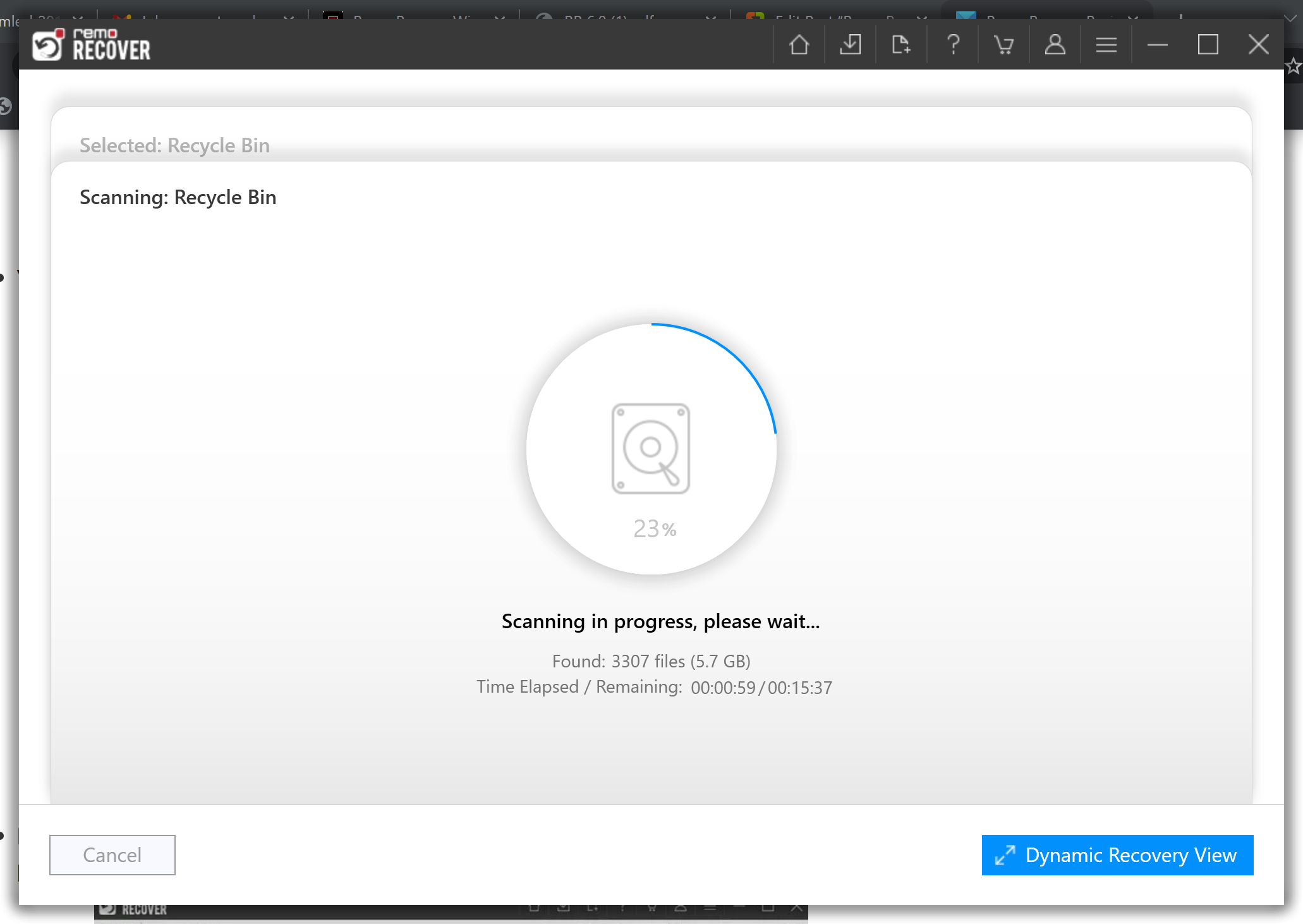 Step 4. To recover the file(s) or folder(s), select them and click the Recover button.
Pricing
The Remo Recover lets you recover up to 1GB of data free of cost. However, if it is insufficient for you and wants to recover tons of GiGs of data, you need to opt for a Pro plan of this software.
At present, the firm offers three different plans, and these are following:-
One-month license: US $69.97.
Six months license: US $79.97.
Lifetime license: $199.97.
Our Opinion on Remo Recover
A lot of features are included in Remo Recover that helps you recover lost data quickly. Before retrieving the data, it also allows you to preview the files, which may save you valuable space. It is a pretty great tool when it comes to recovering deleted or missing data. All advanced features are included in this software, but still, it is super easy to use. When it comes to compatibility, you can use it on every Windows Server edition as well as Windows 7 to 11.
Download Remo Recover
You can download Remo Recover Windows from its official link.
Conclusion
In conclusion, data loss is a stressful event for individuals and businesses alike. With the reliance on digital storage devices, data recovery software has become essential. Remo Recover Windows software version 6.0 is an excellent solution for data recovery. This software supports over 500 file types and is compatible with a wide range of storage devices. The deep scan, iDS technology, and dynamic data recovery are some of the modern technologies that make Remo Recover stand out. Moreover, the easy-to-use interface and the preview function make the recovery process easy and efficient. Overall, Remo Recover Windows is a reliable, comprehensive, and affordable data recovery software that can help you recover your deleted or lost files from any storage device.