In today's world of cybercrime, it's important to protect your computer from malicious programs and ransomware attacks. While antivirus software is essential, it may not always be enough to keep your system secure. That's where A1RunGuard comes in – it offers powerful protection against malicious programs and has a range of features to ensure your system stays safe.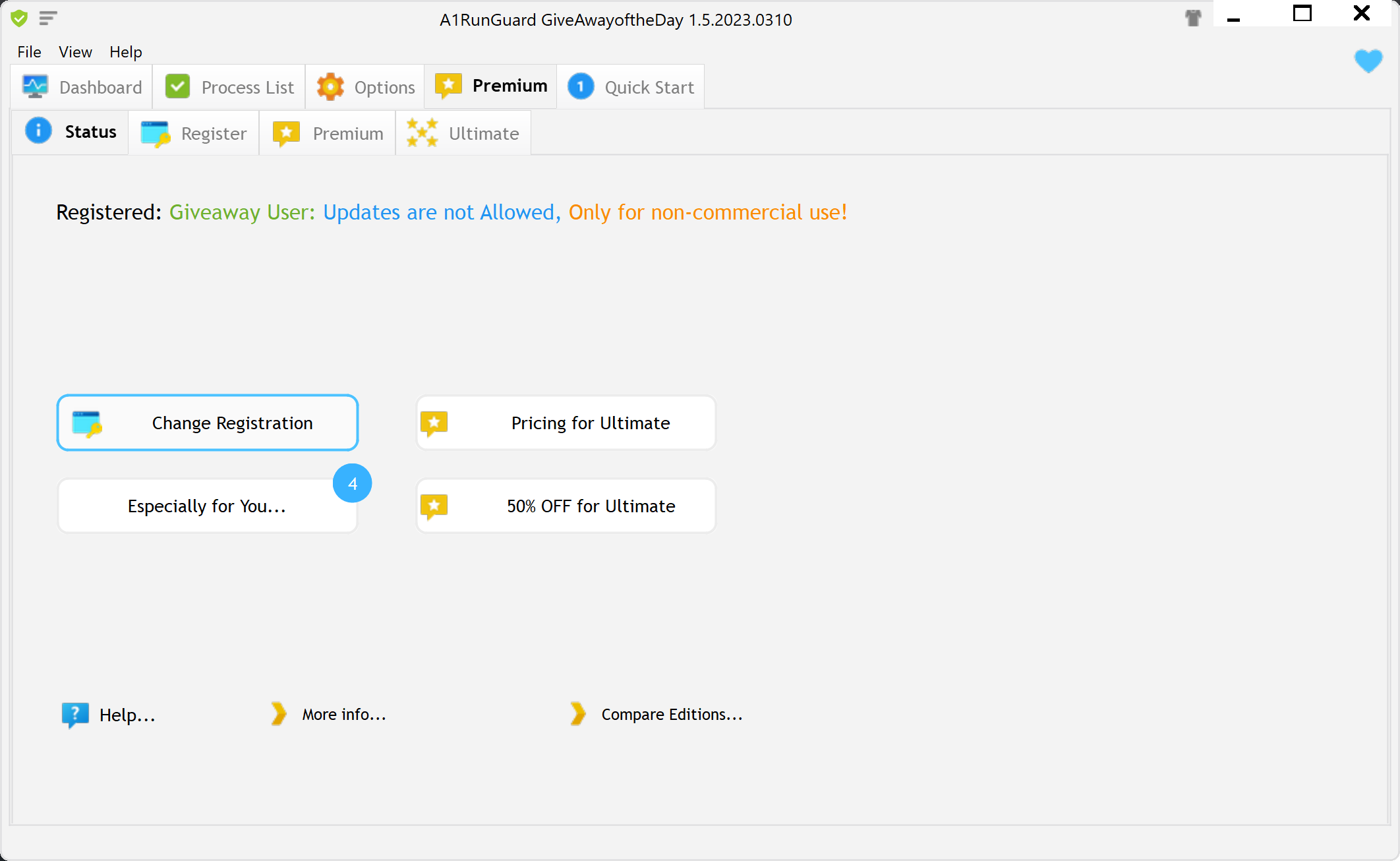 A1RunGuard is a free process firewall for Windows that blocks unwanted programs from running on your system. It even allows you to lock executable programs with a password so only authorized users can access them. This helps prevent ransomware attacks by automatically closing ransom processes and notifying you of any detected attacks.
The best part about A1RunGuard is that it's easy to use and doesn't require real-time monitoring, system driver installation, or modification of system files. It's also compatible with Windows 11/10/8/7 64-bit and 32-bit systems. You can choose from different editions, including the Ultimate edition, which provides full protection against a range of malware.
If you want an extra layer of protection against ransomware attacks, consider A1RunGuard Premium. This advanced process firewall allows you to safeguard your executable programs with passwords and stop specific processes from running. It monitors and blocks any suspicious activity and is compatible with all known antivirus software. A1RunGuard Premium also features an anti-malware database, event logging, and password protection for any application.
The best part is that you can get a free license for A1RunGuard Premium. Just download the software from the official website and follow the instructions provided. A1RunGuard is a powerful and easy-to-use process firewall that provides comprehensive protection against unwanted programs and ransomware attacks. Whether you're a home user or a business, A1RunGuard has the features you need to keep your system safe and secure. Try it out today and enjoy worry-free computing!
How to Get A1RunGuard Premium Free?
To get the A1RunGuard Premium free, follow these simple steps:-
Step 1. Download the A1RunGuard Premium software by clicking this link.
Step 2. Once the download is complete, install the application on your device.
Step 3. Launch the A1RunGuard Premium application and navigate to the main screen.
Step 4. Click on the "Premium" option located on the app's main screen.
Step 5. Then, click on the "Register Premium" button.p 6.
Step 6. Enter the following license code when prompted:-
A1RG-GT23-14MR-WN3Q
Step 7. Finally, click on the "Register" button.
Congratulations! You have now successfully registered and activated A1RunGuard Premium for free.