Drivers are crucial software programs that facilitate communication between a computer's hardware components and the operating system. Without the proper drivers installed, the hardware components may not function correctly, causing various issues such as performance slowdowns or even system crashes. Therefore, it is crucial to have a reliable driver backup and restore tool to safeguard your computer's drivers. One such tool is Double Driver, a freeware utility that enables you to back up and restore drivers on Windows 10 and 11 machines easily. In this article, we will explore how to use Double Driver to back up and restore drivers in case of any system disasters or hardware failures.
Double Driver for Windows 10 and 11
Double Driver is a useful freeware tool for Windows 11/10 machines that helps users back up and restore their drivers. After scanning the computer, Double Driver provides users with detailed information about the drivers installed, such as their version, date, and provider. It also allows users to update their drivers to the latest version. With Double Driver, users can easily back up all of their drivers at once and restore them later as needed. This tool can be particularly useful for those who do not have the original driver CD or cannot find the necessary drivers online.
Double Driver Features
List, save, and print the driver's details.
Backup drivers from installed Windows
Backup drivers from non-live/non-booting Windows
Backup drivers to structured folders, compressed (zipped) folders, and self-extracting capability
Restore drivers from the previous backup
Available in GUI and CLI application
Portable (no installation required)
Works with Microsoft Windows XP/Vista/7/8/10/11 (32-bit or 64-bit)
Back up Drivers with Double Driver
To back up important drivers of your Windows PC, run the Double Driver as administrator and click on the Backup from the menu.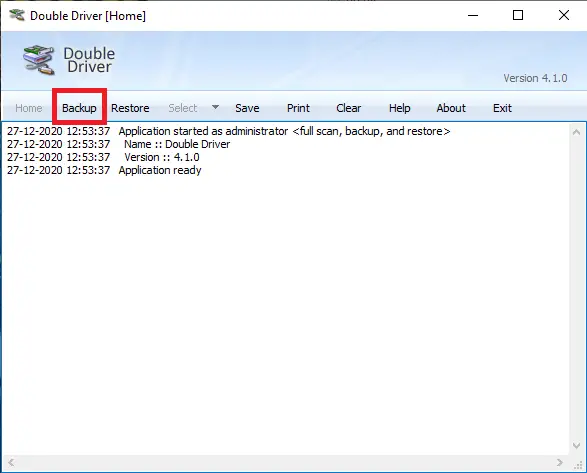 Click on the Scan Current System button to list all the drivers available on your computer.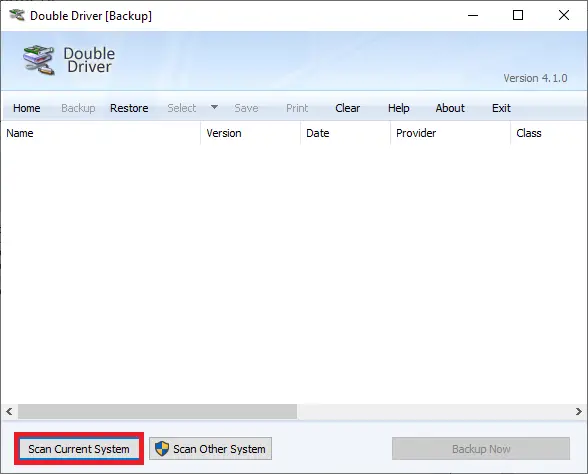 Once the scanning is completed, it will list all hardware with drivers. You can select all or a few which you want to back up. Finally, click the Backup Now button.
Browse for the location where you want to save the Backup of the drivers, select the output type, and click on the OK button.
It may take a few minutes, depending on the selection of drivers.
Restore Drivers with Double Driver
Once you are ready with a backup of the Drivers and you have to restore the drivers due to any reason because you have formatted your PC or your any hardware is not working properly, perform the following steps:-
Run the Double Driver software and click on the Restore from the menu.
Click the button labeled Locate Backup. Select the Folder Location where you have stored the driver's backup.
Once you have selected the driver's backup folder, click on the OK button. Finally, click on the Restore Now button to restore the drivers.
That's all!!! Now Double Driver freeware should restore the drivers on your PC, and everything should start working as before.
Download Double Driver
You can download the latest version of Double Driver from the official website.
Conclusion
In conclusion, Double Driver is an essential tool for Windows 10 and 11 users who want to ensure their computer's drivers are backed up and easily restorable in case of hardware failure or system disasters. It provides users with a user-friendly interface to back up all drivers at once and restore them later as needed. The ability to save the backup in various formats, including structured folders, compressed folders, and self-extracting capability, makes it a versatile tool. Additionally, its availability as a portable tool means users can run it without installation. We highly recommend Double Driver for anyone looking for a reliable driver backup and restore tool.