How do I fix thumbnails not showing? Does explorer.exe is not starting automatically with boot? Is your PC Settings app not working on Windows 10? FixWin can solve all these problems in Windows 10 with a single click of the mouse.
FixWin is an all-in-one Windows 10 fixer and repairer. This portable freeware allows you to fix and correct Windows 10 problems, issues, and annoyances with a single click. Using this small application, you can fix almost all Windows 10 annoying errors.
FixWin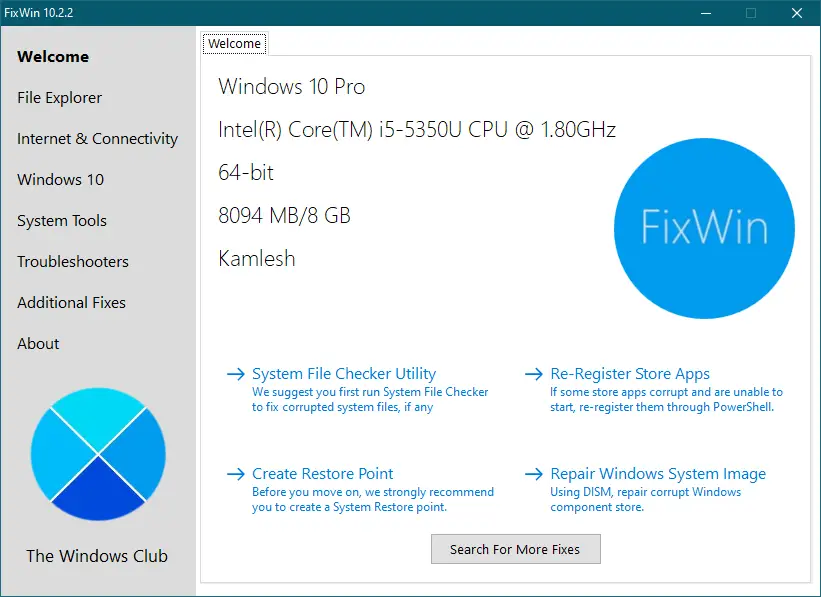 FixWin is categorized into six tabs, and these are the following:-
File Explorer
Internet & Connectivity
Windows 10
System Tools
Troubleshooters
Additional Fixes
1. File Explorer
Offers fixes and resolves problems to Windows 10 File Explorer. You can fix the following issues with a single click on Windows 10 PC:-
Restore Recycle Bin icon on the Desktop
Fixes WerMgr.exe or WerFault.exe Application Error.
Fix File Explorer Options missing from Control Panel or error message File Explorer has been disabled by the administrator.
Fix Recycle Bin problem when its icon doesn't refresh automatically.
Explorer doesn't start on startup in Windows.
Thumbnails are not showing in File Explorer.
Reset Recycle Bin.
Windows or other programs don't recognize CD drive or DVD drive.
"Class not registered" error in File Explorer or Internet Explorer.
Restore the "Show hidden files, folders, and drives" option in Folder Options.
Recycle Bin grayed out in Desktop Icon Settings.
2. Internet & Connectivity
Several Internet and Connectivity issues are possible to fix using FixWin. These are the following:-
Right-Click Context Menu of Internet Explorer is disabled.
Cannot connect to the internet. There's some problem with Internet Protocol (TCP/IP).
Problem regarding DNS resolution. Fixes it by clearing the DNS resolver cache.
Clears Windows Update History.
Reset Windows Firewall Configuration.
Reset Internet Explorer To Default Configuration.
Runtime errors in Internet Explorer.
Optimize Internet Explorer maximum connections per server to download more than two files at the same time.
Internet Options are missing in Settings under the "Advanced" tab of the "Internet Options" dialog box.
Repair Winsock (Reset Catalog) Telnet.
3. Windows 10
This section resolves the following problems in Windows 10:-
Fixes corrupt Windows Component Store using Deployment Imaging and Servicing Management (DISM).
Reset Settings app. Helpful if Settings doesn't launch or exit with an error.
Disable OneDrive.
Repair Start Menu if it does not work or does not open.
Reset Wi-fi.
Windows Sandbox failed to start, Error Ox80070057, The parameter is incorrect.
Windows Update Error Ox80070057
WslRegisterDistribution failed with error: Ox8007019e & Ox8000000d.
Battery Remaining Time not visible in Battery Layout.
Clear and reset Microsoft Store cache.
4. System Tools
System Tools tab offers to fix built-in tools that may not be working correctly on your PC. You can resolve the following error:-
"Task Manager has been disabled by your administrator" or "Task Manager option is disabled."
Your administrator has disabled the command Prompt. I can't run any cmd or batch file.
Your administrator has disabled registry Editor.
Enable MMC Snap-ins. Some viruses disable Snap-ins, which prevents Group Policy (gpedit.msc) and similar services from running.
Reset Windows Search to defaults.
Your administrator has disabled System Restore. Please contact your system administrator.
Device Manager isn't working properly and not showing any devices.
Repair Windows Defender and reset all its settings to default.
Action Center and Windows Security Center won't recognize installed AntiVirus or Firewall or still identifies old AV as installed.
Reset Windows Security Settings to defaults.
5. Troubleshooters
Provides straight links to bring up the built-in 18 Windows Troubleshooters and download links to 4 troubleshooters release recently by Microsoft. The following built-in Windows troubleshooters can be launched directly from FixWin:-
Playing Audio
Recording Audio
Power
Printer
Shared Folders
Homegroup
Internet Explorer Performance
Internet Explorer Safety
Windows Media Player Settings
Windows Media Player Library
Windows Media Player DVD
Internet Connections
Hardware and Devices
Incoming Connections
System Maintenance
Network Adapter
Windows Update
Search & Indexing
6. Additional Fixes
Offers several other fixes for Windows 10:-
Enable Hibernate. Fix Hibernate option in Shutdown option.
Restore the Sticky Notes delete warning dialog box.
Fixes Aero Snap, Aero Peek, or Aero Shake isn't working.
Fix Corrupted Desktop Icons. Fix and rebuild the corrupted icon cache.
Taskbar jump list is missing or doesn't store MRU file list.
Notifications have been disabled.
Windows Script Host access is disabled on this machine.
Office documents do not open after upgrading to Windows 10.
The recovery image cannot be written. Error code – 0x8004230c.
Windows Media Player shows error: "An internal application error has occurred."
As you can see above, FixWin is an all-in-one application that offers many fixes for your Windows 10 PC. It is specially built for Windows 10 OS by TheWindowsClub, which means you can not use it on Windows 8 or Windows 7. You can download this valuable tool from the official website.