In the past, I used to fill up every notebook I purchased with written words. We wrote stories, documented our daily activities, and even included silly details. I cherished my collection of notebooks, as they were filled with pages of handwritten words.
Eventually, I transitioned to typing on a computer and utilized word processing programs such as Microsoft Word to refine my writing skills. Now, I prefer to document my activities on a computer or laptop rather than writing them down by hand.
With the shift towards computer-based work, typing speed has become a crucial factor in productivity. Fortunately, there are free typing software and online lessons available for Windows 11/10/8/7 PCs to help improve your typing skills.
In this gearupwindows article, you will find a list of free typing software for Windows 11, 10, 8, and 7, including both offline and online typing tutors.
Free Typing Tutor for Windows 11/10 PC
TutorType
Typing.io
Typing Bolt
Typing Fingers LT
Rapid Typing Tutor
Typing.com
Typing Club
Tipp 10
KeyBlaze
TutorType
TutorType is a user-friendly and free typing application with a simple interface that enhances the learning experience. This lightweight software of just 2MB facilitates easy typing without looking at the keyboard, thus improving typing proficiency. With the option to add custom words to its dictionary, users can diversify their typing practice. It also provides various typing tests to evaluate current skill levels and comes with a ProTrainer that identifies misspelled words. This software is particularly helpful for beginners who are not yet proficient in typing on a computer keyboard.
You can download TutorType from here.
Typing.io
Unlike other programs on the list, typing.io is an online typing program that requires a Google account to log in and practice. It is specifically designed for programmers to improve their typing skills since a programmer's productivity depends on their coding speed. typing.io focuses on teaching programmers how to type special characters that are commonly used in coding.
Typing lessons in typing.io are based on open-source code, allowing users to practice key sequences that are similar to real code. In essence, it helps programmers improve their typing skills by providing feedback and accurate reports on their coding speed and accuracy.
Typing Bolt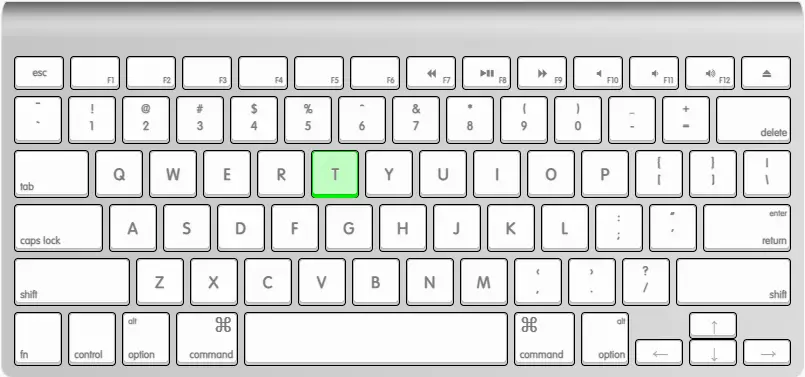 Typing Bolt is an AI-backed online typing tutor that personalizes the typing course for every user. Its AI algorithm studies typing patterns to offer customized lessons and tracks users' progress. It has a dark mode theme that can be enabled if desired.
Unlike other typing tutors, Typing Bolt doesn't repeat the same words excessively but offers words commonly used in real-life scenarios. The Bolt AI analyzes the user's typing skills to set the difficulty level automatically. It also provides graphical representations of the user's performance and motivates them to improve their results.
You can access Typing Bolt from the homepage.
Typing Fingers LT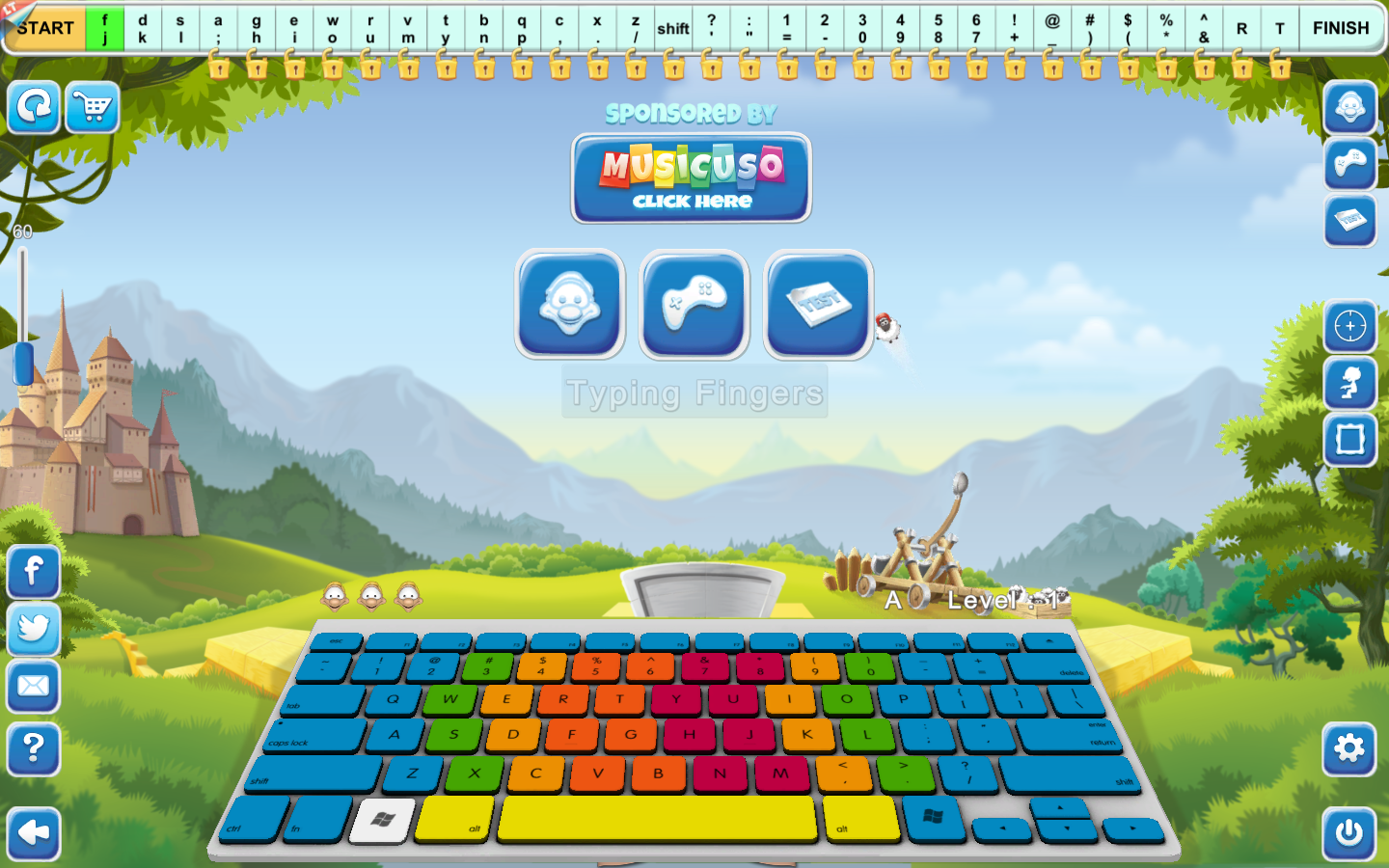 Typing Fingers LT is a free typing application that can be downloaded and installed from the Microsoft Store. Its primary focus is on the Touch typing method, which is known to increase typing speed and accuracy, particularly for those who use touch-screen laptops or computers. The method also helps to boost creative thinking since it eliminates the need to glance at the keyboard constantly. The software includes mini-games that are designed to help users learn the Touch typing method while having fun.
You can download Typing Fingers LT from this link.
Rapid Typing Tutor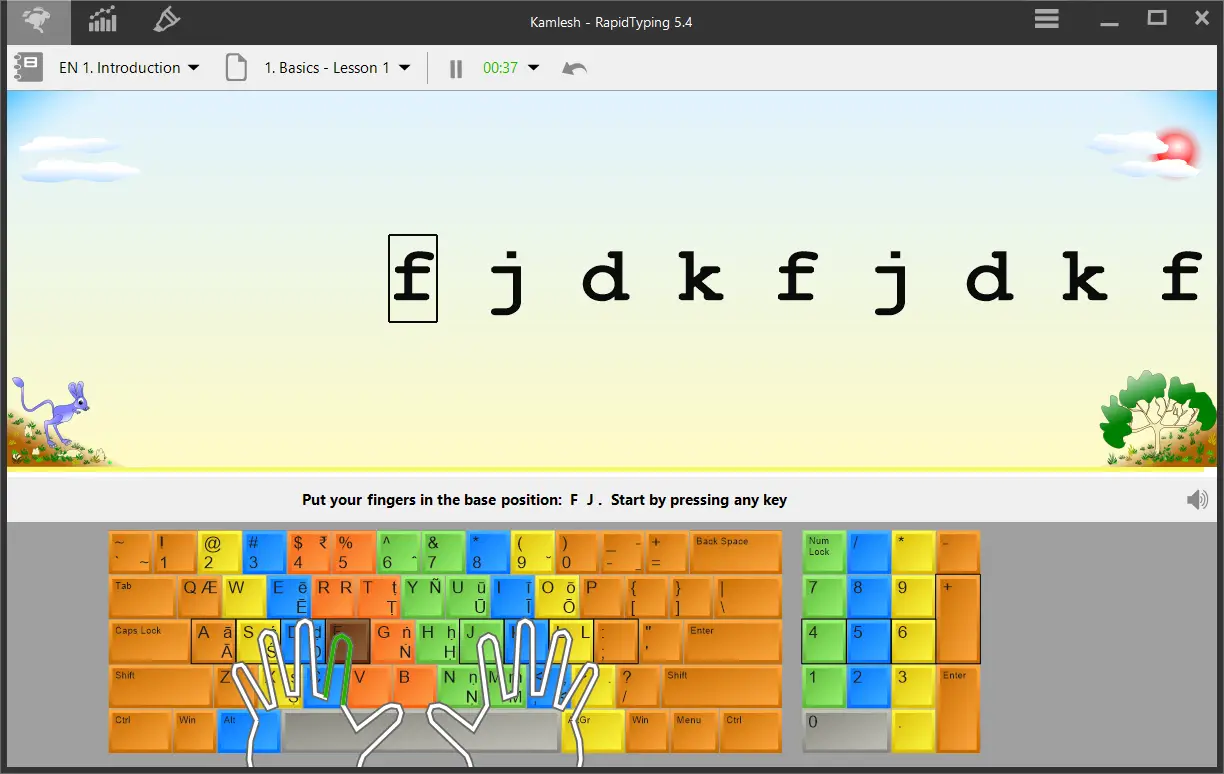 Rapid Typing Tutor is an easy-to-use yet powerful software that helps you improve your typing skills effortlessly. In addition to enhancing your typing speed, it also helps you to type accurately. With simulated keyboards available in multiple languages, such as Spanish, Russian, German, French, Dutch, and English, this app comes with an attractive interface. You can download a portable version of Rapid Typing Tutor if you prefer not to install it on your PC. It supports both 32-bit and 64-bit versions of Windows. If you are a beginner at typing, this tool is highly recommended to help you gradually increase your typing speed.
You can download Rapid Typing Tutor from its official website.
Typing.com
To improve your typing skills, you can visit typing.com, a website that provides professional tips and tricks. To start using the site, you'll need to sign up for an account. Once you're in, you can choose from 1-minute, 3-minute, or 5-minute typing tests to practice your skills and increase your speed and accuracy. This website is ideal for those who want to learn typing quickly and efficiently.
Access Typing.com.
Typing Club
Typing Club is an online typing application that provides free lessons for individuals and schools. This web-based tool offers daily lessons and awards users with a 5-star rating once they become proficient in typing. It has an intuitive and interactive user interface and offers levels, badges, and star ratings. To progress through the course, you must complete each lesson before moving on to the next chapter. Typing Club is a great resource for anyone looking to improve their typing skills.
You can access Typing Club by navigating its homepage.
Tipp 10
Tipp 10 is a free touch typing software available both online and offline. Its user interface is easy to navigate, and it offers 20 lessons to practice touch typing. You can use the online version or download the software and install it on your computer to learn typing offline. The software also includes a progress tracker to monitor your typing progress. Tipp 10 has won the test winner award at the Stiftung Warentest in Germany and is compatible with Windows 11, 10, 8/8.1, 7, Vista, and XP.
You can download Tipp 10 from here.
KeyBlaze
KeyBlaze is a free typing tutor with an intuitive and effective user interface designed to help users learn to type on a computer keyboard. It begins with basic lessons on the home keys and neighboring keys before moving on to capitalization, punctuation, numbers, and more. Users can practice these lessons using poetry, prose, and problem keys, as well as taking advanced typing tests to measure their progress.
You can download KeyBlaze from here.
Conclusion
In conclusion, while handwritten notes and notebooks have been a preferred method for documenting activities in the past, the shift towards computer-based work has made typing speed an essential factor in productivity. Fortunately, there are numerous free typing software and online lessons available to improve typing skills on Windows 11/10/8/7 PCs. This gearupwindows article provides a list of free typing software, including both offline and online typing tutors. Each software has unique features that cater to different learning styles and requirements. Users can choose the software that best suits their needs and preferences to improve their typing speed and accuracy.