Windows Terminal is an app on Windows 11 to access different types of command shells all in one place. By default, it opens at PowerShell, but if need you can always open a new tab as Command Prompt on Windows Terminal. It is possible to open a Command Prompt tab by clicking on the down-arrow button beside the plus (+) sign and then selecting Command Prompt. But, those who prefer to open Command Prompt always in a new tab by pressing the Plus (+) sign have to configure Windows Terminal.
How to make Windows Terminal Always Open With Command Prompt on Windows 11?
Step 1. Open Windows Terminal.
To do that, right-click on the Start button on the taskbar and then select Windows Terminal or Windows Terminal (Admin).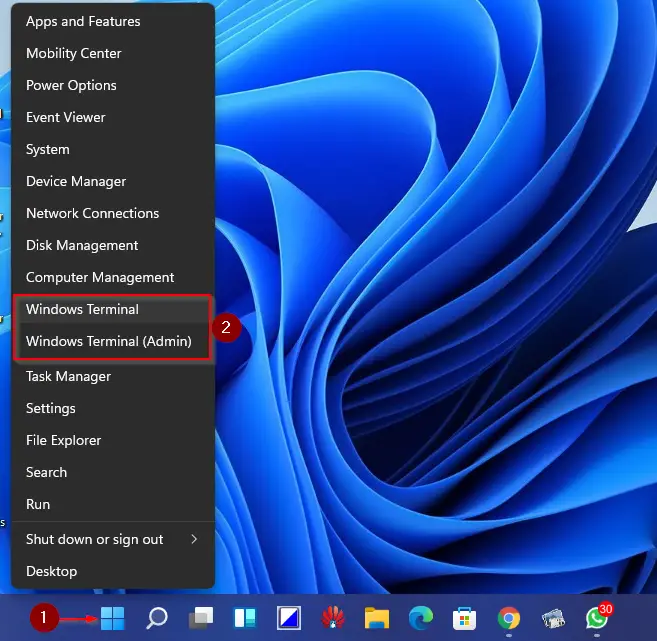 Step 2. Select the downward-facing arrow beside the plus (+) sign in the tabs bar when the Windows Terminal app opens.
Step 3. Select Settings from the menu that appears.
Step 4. When the Settings tab opens, select Command Prompt from the drop-down menu of the "Default profile" option.
Step 5. Finally, click the Save button.
Now, close the Settings tab. The next time you open Windows Terminal or open a new terminal tab by clicking the plus (+) sign, you will see Command Prompt is opened.
In the future, if you change your mind and want to see the PowerShell as the default app of Windows Terminal, repeat the above steps and in step 4 above, select Windows PowerShell from the drop-down menu of "Default profile."
That's it. According to convenience, you can configure Windows Termal to open by default at Command Prompt or Windows PowerShell.