If you want to type in Hindi, but don't have a Hindi keyboard, or if you want to share status on social media, Hinglish to Hindi is a freeware app that adds a Hindi keyboard to your Windows 11/10 PC.
In this article, we'll discuss a free Hinglish keyboard app for Windows 10 PC if you don't know how to type in Hindi. If you don't know how to type in Hindi, Hinglish to Hindi software will help you translate. In the Indian subcontinent, Hinglish is a combination of Hindi and English languages. You can easily convert your Hinglish text to Hindi with this keyboard utility. It lets you post your Hinglish text in Hindi anywhere or share it with your friends. There is a built-in feature in this application that allows you to copy and share translations between applications.
Hinglish to Hindi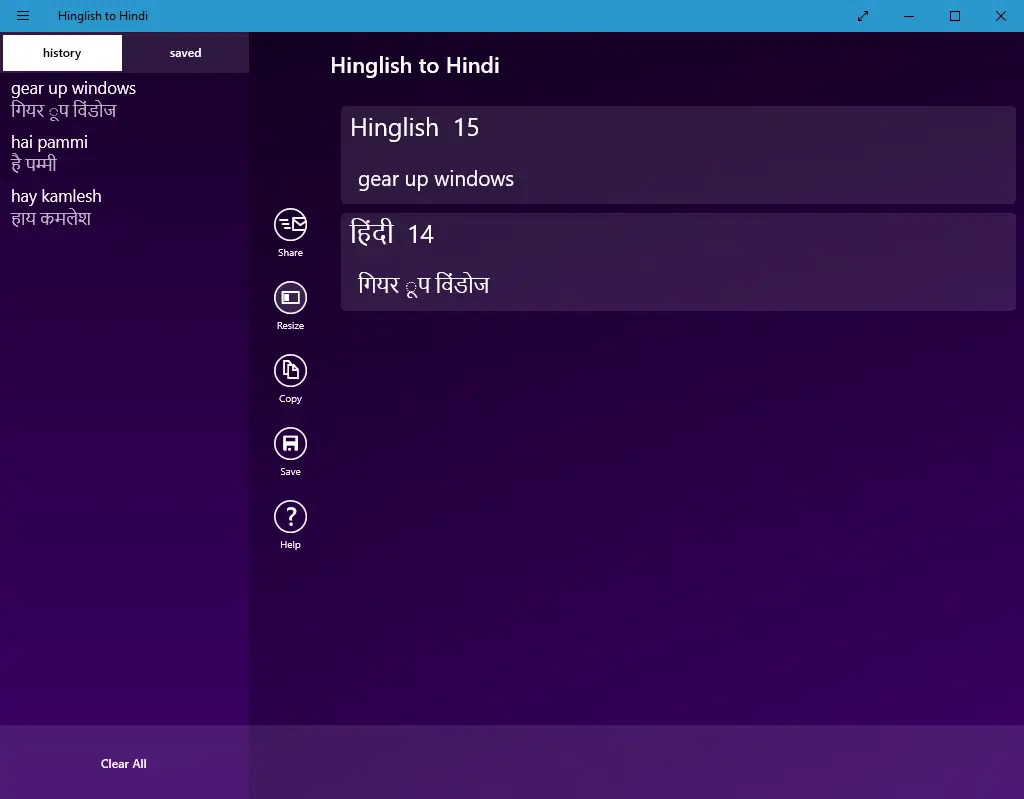 Those who are good at typing Hinglish but not Hindi can write their text in Hinglish and convert it to Hindi text without difficulty.
Add a Hinglish keyboard to Windows 11/10 PC to translate into Hindi
You can convert Hinglish messages into Hindi with Hinglish to Hindi, which is an easy-to-use app. The app has no complicated options and is straightforward to use. You just type in the Hinglish textbox, and it will translate it automatically and quickly into Hindi. Just type in your sentence or word, and it will convert.
If you need a Hindi word translated, click the copy button and paste it somewhere on your computer. If you want to convert a Hinglish word, you don't have to repeat it repeatedly if you have a history of translated words. To copy the already converted words or sentences, click on the Copy button in the history. There is an option to clear all converted texts at the bottom of the application.
Hinglish to Hindi Features
Real-time translation of the Hinglish word or sentence into the Hindi language.
The built-in Share button allows you to post Hindi text through various messaging and social media apps, for instance, Microsoft Messaging, Twitter, Facebook, OneNote, Evernote, Mail, Skype, and more.
The dedicated Copy button is available to copy Hinglish to Hindi converted to text. You can also paste it into other applications like Gmail, Facebook, Microsoft Word, Notepad, etc.
It features a History tab that automatically stores translated text within the app. You can even save a translated text using the dedicated Save button.
Final Opinion on Hinglish to Hindi
Hinglish to Hindi is a free application specially built for the Indian subcontinent. It is dedicated to Hinglish users who can't type in Hindi; can easily convert the Hinglish text to the Hindi language.
Download Hinglish to Hindi keyboard
Once you find it useful, you can download this freeware application from
Microsoft Store
.