A standard app or program window in Windows 11 or 10 typically includes three buttons on the top right side of the title bar, such as Minimize (-), Maximize ([]), and Close (X). Microsoft does not offer an option to add more buttons on a window title bar. However, if you need, you can use a freeware tool called eXtra Buttons that allows you to add more valuable buttons to the window title bar quickly.
eXtra Buttons for Windows 11/10
As mentioned above, the eXtra Buttons is a free application that allows you to add more buttons to a window. Usually, in a program, you will find three primary buttons: Minimize, Maximize, and Close, which may not be enough for all Windows users.
Using eXtra Buttons, you can easily create your own set of buttons that will appear on the top of the window. In this free tool, there are a lot of buttons that you can choose and add depending on your requirements.
This app is only 1.33 MB in size, and you need to install it on your computer to use it. When you install eXtra Buttons software on your computer or laptop, in every window title, you will see three extra buttons on the top of the window: Always on top, Minimize to tray, and Bookmarks. However, you can edit those buttons according to your needs.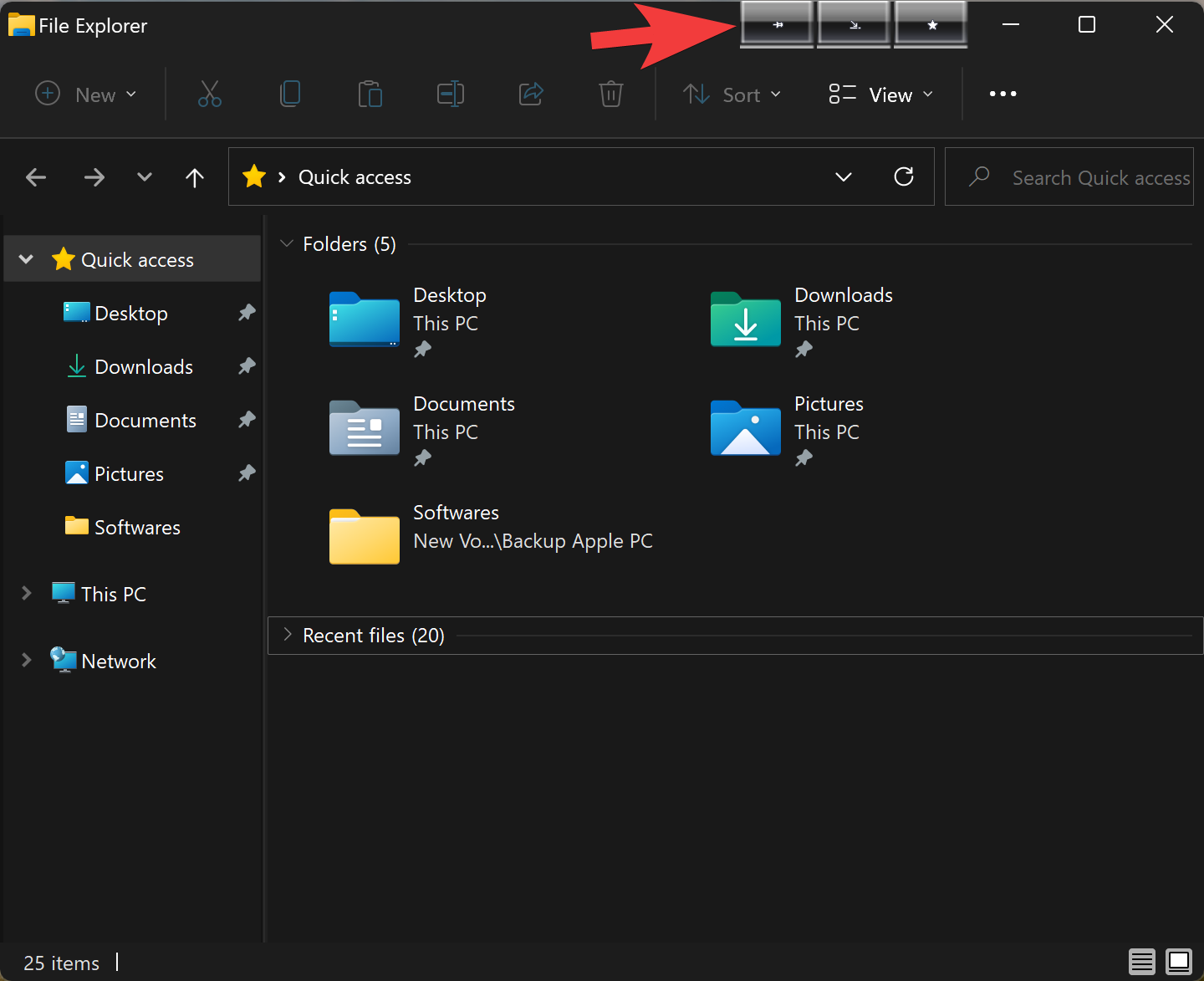 How to Configure and Use the eXtra Buttons to Add More Buttons in the Window Title?
First, download eXtra Buttons and install them on your computer as regular software. When you launch the app for the first time, you will see a strip containing, Always on top, Send to tray, and Bookmarks button.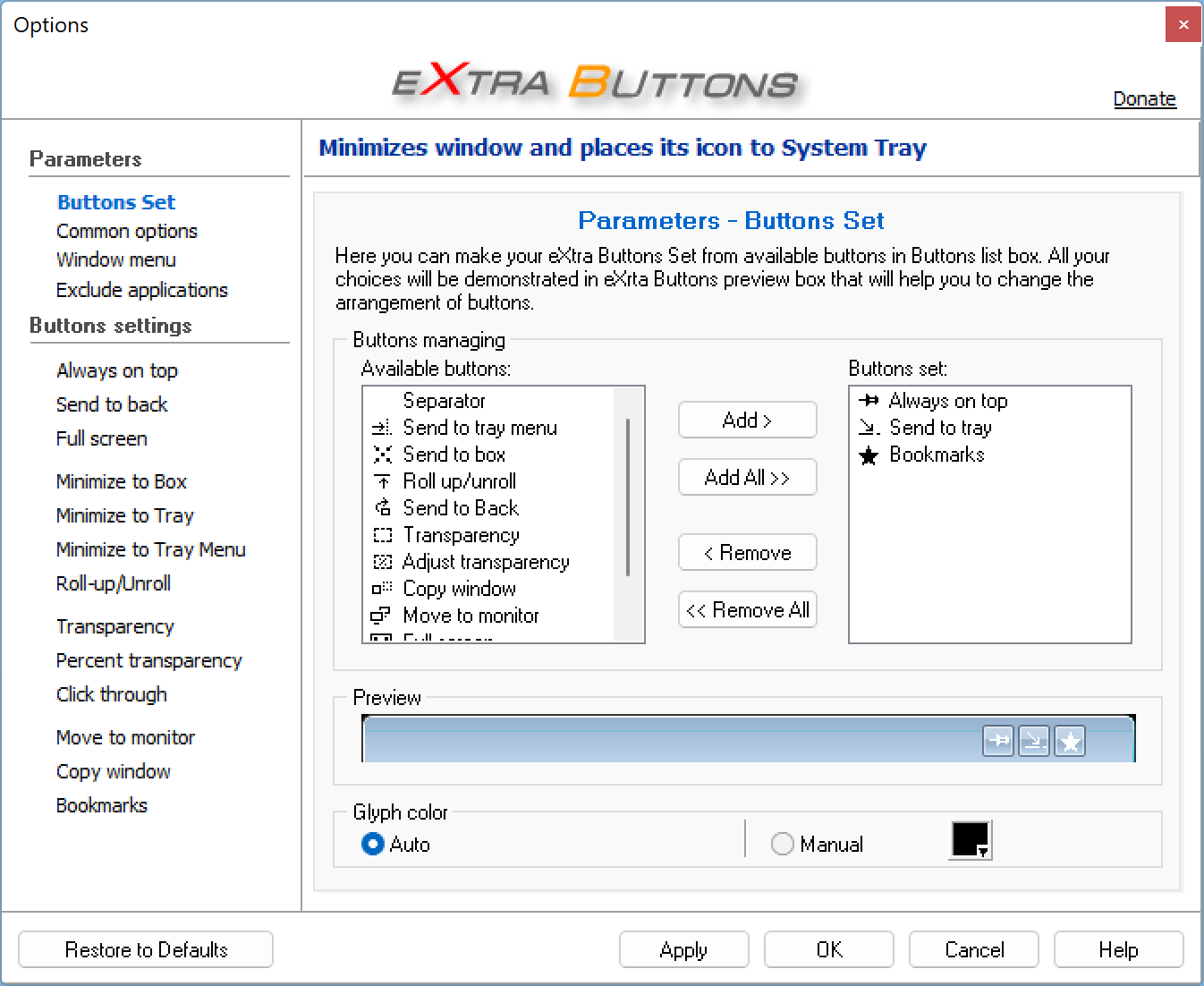 If you need, you can add more buttons or remove a button. On the "eXtra Buttons Options" page, from the "Available buttons" list, select a button of your choice and click the Add button. If you want to add all of them simultaneously, click the Add All button.
Similarly, you can also remove a key by selecting the key and clicking the Remove button. If you want to remove all the keys at once, click the Remove All button. After that, you can add your required keys one by one. When you're done, click Apply and then OK button.
Using the eXtra Buttons app, you can add the following buttons on the window title:-
Always on top
Send to tray
Bookmarks
Copy Window
Roll-up/Unroll
Minimize to Box
Transparency
Percentage Transparency
Minimize to Tray
Minimize to Tray Menu
Click through
Move to another monitor
Full Screen
This freeware application also lets you set a Hotkey for all buttons via eXtra buttons options. For that, under the Buttons settings section, click on the button that you can want to configure and set the  Hot Key. By default, you will see None.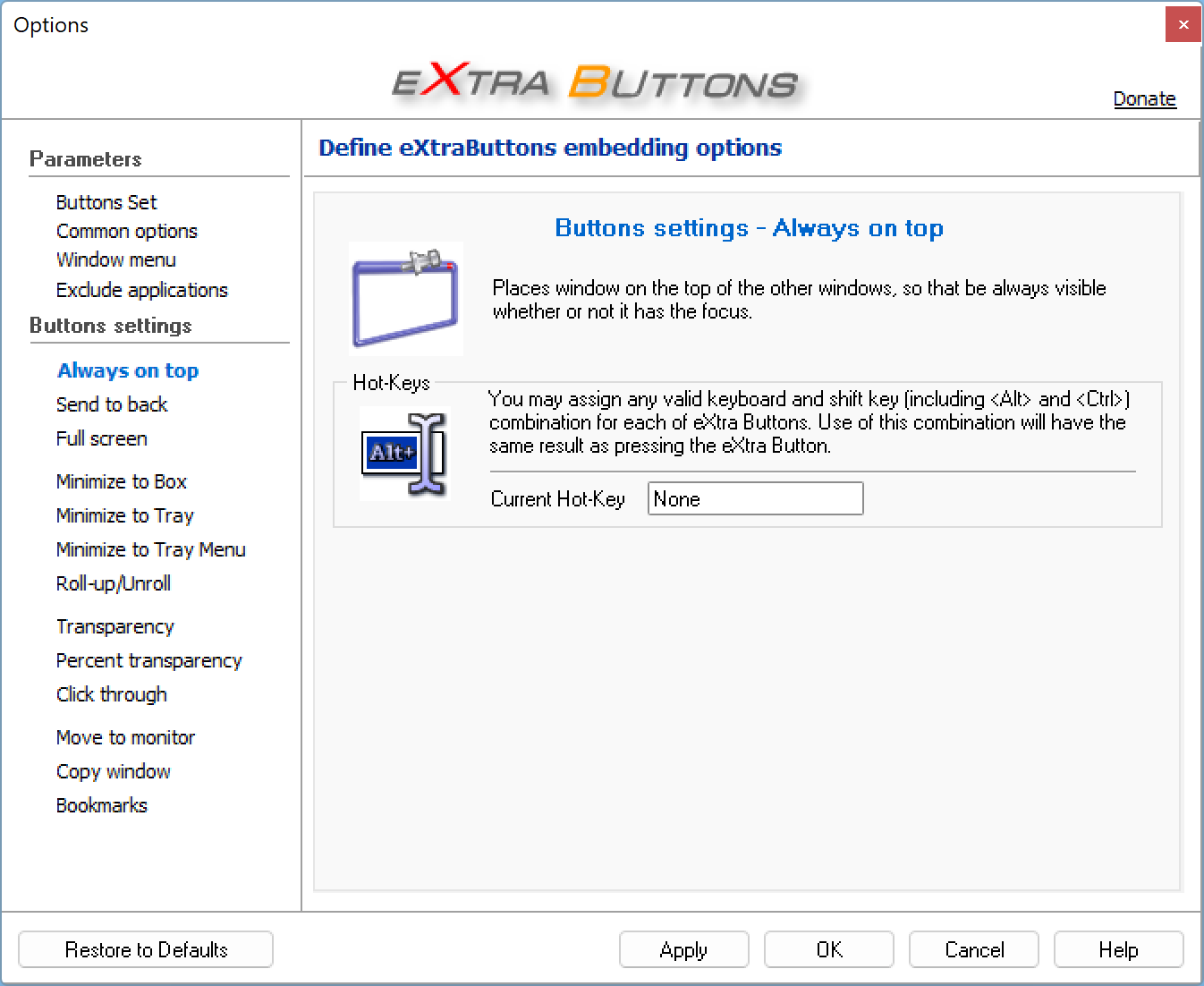 Download eXtra Buttons
If you want to add more buttons to the window title bar, you can download eXtra Buttons from here.